Ever since I was a little girl, I have always been a lover of anything with a motor. I can remember as a child spending hours cruising our neighbourhood streets in my electric Jeep or pretending to drive my father's Trans-Am.
Growing up in northern Ontario around snowmobiles, ATVs, dirt bikes, cars, trucks and boats, I naturally have a love for motorsports. Thanks to my upbringing, I consider myself a well-rounded motorsports lover because I always have something to look forward to ride in the coming season.
I began snowmobiling at a very young age on an Arctic Cat Kitty Cat and spent over 10 years riding a Ski-Doo until I recently bought a 2015 Polaris Pro-RMK to tackle the Western Canada terrain. In the spring, summer and fall months, I race women's motocross and harescrambles on my Kawasaki KX125; attend diesel truck dyno events and drag races; and enjoy fun on the water with Sea-Doos and boats.
There is nothing that I enjoy more than adventuring and experiencing new things, especially doing that while being on a machine. I am lucky to share my passion with my wheelie-loving boyfriend, who is also a lifelong motorsports lover.
Being a snowmobile lover, I had always dreamt of riding sleds in the mountains, especially because I've seen every Slednecks movie ever made.
I finally got the chance this past February to ride my snowmobile in the mountains, and being from Ontario where we only have some rolling hills, I was definitely intimidated and excited to ride in the mountains. We rode in the Kakwa region near Grande Cache, Alberta. The snow conditions weren't what we wanted them to be as there wasn't any powder, but we were just glad to get out and ride.
Upon arrival to the sled camp, I really had no idea what to expect, but let's just say this . . . you could tell I wasn't from Alberta or British Columbia. I spent the majority of the trail ride into Kakwa Lake looking around at the amazing mountain views.
We first stopped at Kakwa Falls. My co-worker wanted to show us what it looked like all frozen over and it definitely was amazing.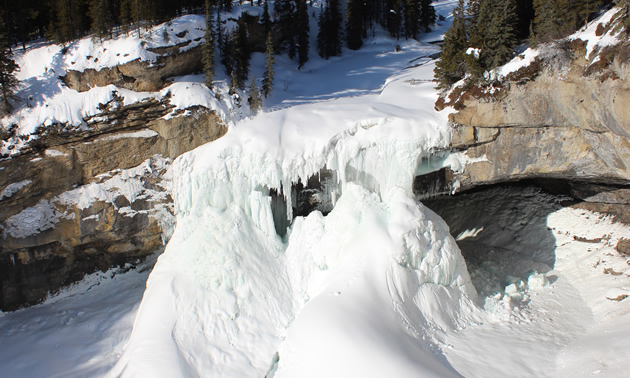 We left Kakwa Falls and continued riding on the trail, which eventually took us to Kakwa Lake. To me, it was a pretty small lake, considering I have personally snowmobiled over part of one of the Great Lakes in Ontario. Despite the size of the lake, I was in awe while crossing it due to being surrounded by such amazing views.
We hung out around the cabin at the edge of Kakwa Lake for a while and met some great people. We signed the guest book in the cabin and had a quick snack before continuing. I can't say I was expecting to see cabins at the edge of Kakwa Lake; it was a really cool place and I could probably live there.
When we got into the higher elevations and started playing around in bowls, I really was not expecting to be going down such steep inclines—especially when I got to the top of some of them and realized how steep it was going down.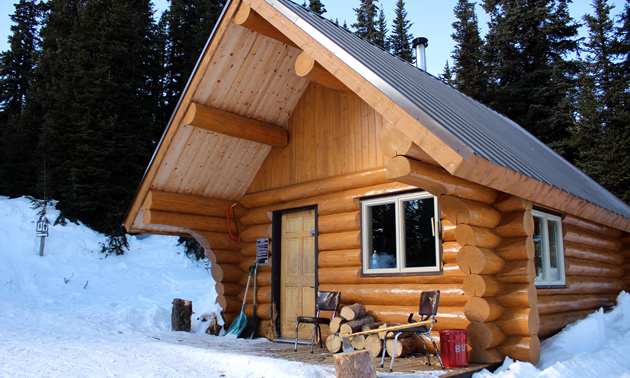 Although we did not have the powder we wanted and expected, we were glad that we got to experience riding in the mountains and also glad that we went with somebody who knew the area.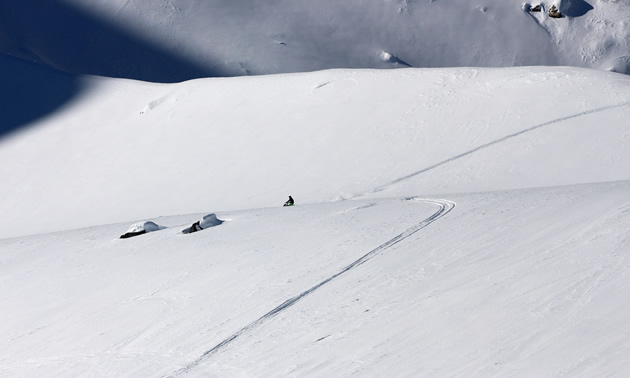 For a first timer reading this, definitely try and go with somebody who knows the area rather than trying to go by yourself because we definitely would have gotten lost or may have ended up in a dangerous area if we went alone.
It's a completely different style to ride in the mountains in comparison to Ontario. I honestly thought it was going to be easy, considering I had been snowmobiling all my life and have years of riding experience under my belt. But I felt as if I had to relearn how to ride, especially sidehilling and safety techniques. I learned a lot in one day of riding in the mountains: I learned to stay on a track when climbing a steep incline that's icy or your sled will slide back and roll like mine did (Polaris held up very well rolling 10 feet down), and I learned to use my body weight when sidehilling and when in doubt, throttle it out.