For most of us, the weather dictates when we can go out for a ride and when we should stay home. For Jessica Rainville, every day is a good day to hop on the dirt bike and tear through the countryside—regardless of the season.
"When I got my first bike In the summer of 2019, I was sad that I'd have to put it away for the winter," Rainville said. "My fiance, Ernie Desjardins, suggested studding the tires of my 2003 Honda XR100. We bought packs of studs at our local dealership and put over 500 on my Honda.
"We went out to the lake to our ice shack and my fiance plowed a track. I started riding and I was hooked. What a difference in the bikes. Having those studs is how I'm able to keep riding when most people put their bikes away."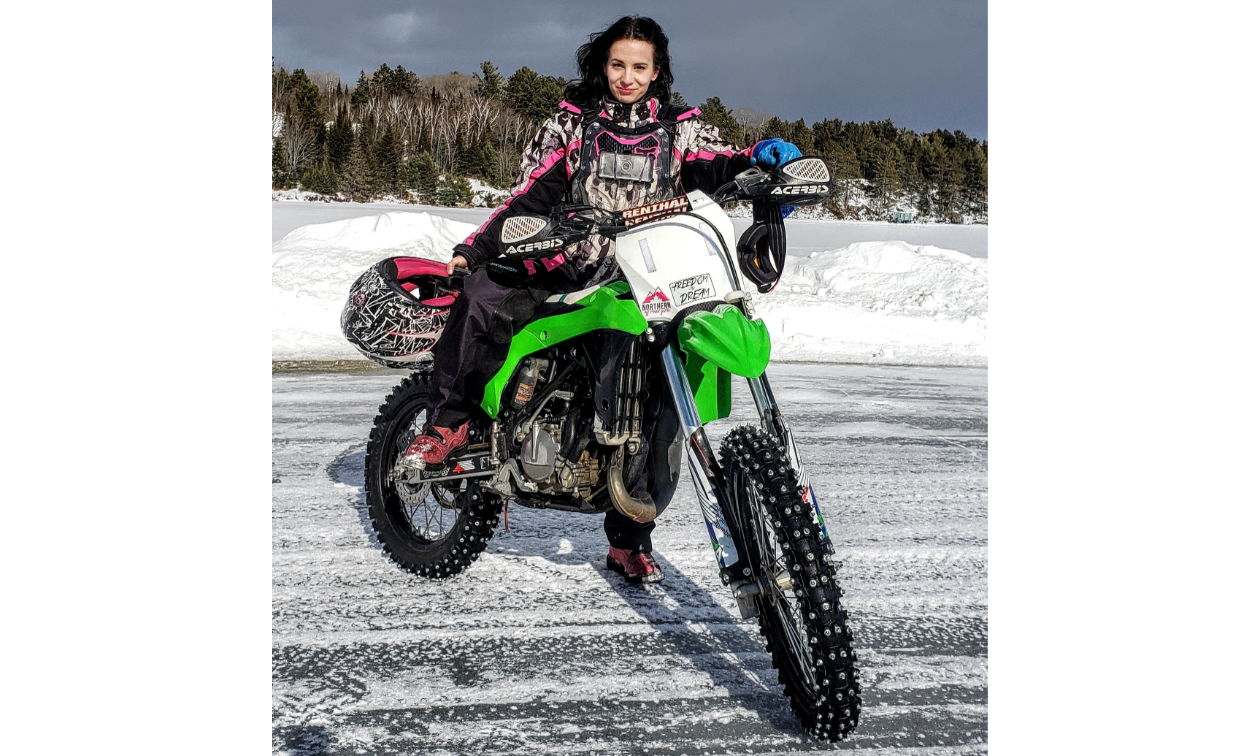 There's nothing quite like the thrill of a dirt bike biting into ice for Rainville. The uniqueness of the experience combined with her unbridled joy and the bewildered response of passersby makes it all the more special.
"Riding on the ice with my bike is the coolest," she said. "You really don't see it around where I'm from. The looks on the people ice fishing when I drive by with my two-stroke race bike is so funny.
"I love the way it makes me feel. Whatever is going on in the world, I don't have time to think about it. I'm focused on what is right in front of me. I feel free. It's the best feeling in the world."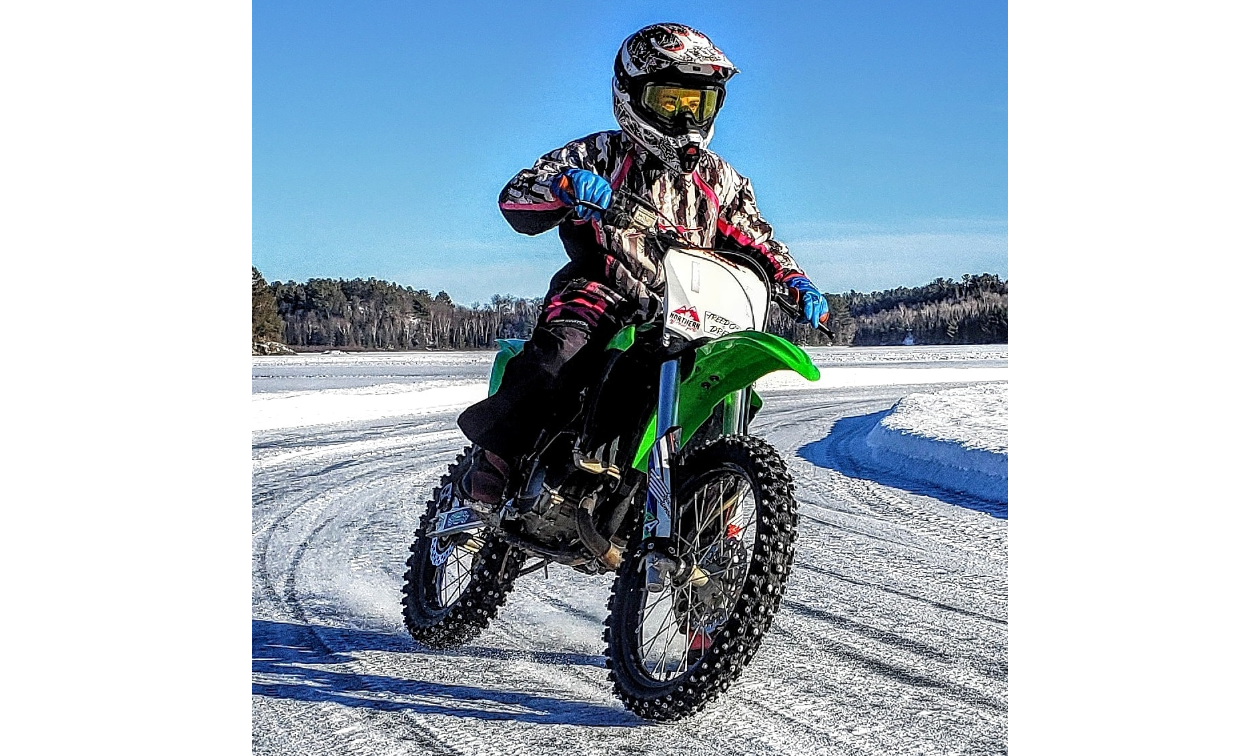 In case you couldn't tell, Rainville loves her dirt bikes. One of her favourite memories is the day she got her first bike, a 2003 Honda XR100.
"My fiance pulled in the driveway with it in the back of the truck and I didn't even wait for him to shut the truck off," said Rainville. "I was in the box on the bike with a smile from ear to ear."
Rainville's second favourite memory was being surprised with a 2018 KX100 this past September for her birthday, a gift from her dad and Desjardins.
"I was so excited!" she said.
Tires or tracks—it's all good
Just because Rainville is a dirt bike fanatic, doesn't mean she neglects other powersports. She's been riding snowmobiles since a young age at family camp and around lakes. She currently rides a 2007 Yamaha Phazer FX.
"When it's too cold, I ride my snowmobile," Rainville said. "My favorite snowmobile memory was definitely jumping it this winter. My fiance made me a jump at our ice shack and after landing I remember thinking, 'I can't believe I did that!' It was so much fun."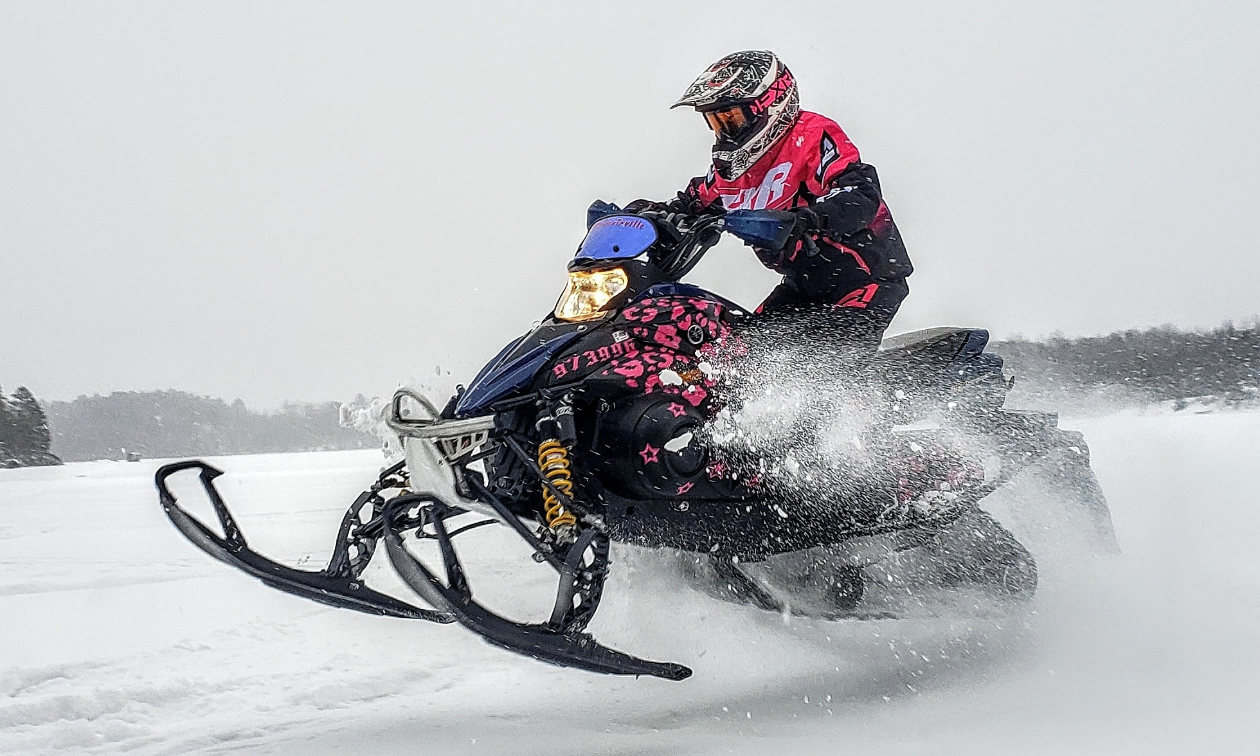 One reason Rainville got into dirt biking a little later than most—just shy of turning 30—is because of discouraging remarks she received at a young age.
"I've always wanted to ride a dirt bike since high school," she said. "I never thought I would be able to ride at only five feet tall. Growing up—being told you're too small to do anything—I never thought learning to ride would be possible. I'm so glad that wasn't the case."
"If you're thinking of riding and you're nervous—just do it. But make sure you start on a bike that's good for your experience. You can always move up to a bigger bike. Find someone with experience to teach you and make sure you have all the proper gear."
Instagram FTW
Now that Rainville has found her confidence behind the handlebars, she's taken to her Instagram, @jessrainville, to show off her passion for dirt biking. And thanks to Desjardins' stupendous photography skills, the results are fantastic.
"He takes such amazing photos," Rainville said. "Growing up riding and reading dirt bike magazines, he definitely has an eye for it."
For aspiring Rad Rider Instagrammers that are looking for a following, Rainville has some sound, simple advice.
"Be yourself—even the goofy fun side of yourself too," she said.