Admit it, you'd like to be labeled "outstanding." Who wouldn't? To earn a title like that, you've got to pay your dues. Kelly Martens, president of the Thompson Trailbreakers in Manitoba, has put in over a quarter century of volunteer work to be named SnoMan Inc.'s 2017 Excellence Award winner for Outstanding Snowmobiler of the Year.
"It is quite an honour to receive the award," Martens said. "There have been times when I think, 'Hey, I'm the outstanding snowmobiler in Manitoba,' and it makes me feel pretty good. It makes those times when I have to go out by myself at -30 C to sign trails all the more worthwhile to know I'm appreciated."
Martens' attitude underscores the value of showing appreciation to volunteers that otherwise go unnoticed. Even after being recognized for his contributions, Martens is modest and quick to pass praise on to others. "I thought there must be some mistake—it couldn't be me," he said. "I would like to thank my fiancee, Sally Oleschak, for all of her help and support. She is always by my side and puts in almost the same amount of time I do for the Thompson Trailbreakers. SnoMan has been very lucky to have Alan Butler as president for the last few years. He is a very smart man and is always trying to make SnoMan a better organization."
A long time ago in northern Manitoba
Martens' snowmobiling journey began back in 1990, and he joined the Thompson Trailbreakers the following year. "Before I got involved with the club and SnoMan, I would think about snowmobiling and snowmobiles 24 hours a day," said Martens. "So I said to myself, 'Why don't I take it a step further and help out?' My goal is to always want everything perfect: trails, signs, fundraising, well-maintained groomers. That's what I strive to achieve and that's what keeps me going."
Besides volunteering, Martens also participates in charity fundraisers. He rode from Churchill to Thompson to Brandon five times thus far as part of the Lion's Club Journey for Sight, a fundraiser that helps those who suffer from corneal blindness. Snowmobile riders typically ride a minimum of 200 kilometres while visiting various communities to collect pledges.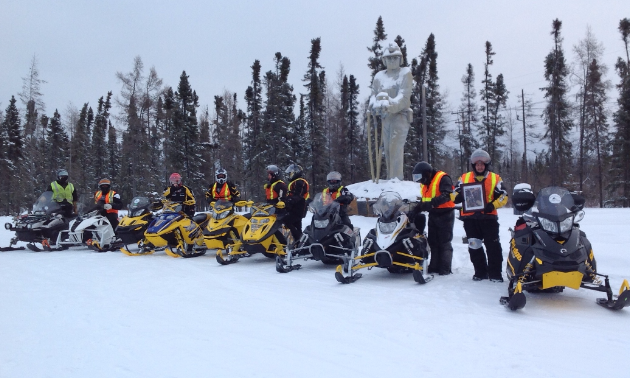 Each winter, Martens racks up 4,800 to 6,400 kilometres (3,000 to 4,000 miles) on his four snowmobiles: 2009 Ski-Doo Renegade 1200, 2016 Ski-Doo Expedition extreme 800, 2016 Yamaha SR Viper and 1976 Arctic Cat El-tigre 4000. "I ride as much as I can all over the province," he said. "I enjoy seeing the differences between the regions within the province: the beautiful scenery, the landscape around Churchill, deep snow and off-trail riding in northern Manitoba, rolling hills in western Manitoba, lakes and trails in the eastern region and the long distance trail in the southeast."
Tales from the trails
From time to time, Martens ventures beyond Manitoba and enjoys going to unfamiliar places. "I decided to go for a ride from Landmark, Manitoba, to Roseau, Minnesota," he said. "I took off with a not-very-good map. I got down into the Sandilands and met up with five guys. They could not believe I was on my own with such a poor map. They (were heading the same way) and asked me to come along. We had a great day. We went to the Polaris Museum and had lunch. They were bugging me about owning a Ski-Doo so when we got there I left my key in my Ski-Doo as I was not worried about anyone stealing my Ski-Doo in Polaris country. I rode back with them all the way to Landmark, and it was like I was best friends with them by the end of the day."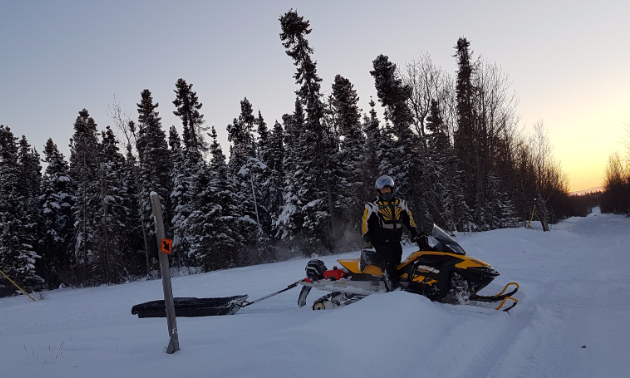 Even with extensive experience, expert riders like Martens can underestimate the severity of a snowstorm. Last year saw an unprecedented amount of snowfall in Thompson that shut down the city for days. Right before it happened, Martens and his friend Nick were on their way from Thompson to Snow Lake to spend the night. "There were blizzard warnings out for the next day," he said. "People were texting us saying, 'They are calling for 83 centimetres of snow; stay put.' We thought, 'Yeah, right. It must be just a false forecast.' Boy, were we wrong. It was bad. We kept getting stuck continuously as the blizzard intensified. We could not go 25 to 50 feet (seven to 15 metres) without one of us getting stuck on the railbed we were on. We were both exhausted and I got stuck once again so we left my machine behind. I walked behind Nick for about 1,000 feet (305 metres) until we could finally get out onto the highway. Nick doubled me and we rode the 35 miles (56 kilometres) down the highway that was just like a snowmobile trail. This blizzard was so intense that Thompson shut down for two days before people could drive around again. Emergency services had to use a Bombardier to get out to emergency calls."
In short, Kelly Martens' history in snowmobiling has been "outstanding."