California may be known as a destination for hot weather, sandy beaches and attractions such as Disneyland, but the state has its share of cold climate activities as well. According to Travis Alley, stellar snowmobiling Instagrammer (@tahoesledhead) and professional golfer, Lake Tahoe might as well be Disneyland for sledders.
What is the best place to sled in your area, and why?
Oh man, Tahoe is filled with gems! I'm a North Shore guy, I live in Truckee and ride all the usual suspects in the area. Castle Peak is probably my favorite, but we did find a new zone last year that I dubbed Nintendo, can't wait to get back there!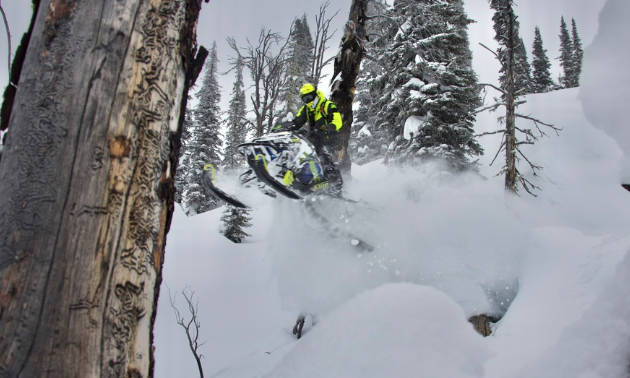 What are the most popular trails in your area? What are they like?
Mt. Rose, Blue Lakes, Red Lakes, Blackwood Canyon, The Dump, Little Truckee Summit, Castle—we've got a ton of good riding! Tahoe is all about backcountry riding. We have some great groomed trail systems, but the reality is, how fast can you get off them and into the mountains!?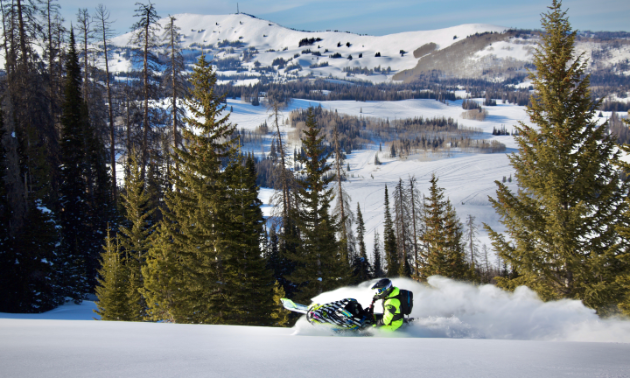 What snowmobile do you currently ride?
Polaris for life! I've got a quiver of sleds. 2021 Polaris KHAOS 165, 2020 Polaris RMK 163 and 2019 Polaris RMK 155—all 850's. I love that motor!
Who or what got you into snowmobiling?
My family had some sleds when I was a little guy so that got me started. My brother was always a big sled head growing up so that motivated me. When I moved to Tahoe in 2007, I knew I had to get a sled and pursue the mountains on a more serious level. Riding big mountain terrain in deep pow was so different than riding the trails back east. I'm so happy I've made the transition. I'll never look back.
Do you have any goals this winter?
I really want to start nailing hop overs and bow ties in any situation (Caleb style). Keep progressing in super steep technical tree riding, and of course keep working on my air time. I love the feeling of sending it. Just trying to keep inching closer and closer to the big boys in the industry.
What are your favourite kinds of photos to shoot?
Any crisp shot with a scenic backdrop. Riding around Lake Tahoe, the opportunities are endless for great photos. Some of the shots that stand out the most have majestic scenery behind the rider. We get a ton of bluebird days and the vistas are just epic in Tahoe so I have no excuses for not capturing these shots.
I usually take somewhere between 500-1,200 photos every time I ride. Photography for me is all about re-living the moment, so I love photos that capture exactly how I felt when seeing something first hand. I love to shoot, but I hate editing photos, so I try to capture as good of an image as possible right then and there to save the effort in post-production.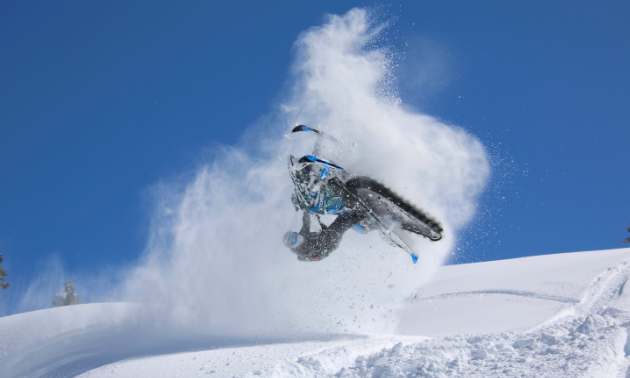 I never take my photography too seriously. It's all about having fun. Photos are just like fishing—sometimes you land a prize that belongs on the wall—sometimes you get skunked. The real fun is just being out there regardless of the outcome.
Do you have any photography tips you'd like to share?
Learn your camera. Know the right settings for the shot. This is all trial and error. Sometimes you'll want autofocus. Sometimes you'll want manual. Sometimes you'll want a faster shutter. Sometimes you'll need more light. Play with your settings and try and break the habit of shooting everything in auto.
If you're just getting into photography, get a good camera body and you can always upgrade lenses as you go. Keep in mind, lenses are where the real magic happens. I usually take most of my shots outside of 70mm. I would get a lens that has a range of at least 200mm. When you're shooting sledding, a lot of times the lighting is not in your favour. Having a camera body and lenses that can shoot in low light at fast frame rates is huge.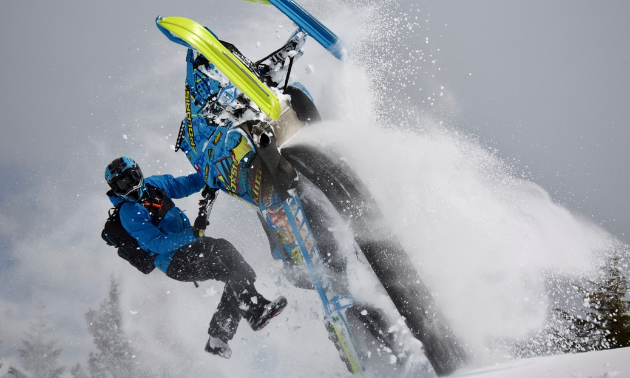 This year, I'm experimenting with a new camera body and new lenses. My new camera is a Canon EOS 5R, which is a new mirrorless version of the Canon 5D Mark III that I've used previously. Furthermore, I've got a bag full of lenses. My longest will reach 600mm. I'm super excited to try it all out. Follow me on 'the gram' @tahoesledhead to see how it goes.
What is the coolest thing you've been able to do on your snowmobile?
Explore! Having the ability to ride a sled in an area that is otherwise uninhabited is pretty stinking cool. You can literally go to areas that would have never been seen otherwise. Blows my mind sometimes. You can cover so much ground so fast. The technology is so impressive. Last year, I had some great opportunities to travel. I put 7,500 miles on my truck chasing powder through 11 states and two countries.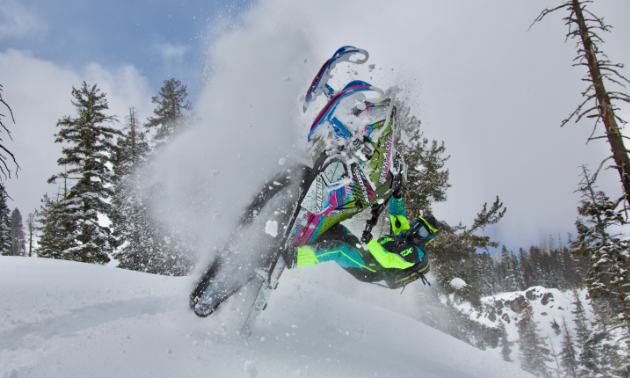 What do you love most about the sport?
There is so much to love about sledding. On any given Saturday, you can pull up to your local riding zone and see five-year-olds, 75-year-olds, and everyone in between, all smiling ear to ear to go ride their snowmobiles. Everyone has their little piece of joy from sledding. I personally love the sport top to bottom. I love the preseason hype and sled building. Designing my new wraps and wrenching on aftermarket parts. Researching new riding zones and planning trips to other areas. Peeking out the window first thing in the morning and seeing a stack of fresh powder. Loading the sleds and grabbing a full tank in route to the riding zone. Talking trash with the crew in the parking lot. Dipping a ski into the first stash of fresh pow you see. Heckling your buddies as you dig them out and getting heckled as they dig you out. The whole thing!
I'm looking forward to progressing my riding and photo skills more this winter. I can't wait to ride with some new friends and old friends alike. I've got some great trips on the calendar already. I hope all this COVID goes away and we can get back to usual with travelling. Can't wait to put a lens on some of the best riders in the industry this year.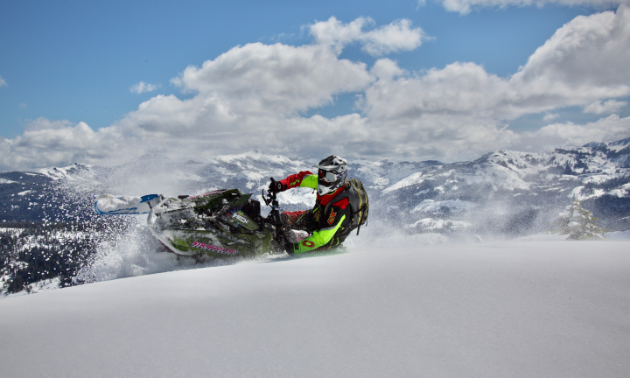 What's your favourite snowmobiling memory/story?
Christmas morning 1994. My brother and I ran downstairs to see what Santa left under the tree. He hooked us up with a pair of Yamaha Bravos. Best Christmas ever and the start of my sledding career. I rode that Bravo into the ground. If anyone is looking to get rid of one, hit me up. I love those things.
What's something really interesting about yourself that you would like to share?
Well probably surprising to most folks is I'm 6'7". Not your typical sledder body profile. I've also broken all 10 of my toes. Guess it comes with the territory.