Have you ever seen a snowmobile decked out with a wicked wrap and thought, "There's gotta be a wild story behind that design, right?" In most cases, there certainly is. And in this particular scenario, there's not just a story about the design, but the creator of the design itself.
As we renew and kick off our Best Sled Wrap contest for 2023, we thought it pertinent to glean some insight into the creative process from one of the best in the business, Pam DeRosa. DeRosa is a sled, side-by-side and dirt bike wrap designer for C4 Designs, working from her home near Castlegar, B.C. Surprisingly, DeRosa never set out to be an outstanding powersports wrap designer. It just sort of happened.
"It was a complete fluke," DeRosa said. "I went to college for graphic design, and after grad had planned to move to a bigger city to pursue a career. On a whim, I applied to HTR Designs in Castlegar and got the job. I didn't have a single shred of knowledge about sleds, side-by-sides or bikes, but I worked with solid people, made solid friends and had solid clients that helped guide me."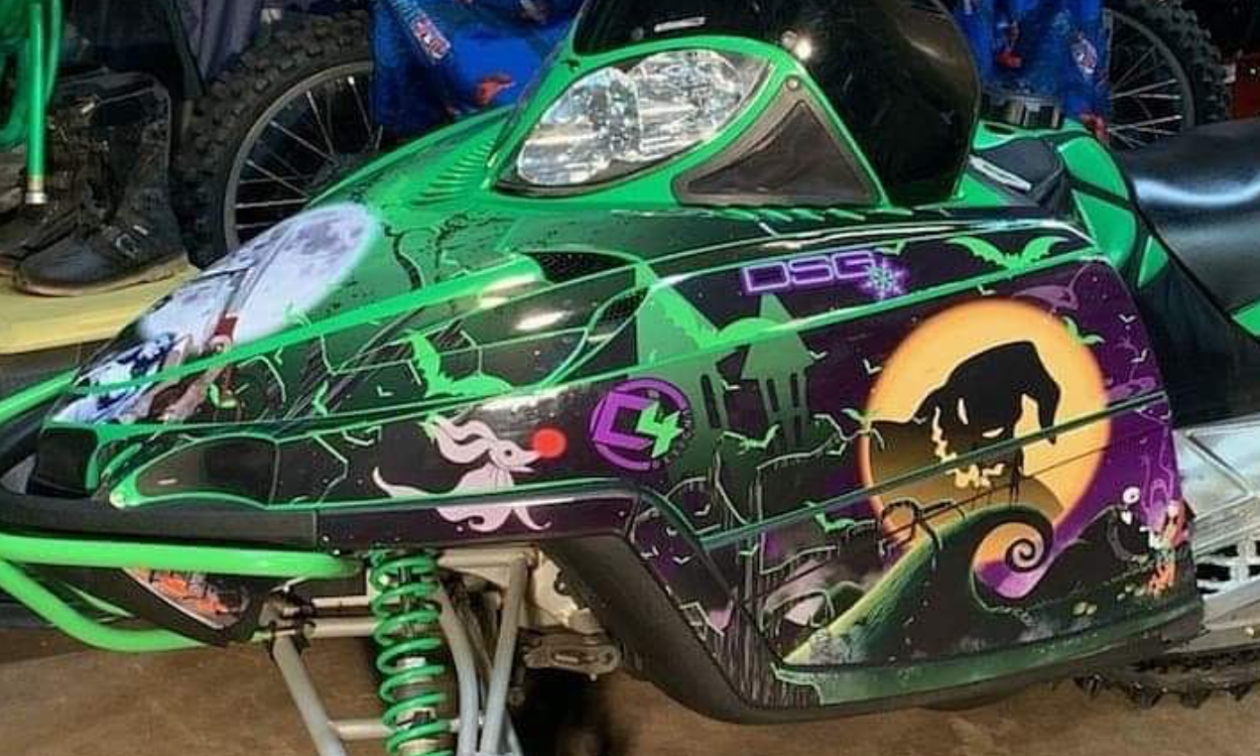 Having a well-grounded support network around her allowed DeRosa to dive into her creativity and make eye-popping wraps.
"After I left HTR, I designed a super fun South Park-themed wrap for a guy up north who had a friend that liked to print wraps," said DeRosa. "All I had to do was design the wrap and send the print files to the client, but the printer, JR, and I had completely different languages when it came to printing and had to connect to discuss. We talked for about two hours that night about business and ambitions and we've been friends ever since. He is the owner of C4 Designs and took me on as his designer. I get to work remotely from home in the Kootenays, while he has his home and print shop in Prince George."
With DeRosa's skill and client base expanding, she decided to join an apparel and lifestyle brand, Alpine Addicts.
"Cody, the founder, is a friend of my boyfriend, so I've known about Alpine Addicts for a long time before I got to be the designer," said DeRosa. "Cody decided that he was ready to sell the company to pursue other things in life and reached out to JR and me to ask if we'd like to take it on. And now here we are."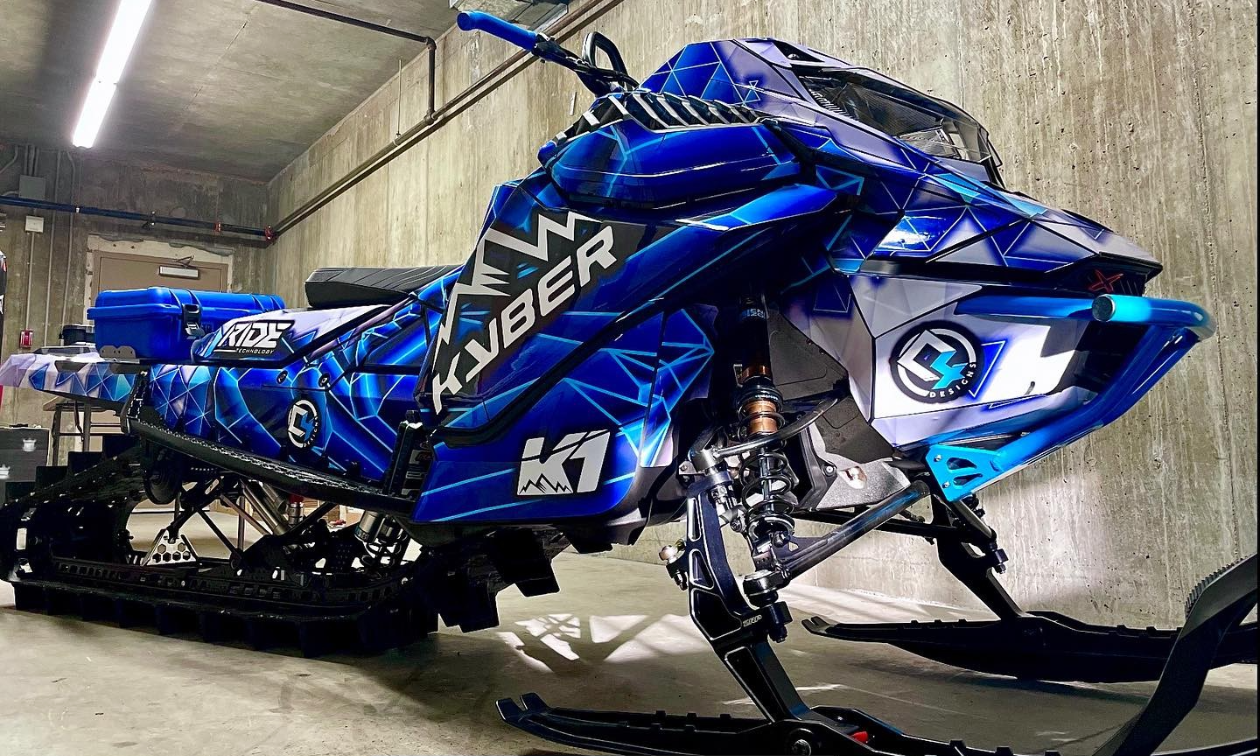 DeRosa has been designing wraps for about seven years now, but it took a few years behind the computer before she ever latched onto the handlebars of a sled.
"I never intended to fully indulge in the sport, but in 2019 I was gifted a cute Fox helmet and a brand new pair of Klim boots by friends for what would be my very first season of riding," DeRosa said. "For my birthday/Christmas presents that same year, I got a BCA avi-vest and CKX onesie from my super supportive boyfriend. We had just gotten the 2019 Ski-Doo, and Julie-Ann took me out on one of her She Shreds clinics. There was a whole team rallying behind me to get me out on the mountain, and after three years of 'just' designing wraps, I finally got to get out and ride!"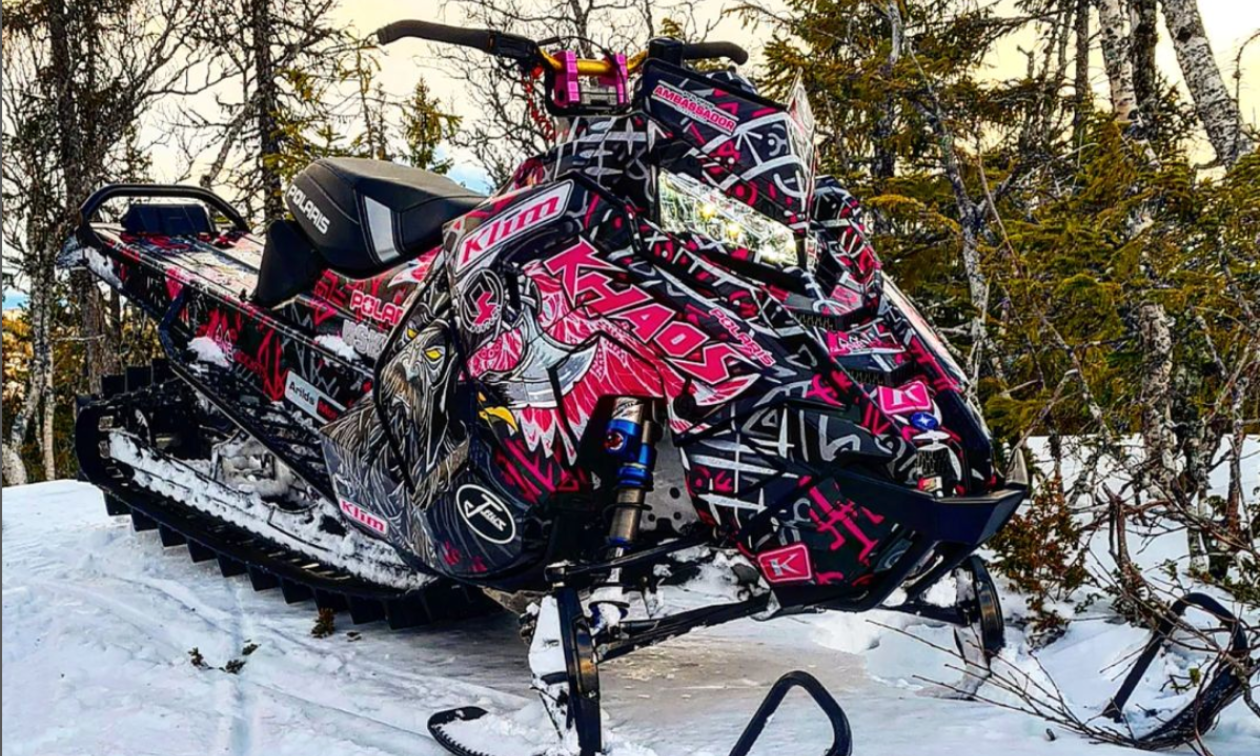 Now that DeRosa is fully invested in powersports—both riding and wrapping—she can explore where she wants and look stylish while doing it. DeRosa owns a 2019 Ski-Doo 850 154 track with a custom Alpine Addicts-inspired wrap, as well as a 2017 Ski-Doo 850 163 with a matching wrap. She's also fixing up an original Honda Trail 70, which was her boyfriend's very first bike.
"Now I get to call it my own!" she said. "I'm so excited to spruce it up with some fresh decals."
Over the years, DeRosa has designed countless wraps for sleds, ATVs and dirt bikes, and there's no sign of stopping anytime soon.
"I love having such a cool outlet to express myself," DeRosa said. "Wraps are a fantastic way to tie together the rider's personal style while advertising for shops, brands, and designers that support them. I always tell my clients that the sky is the limit, because there really are a million and one ways to push the design envelope.
"I'm so excited to pour some love into Alpine Addicts and start putting out some fun new merch for our community. Nothing is ever bizarre or strange, just fun and unique. We're always excited to share our brand with others, so if you haven't checked us out yet please do."