Snowmobiling has progressed a great deal thanks to pioneers like Bill Hammond. Back in 1969, Hammond purchased the first Yamaha sold in western Manitoba, a 1969 Yamaha, 351-cc with twin dual carbs and oil injection system. It cost $722. You may be envious of the price tag, but riding a snowmobile at that time brought on a bevy of issues.
"I burned seven lefthand pistons that first winter," Hammond said. "All machines in those early years had dependability problems—especially for long-range riders. Gas consumption was heavy, thus you carried extra fuel. You almost had to carry a machine shop with you for repairs. The old expression back then was 'you ride an hour and fix all the next day.' I was always towing someone home."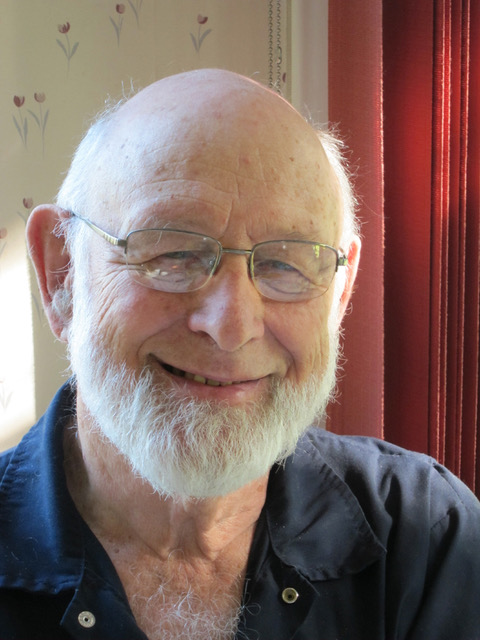 Engineering, technology, electronics, four-strokes, suspension, weight and traction have all come a long way in the sport. "Looking back, we had 14- and 16-horsepower, single-cylinder Jlo, Hirth and Rotax engines burning a 20-to-1 oil-to-gas ratio," said Hammond, "multi-heat range spark plugs, no jack shafts, bogie wheels, bogie springs, two-inch travel front and rear, 36-inch ski stance, practically no padding on seats, small windshield—no rider comfort whatsoever. I often wonder how I ever rode these bucking broncos. Riding on farmland, rivers and backcountry where there were no trails was extremely challenging, even for an experienced rider."
A monumental undertaking
While snowmobiling was still in its infancy, Hammond took it upon himself to organize one of the most bold sledding endeavours ever undertaken: the Centennial Run from the Peace Gardens, North Dakota, to The Pas, Manitoba.
The event took a year and a half to organize and came about during a wiener roast Hammond and a friend were having in Brandon. They wanted to explore beyond the outlying hills and figured Manitoba's 100th anniversary would be the time to do it.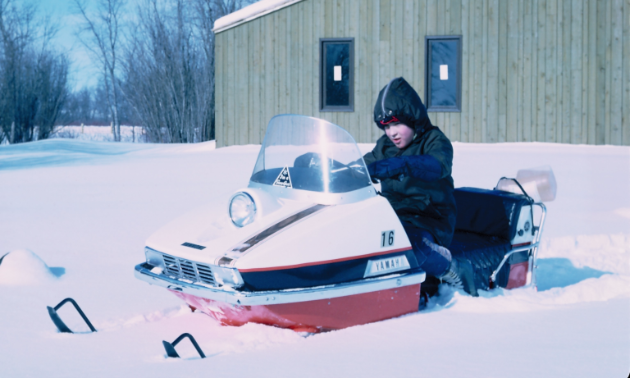 Hammond was vice-president of the Brandon Sno Goers at the time. To make the event international, he contacted the Minot, North Dakota, snowmobile club and plotted the starting point at the twin arches of the 49th parallel at the International Peace Gardens in North Dakota. Hammond was gifted with a three-foot by six-foot American flag. "One gentleman kissed the flag and told me, 'You are nuts. This flag will never reach The Pas,' " Hammond said. "The American rider jokingly made the comment, 'I understand you have a mental institute in Brandon. When you get there, don't stop. They will be sure to lock you up.'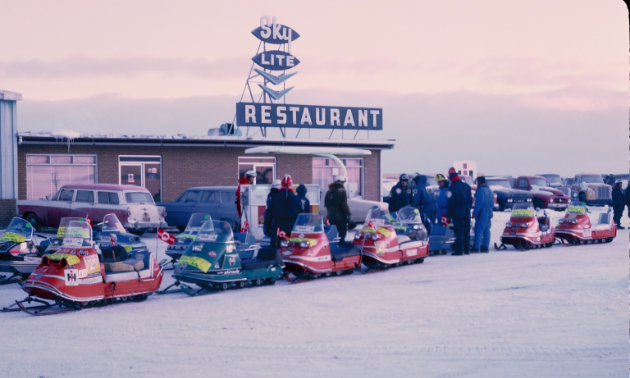 There were many reasons why skepticism was rampant going into the Centennial Run. Nothing like it had ever been attempted before. "It was a logistics nightmare," said Hammond. "January, 500 miles (800 kilometres) on 1970 machines, 20 riders, five service vehicles, spare engines, 200 spark plugs, 100 drive belts, hundreds of bogie wheels and springs, extra clothing and 500 gallons of pre-mixed fuel to start with refuelling done at predetermined check-stops."
Besides gathering all the supplies, making the run legal was another hefty undertaking. In 1970, it was illegal to ride a snowmobile in any ditch or shoulder of any provincial road. Hammond went to Winnipeg and had a productive talk with the Minister of Transport for the province. The minister issued 20 waivers plus five special waivers for the service drivers to sign, freeing the province of any liability. "I personally believe the only reason we got these waivers was because it was the Manitoba Centennial, they wanted to promote Manitoba and the minister's son-in-law had a machine," Hammond said.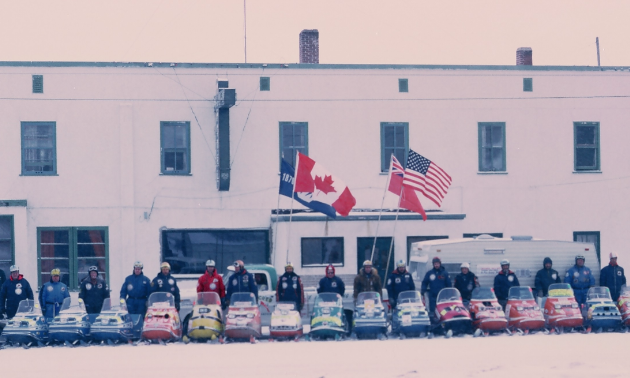 The Manitoba Centennial was a success. It's one of the reasons Hammond was selected as SnoMan's 1982 Snowmobiler of the Year. Besides his work as an organizer and promoter of the sport, he helped bridge the gap between farmers and ignorant sledders. "In Manitoba in the early '70s, it came to the point in some areas that landowners would threaten to shoot you if you trespassed," Hammond said. "Printed media at one time was at fault. I have an article and a sales ad for heavy-duty wire-cutting pliers as a must to carry on your snowmobile for cutting farmers' wire fences. Hundreds of thousands of miles were crossed on private property without permission and greatly abused by crossing over winter wheat and molesting cattle and wildlife. A majority of riders in early times were breaking the law every time they went out. Communication with farmers and ranchers was to promote us as allies and not enemies. Without these property owners, the industry would not be where it is today. Attitude and perspective of both rider and non-rider are better now."
Looking ahead
Hammond retired from riding in 2004 at age 71 due to health problems. In all, he's owned 24 snowmobiles over 35 years of being involved with the sport. He's seemingly seen it all as an early leader on the sledding scene but thinks the machines can still evolve beyond where they are now. "There has been no basic major concept change to the vehicle (such as) hovercraft style propulsion or small turbo jet propulsion," he said. "Before too long, I believe we will see an electric concept come forth."
Whether or not snowmobiles become jet-powered or skim the snow's surface remains to be seen. What we can be sure of is Bill Hammond's positive impact on the sport and shaping it into what it is today.