There's nothing quite like the classics. In particular, sleds and old souls. Jeff MacAulay is a throwback to what snowmobilers used to be. He's got that old-school hospitable charm and more vintage sleds than you could load on a flatbed.
"I can't afford to justify the expense of a newer model sled," MacAulay said. "So I enjoy buying 25-year-old two-stroke Yamahas for $1,000 and then put a few hundred more dollars in parts and repairs into them—recovered seats, new windshields, clutch parts, sliders and ski-skins—for a great ride. I guess you could say I'm not afraid to tackle repairs."
MacAulay likes restoring vintage snowmobiles like RUPP, Ski-Roule and Mercury. He hopes to someday show off his collection of era sleds from the 1970s and 1980s in a new barn loft.
Something for everyone
For now, MacAulay rides a '92 Yamaha Exciter II. He recently bought another one with an overhauled top-end that had been parked for the last five years and has only 5,000 kilometres on it. MacAulay also has a '91 Phazer II, '88 Enticer II LT, '94 Arctic Cat Pantera, '80 Ski-Doo Blizzard 5500 and '79 Ski-Doo Elite.
"With seven good running sleds, my family always has something to ride," he said.
MacAulay is a family man through and through. His ties to family and snowmobiling go back to 1972 when he was six years old and his dad bought him an Arctic Cat "Kitty Cat." MacAulay would ride along his old man in his SkiRoule RTX 440 and has enjoyed riding his own sled ever since.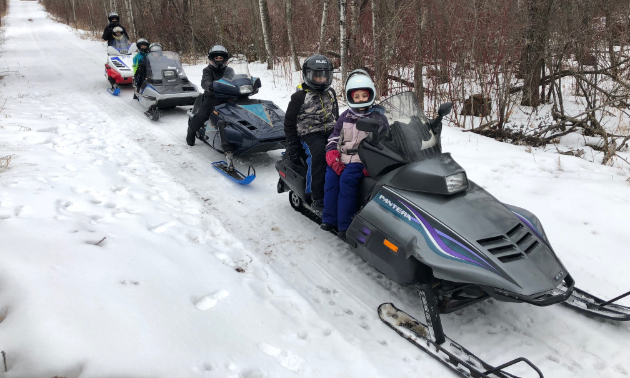 This winter, MacAulay aims to teach his two youngest children to ride their own sleds so that they don't have to bump helmets with him. He plans to take the whole family out for more rides into town for Saturday lunches.
Where to ride
MacAulay's favourite place to ride is the Pembina River Valley between Killarney, Manitoba, to where it enters North Dakota, south of Morden, Manitoba.
"The valley holds its snow, while the fields up top are drifted rougher," he said. "I enjoy running the frozen river between lakes, too."
MacAulay also enjoys taking advantage of the Pembina Valley SnowKickers groomed trail network.
"When there's enough snowfall to groom, it sure is nice to ride smooth, signed trails," he said. "But boondocking and venturing across fields and off the beaten path in the valleys are often more my style.
"The coolest thing to do on a snowmobile is to ride over all terrain—across fields that are cropped in the summer, crossing frozen creeks and rivers that are too deep for quads in the summer, across lakes to explore roads closed for winter, or just trying to high mark a really steep hillside—let alone try to reach the top! In the 1980s, we'd spend an afternoon just trying to summit."
While riding across this varied terrain, MacAulay has learned some lessons the hard way, such as not ignoring worn/leaking shocks.
"The rebound from compressed rear suspension while going over an approach will catapult you right over the handlebars," he said. "Another time, I spiralled my Yamaha SS440 when a ski clipped a small hay bale. The track sawed pretty hard into my thigh. It was sorely bruised. A friend rode my sled home and I got a car ride, but at least it wasn't an ambulance ride."
Aside from a few bumps and bruises along the way, MacAulay appreciates everything snowmobiling offers: smelling fresh winter air, seeing scenery from a different perspective and bouncing on a sled to help his joints stay loose and limber. More than anything, though, MacAulay loves winter and snowmobiling for two big reasons: "No bugs and no sweating in hot heat," he said.