Mike Poirier has always taken to extreme motorsports. "I always had a dirt bike growing up, but not a sled," he said. Now, he travels across Canada and the northern States for freestyle shows, YouTube films and fun on the slopes with his friends.
His brother actually got him into the sport because he raced Snocross when the two were teens. Poirier bought his own sled at age 19 and raced Snocross as well until about two years ago when he switched to freestyle.
"Freestyle is about your own style," he said. "Everybody can do the same tricks, but you can tweak it one way or another to make it your own." Poirier's style, despite the ramps and tricks, is technical and smooth—aspects that are definitely visible in his YouTube videos.
Poirier gets on his sled a few times a week throughout the winter, whether it's on Manitoba's trails or freestyle training at Whiskey Throttle Motorsports Compound. That's where he's mastered his best trick: The Rock Solid. "It's where you go off the ramp, grab the seat with two hands, then you let go and come back to the seat before you land," he said. He uses a 2015 Ski-doo 600 Rs for freestyle riding. The suspension is better than your average trail sled and lets Poirier really hit the ramps.
Poirier likes the control that freestyle riding gives to its riders—another reason why he switched from racing. Rather than racing against competitors that you have no control over, freestyle is a personal challenge.
"You can push yourself and see what limits you have," Poirier said. "It's not 100 per cent safer, but you don't have other guys flying over you that can take you out and you don't have control over it. At least when you're freestyle snowmobiling, you have control."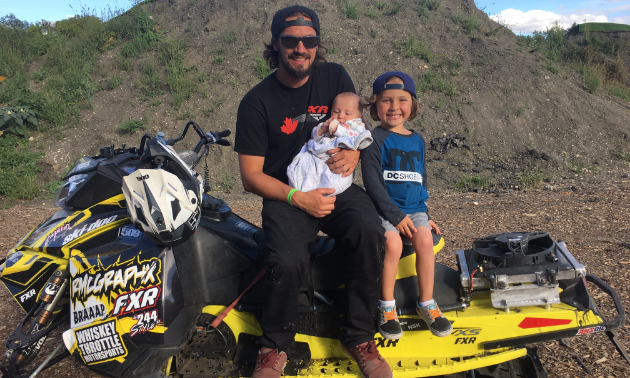 One-Man Sled Show
Poirier shows off his unique riding style on his YouTube channel. Tuning in is the best place to see what tricks he shocks crowds with at the freestyle shows that he organizes from start to finish. "I've been doing my own freestyle shows all around Manitoba," he said.
Poirier uploads weekly videos of these full-fledge trick shows, fun rides and halftime shows. "There's not much going on in Manitoba in the winter really, so I try to put together a few shows a year," he said. The shows mix dirt bikes and snowmobiles, decked out for unexpected tricks in a family-friendly setting.
His snowy season runs from December to April, but that doesn't mean the sled sleeps in the garage. "Obviously, I've been riding my snowmobile in the summer, so I have my snowmobile all set up," he said. "We put wheels in the skis, and we add an extra fan and a radiator on the back, so that it doesn't overheat."
It's not uncommon to see Poirier performing at events like Hay Days Grass Drags. Between tweaked sleds and dirt bikes, Poirier keeps busy even before snow hits the ground.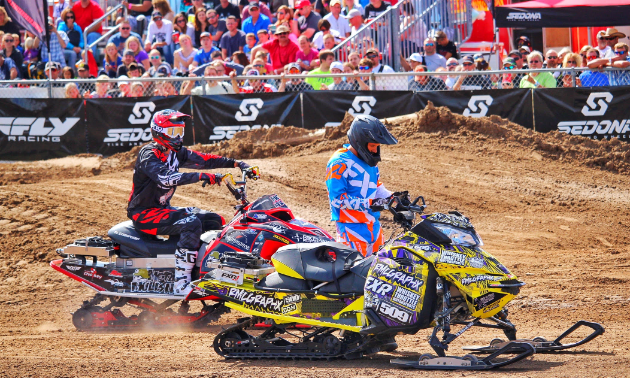 Ripping around Revy
Poirier's favourite destination is Revelstoke, British Columbia. "I usually go out a few times with my friends," he said. The 20-hour drive is worth the fresh mountain powder that's waiting. "I love going to new places, seeing new places," he said. "Just having fun, shredding and lots of high-fives. It's always a good time."
In 2015, Poirier went out to Revelstoke a bit earlier than usual to practice for his debut in an official snowmobile film. "My big goal that I hit was that I went out to Revelstoke to film with Braaap Films," he said.
Despite owning his own contracting business and having two kids at home, Poirier manages to get to Revelstoke about four times each winter. When he's at home, he spends his time with his kids, trail riding and preparing for the freestyle shows he organizes, hosts and rides in around his hometown.
Poirier wouldn't be able to take off around the countryside like he does without the help of his sponsors. FXR Racing provides his gear; 509 Inc. is responsible for his helmet, goggles and sunglasses; RMC Graphicx has graphics literally covered; and Whiskey Throttle Motorsports Compound deals with everything sled-related.