How much do you love freestyle snowmobiling? Would you be willing to travel across the country to pursue your passion? Dan Shaffer doubled down on his commitment to his favourite sport by travelling from his hometown of Dryden, Ontario, to Winnipeg, Manitoba, in order to participate in motocross and freestyle snowmobiling.
Shaffer works as a journeyman truck and coach diesel mechanic. When he's not fixing machines, he's riding them—specifically, his 2016 Polaris IQR 600. "I'm loyal to Polaris because I love the IQR for its performance and serviceability," Shaffer said. "I have been on the IQR chassis since 2008."
Get 'em while they're young
Shaffer's dad introduced him to snowmobiling at a young age. "I always loved snowmobiling," said Shaffer. "Watching racing and riding videos were my favourite. My dad bought me my first snowmobile at 14—a '97 Arctic Cat Puma 340."
Since that time, Shaffer has immersed himself in the sport—and the sled scene has taken notice of this new, rising star. "I have only been riding freestyle for one year and I've been invited to five shows now," he said.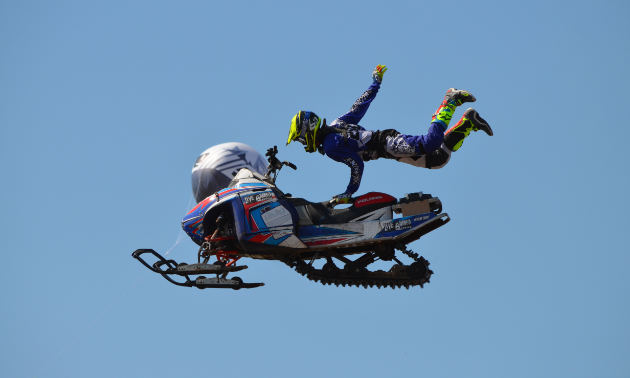 Shaffer has been honing his skills at a friend's freestyle compound. "The compound has two sled super kickers and two moto comp ramps," Shaffer said. "You can ride both side by side. We're set up to ride sleds in the summer as well. We run radiators, wheel skis and use water for the sliders."
Logging hours in the compound has compounded Shaffer's trick list, which includes Superman seat grab, one-hand seat grab, super can, super nac, side show and KOD. "I've got many tricks to learn yet," he said. "I'm working on cliff hangers, holy grabs/rock solid, heart attacks. My favourite is the double grab right now."
Crash boom bang
All this experimentation has come with some bumps in the road and in Shaffer's skeletal structure. "At Hay Days, I stalled a whip and came up a couple feet short while sideways," Shaffer said. "The sled bucked me off and I slammed on my right side, cracking my pelvis. I was back to 100 per cent in five weeks. I also had a crash in the summer where I came up short by a couple feet. I ended the sled and got a minor concussion."
Even with the accidents, Shaffer's enthusiasm for riding freestyle never waned. He wants to expand his trick list even further, not just for himself, but for the little up-and-coming snow riders. "I love seeing kids excited when I throw down my best tricks," said Shaffer. "Reminds me of myself as a youngster."