What do camels, woodworking, a wild mustang and full-time fathering have to do with snowmobiling? You'd be surprised! Here's an inside look into some unique sides to our snowmobiling superstars that you may not have known about.
Kim Onasch: exotic pet owner
This female powerhouse of the backcountry is best known for her skills as a team member of the Boondockers crew. Navigating intricate lines, this woman leaves many onlookers awestruck, but there is more to her story than exceptional snowmobiling skills that may leave you speechless. Take, for instance, her choice in pets. How many people do you know who have a herd of camels for pets?
Onasch has always had a love of animals, with horses being one of her passions in life. About a decade ago, she was hit with inspiration for a new pet she could ride. What was this animal? A camel of course!
After researching camels, including their food, training and personalities, she decided to take a leap forward and purchased her first camel, Tazzie, from a woman in Grand Junction, Colorado. The woman had become ill and could no longer care for her beloved camels and Andalusian horses. After meeting Onasch in person, the breeder knew for certain this was going to be a great home for Tazzie, who was pregnant at the time.
Born at Onasch's ranch, the all-white camel she named Sullivan was the second addition to her herd, with a gelding named Humperdink joining Tazzie and Sullivan a short time later.
What does one do with a camel? Ride them of course! Although clumsy at times, camels love to go out for leisurely strolls.
"I ride Humperdink the most," said Onasch. "He is the best behaved and the most fun when we go for walks around the neighbourhood where it is grassy on the shoulders of the road. Camels have a soft pad, similar to dogs, so hard, rocky terrain is difficult for them to navigate. If they step on a sharp stone, they tend to fall down, so terrain choices are very important when riding a camel."
Camel care is very similar to equine care. Camels eat grass hay, they grow long insulative fur in the winter and they require regular deworming, just like horses. But there are aspects of camel life that can be challenging.
Only a handful of vets have the expertise to work on this unique animal so diagnosing a medical condition can be difficult. When Tazzie was feeling under the weather recently, it took a team of vets working together to diagnose her condition. Blood work was sent away, with veterinarians brainstorming together, which resulted in Tazzie being diagnosed with a strain of influenza.
"The interesting thing about camels is they can catch the same strain of influenza as humans, so we can make each other sick," said Onasch. "It is possible that I gave Tazzie a flu."
On top of their specific health needs, camels can be quite unruly when they want to be. Onasch recommends being very cautious if you are thinking the camel life may be for you.
"Large animal experience is a must, for if you have no experience with large animals, camels would be extremely difficult to train and handle," said Onasch.
In addition to her camels, Onasch has three Great Danes and a Sphynx cat.
"The days we are snowmobiling it can be hard to leave early for they all want my attention," she said. "If I'm late, everyone usually knows why. I am fortunate to have amazing roommates and my son, Alec, who helps me take care of the animals so I can get out riding."
Brandon "Tuddizle" Cox: full-time father
Brandon "Tudizzle" Cox—who was recently awarded "Snowmobiler of the Year" for Colorado State—is one of the most unique and colourful individuals in the snowmobile scene. His humour and passion also make him one of the most loveable superstars in the industry. But there is so much more to the Dizz than many realize.
Many who follow the adventures of Brandon will notice the love and devotion he has for his family. "His girls" are high school sweetheart and wife of 29 years, Laura, and daughters Maddigan, 15, Bella, 12, and Shay, nine.
Brandon worked in the restaurant industry and, after an especially long run at working away from his family, he came home to his newborn daughter Maddigan and had a deep, heart-wrenching realization.
"She changed so much in that short period of time I knew I wanted to do whatever it took to be present during those special moments," he said.
Not wanting to miss any more opportunities to enjoy the growth of his daughter, Brandon quit his job and became a full-time dad.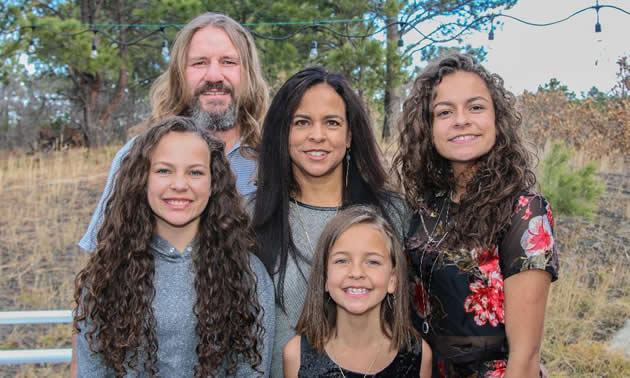 The Cox family was very fortunate that Laura was extremely career driven and had tremendous success in the tech market so financially, the family could swing it. Brandon as a full-time, stay-at-home dad made sense every way they looked at it, but sometimes society wasn't as accepting of this arrangement as Laura and Brandon were.
"Seeing a male in the primary caretaker role wasn't as common 15 years ago as it is today," said Brandon. "It took some time for the community to understand that I wasn't just filling in because Mom was busy that day."
Adjusting was a smooth transition for Brandon, who likens being the primary caretaker of a household to the hospitality industry he left.
"Running a home of five is like managing a small resort," he said. "You have food, beverages, housekeeping and some of the sickest clients ever!"
Totally engaged, Brandon is actively involved in every aspect of the girl's lives, especially volunteering at their school. Watching them thrive in their own environment is one of the greatest rewards for him. All of his children excel academically, but his pride hits a whole new level as he watches them interact with their peers and teachers at school.
"They do well academically, but more importantly, I see them demonstrating respect and compassion for others," said Brandon. "With those skill sets, I know they will be successful in whatever they pursue in life."
While Brandon travels a lot in the winter months to pursue his passion for snowmobiling, the summer months are dedicated to family adventure.
"I take the family on a month-long road trip each summer," he said. "We grab our fifth wheel and hit the road with little to no plan on where we'll end up."
Some of the family favourites include national parks. They usually spend time enjoying four to five parks before summer's end. The adventurers also enjoy time along the Oregon coast to satisfy the need for sun, sand and surf.
Unique parenting by a very unique mountain snowmobiler means the much loved and admired "Tudizzle" is a real inspiration.
Megan Render: woodworker extraordinaire
Chute-climbing superstar Megan Render is more than just gutsy when it comes to life. Letting nothing and no one rein in her potential, she faces life head on and dives right in. This spunky attitude doesn't only pertain to snowmobiling however, as Render is a very gifted woodworker, creating furniture and home accessories that look like they came out of a ritzy Pottery Barn-like catalogue.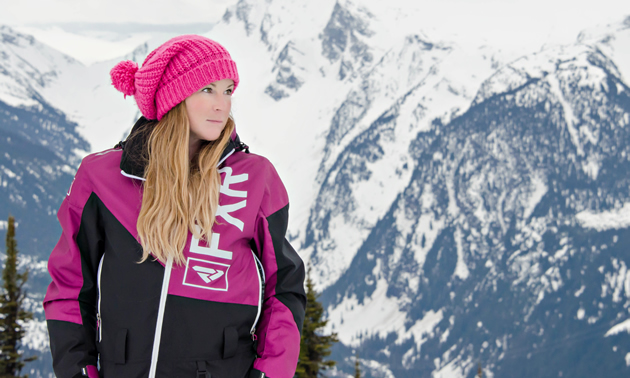 She didn't plan on being a woodworker by a long shot, but true to her spirit, self-sufficiency is where it's at for this girl. Shortly after moving into a new house, she realized she needed a new kitchen table but was unable to find the exact piece of furniture she wanted. Seeing only overpriced, shoddy workmanship, or both, Render decided to take matters into her own hands, literally.
"I thought to myself, 'How hard can it be to build one?' " said Render.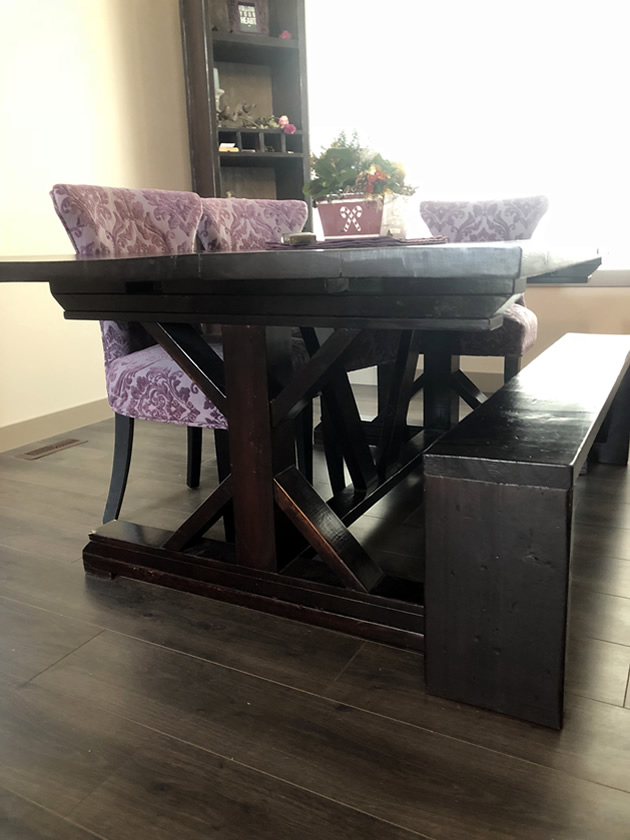 Keeping in mind this project was before the days of Pinterest, Render used Google Search to find the exact inspiration she needed to embark upon her first project. This table was a huge project, and a local woodworker provided some mentoring for the tricky parts.
Built entirely without a single screw using traditional methods of carpentry, which take far longer than modern craft, this massive project was complete. It was exactly what Render had envisioned, leaving her with a tremendous feeling of accomplishment and pride.
After that first table, Render was hooked and continued to fill her home with unique, quality pieces of furniture built by her own two hands. As she entertained company, the superior craftsmanship of her pieces sparked more than a passing interest in her visitors, who began ordering custom pieces.
One of Render's favourite accomplishments is her outdoor sectional, designed and created all from scratch. She wasn't the only one who loved this creation—after sharing it on social media, it went viral on many woodworking pages!
"It was a pretty neat feeling having the world like one of your own creations," said Render. "If you type DIY outdoor sectional in Pinterest, you will see that it has been re-pinned well over 100,000 times."
If there is a mountain, Render will climb it and if she needs anything else in life, you can bet your bottom dollar that she can build it! Truly a hands-on girl, Render is unstoppable.
Julie-Ann Chapman: equine aficionado
Along with being one of the most influential and skilled female riders of our time, Polaris rider Julie-Ann Chapman is also known for her tremendous heart and compassion, especially for animals.
For years, she had watched a wild herd of horses known as the "wild Pemberton herd." Two years ago, she noticed a unique foal that seemed to pull at her heartstrings. She often brought hay to help this herd out during tough times and the more she saw this paint, the more her love for him grew.
Having loved horses since she was a wee girl of five, Chapman has gained in skill and knowledge over the past 13 years, dedicating time and effort into training and working with horses.
Last winter, on one of her routine hay donation stops, Chapman noticed that the paint foal she had begun to fall in love with was gone, along with about 20 other horses. Panic filled her soul. Where were these horses? Were they destroyed by someone who thought these wild animals were a danger and a nuisance? Chapman started asking questions as to the whereabouts of the missing horses.
"As small of a town as Pemberton is, it didn't take me long to find out that the Cheekye Ranch in Squamish had come in and swooped these horses off the streets," said Chapman. "The horses were becoming an issue on the highway, causing many motor vehicle accidents and putting humans and horses in danger."
Chapman went to the ranch, hoping to find the black and white foal she had affectionately named Fraser. Her elation at finding her Fraser was short-lived, however, as she was informed that he was not eligible for adoption. The Cheekye Ranch was going to keep him.
Chapman was devastated and left the ranch with a heavy heart. The ranch had offered another horse for Chapman, but her heart knew that Fraser was the horse for her.
One morning, over a week after she had been given the devastating news, Chapman received a call.
"After we looked into who you are and your intentions for Fraser, we believe you will be a perfect fit," said the owner of Cheekye Ranch. "Are you still interested?"
Two days later, Chapman started ground work with Fraser and the rest is history.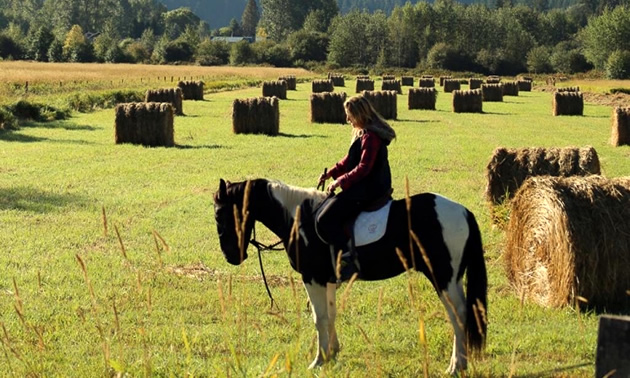 Incredibly gifted in the art of connecting with horses, Chapman's gentle hand, experience and patience brought the two souls together as one.
"Some of the challenges I have come across with training a mustang is that you have to be soooo patient," she said. "Take small steps and be persistent day after day. He has taught me so much about patience and determination. The trust you develop from a wild horse is a trust that is completely indescribable. You feel indestructible as a team."
Chapman will be sharing even more of her adventures with Fraser on her Instagram page. You can follow the dynamic duo @sheshredsmountainadventures.
So, you see, to the untrained eye, we are just snowmobilers—at times ridiculed for our intense desire to chase fresh powder and push ourselves to the max. But dig a little deeper and you will find wonderful, unique and surprising potential in a sport that breeds determination.