Balancing work, fun and family can be a challenge for most parents in today's world. Being a passionate snowmobiler can add yet another challenge to this equation. Out-of-town trips to favourite destinations and participating in race circuits will eat up valuable family time. How do they do it? Here are some awesome fathers in the snowmobile world who have shared their thoughts on balancing powder and parenthood.
Keeping priorities straight
Levi LaVallee is one of the most recognized names in the snowmobile world. The first snowmobiler to attempt a double backflip, Levi is also an accomplished Polaris racer and the head of Team LaVallee Racing. Wait, there's more.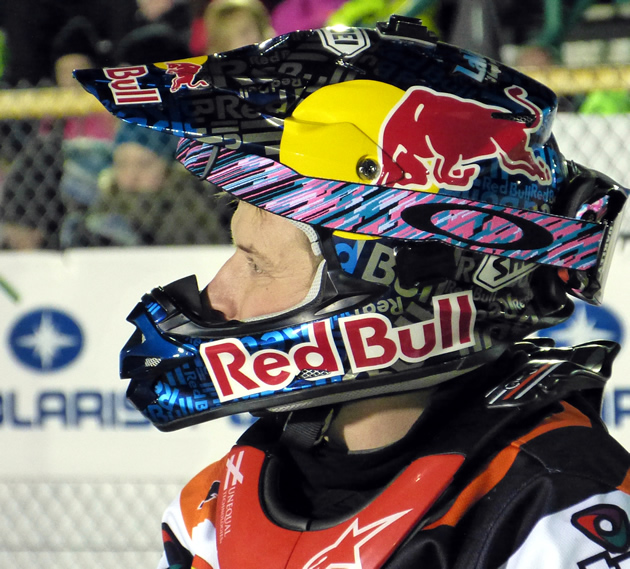 Levi is a Winter X Games gold medallist, a Red Bull-sponsored rider and on December 31, 2011, he jumped across the San Diego Bay as part of Red Bull New Year No Limits, setting a world record during his jump of 126 metres.
One of his greatest accomplishments in life, however, is found in his family life. As a father to Liv, three, and Lavin, who turned one in July, Levi is a busy man, constantly on the go. How does he make time for family life? Discipline and prioritizing are imperative.
"I try to be even more disciplined in life than before having kids," said Levi. "I prioritize what is important in my day, then do it. It's extremely easy to waste times on unproductive things."
It is important for the LaVallee family to sit down together for supper—a ritual that both Levi and wife Kristen feel keeps their family together and strong.
"Even with our busy schedule, we always do our best to eat dinner together as a family," said Kristen. "That time is fully devoted to the kiddos and re-connecting with them."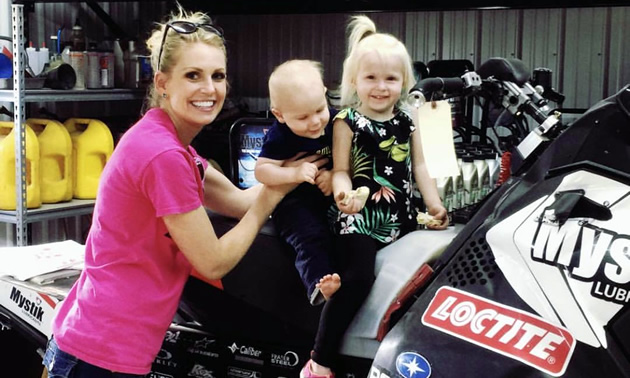 Levi is an engaged father, truly enjoying his children.
"The kids are so much fun, and they bring so much joy and happiness on a totally different level than before," he said.
Liv and Lavin are following in their father's footsteps, enjoying time in the snow with snowmobiles, which daughter Liv calls her "snow babies."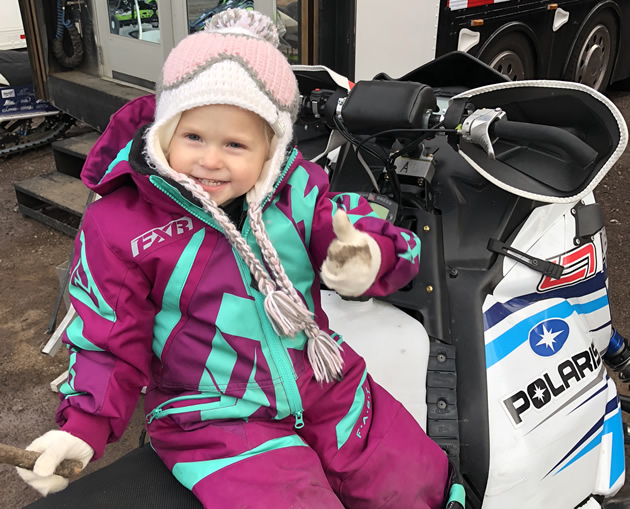 During the work hours, both Levi and Kristen are driven, making the most of their days so that they can take time in the evenings dedicated to family. Extended family support allows Kristen, who is the media and marketing director for Team LaVallee, to attend all of the ISOC National Snocross races and events that Levi participates in. While the dynamic duo concentrate on work, the children spend quality time with their grandparents.
The LaVallees seem to have what it takes to balance work, play and family.
Making time for the family
Curtis Pawliuk is one of the busiest and most respected snowmobilers in B.C. He works as the general manager of the Valemount & Area Recreation Development Association and operates Frozen Pirate Snow Services, an avalanche education business. Winter is Pawliuk's busiest time of year. A father of two girls, Zoe, seven, and Megan, nine, he strives to be an involved, engaged parent.
"It's incredible to watch our girls grow into their own people with the values we've instilled," Curtis said. "Watching them turn into their own unique people is the most rewarding aspect of being a dad."
How does one balance family life?
"You simply must make time for your family," said Pawliuk. "It's a busy world, a busy life, but nothing is more important than our family time."
The Pawliuks are a winter family, enjoying snow together either skiing or snowmobiling.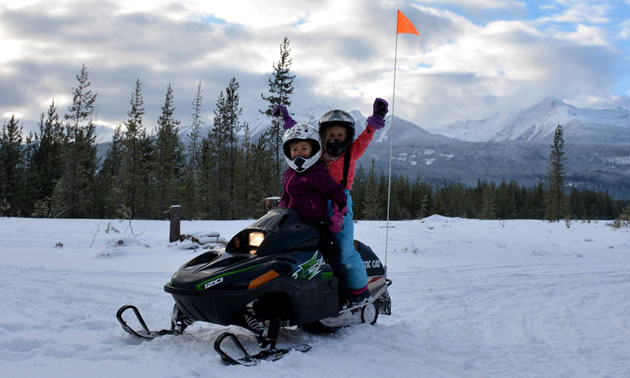 While he'd love for the girls to enjoy snowmobiling, he never pushes them. Lucky for Zoe and Megan that dad is thinking ahead, because once they outgrow their 120, they have a mid '70s Yamaha Enticer waiting for them.
Being well supported
RMSHA hillclimb racer Brent Pukas of Cranbrook, B.C, attributes the ability to balance work, racing, life and family time to his wife, Lacey, and her incredible support. A father of two (Dax, seven, and Jaycee, three) Brent considers his family his top priority in life. He is an engaged and proud father who loves to spend time with his children, teaching them the same skills he was taught when he was young.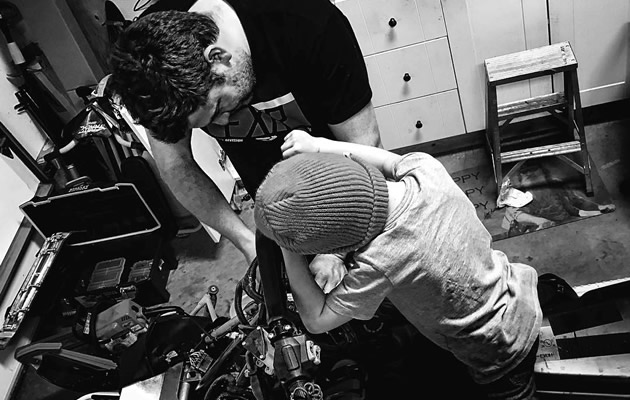 Dirt bikes and snowmobiles are a big part of the Pukas family heritage. From a long line of racers, including Brent's brother Jamie, these children are destined for horsepower adventures in life.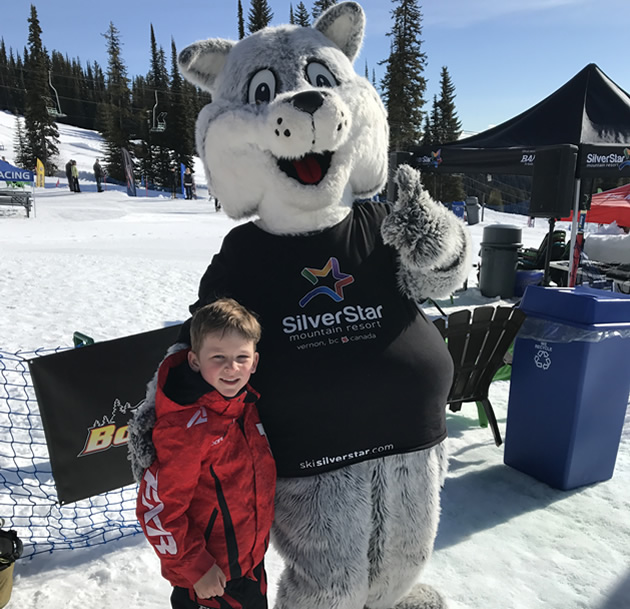 "The best part of being a dad is teaching my kids how to do things I loved as a child and still do today," said Brent. "Seeing how much they enjoy it gives me a huge amount of pride."
Will his children be racers?
"I would love if my kids got into racing but at the same time, I will never pressure them into it," said Brent. "I have seen way too many dads living the dream through their kids, and it ruins the fun in the sport for the kids. After all, that's why we do it—for fun!"
Although it is difficult for the entire family to make the 12- to 13-hour drive to the races, Brent loves when his family cheers him on at events closer to home, such as races in Vernon, B.C., and Sandpoint, Idaho.
"When they are out there cheering me on, it makes me feel like a rockstar," said Brent.
Snowmobile life doesn't end when family life begins. It takes time, focus and dedication, but clearly the result is a life filled with fun, family bonding and continual adventure.