Behind every snowmobile wrap there is a unique story. At least that's what we learned from our Best Sled Wrap Contest. Below, we catch up with all six finalists—starting, of course, with the winner:
Rachel Scott
Lives in: Salmon Arm, B.C.
Wrap designed by: Rekkless Wraps, Sicamous, B.C.
How did you get into snowmobiling? Growing up, my twin brother and I were fortunate enough to always have a sled or two kicking around. Living in Stewart when I was teenager, that's how we got to school. Every day after school there was always a pack of us who would get on our sleds and wreak havoc till we had to be home for dinner. Meeting my partner Wally a couple years back is what really got me into the mountains. We rode for 100-plus days last year, which is a lot for any rider. The guys I would sled with really had no sympathy for me. Being newer to the insane Sicamous mountains, there were plenty of tears, yelling, helmets thrown and me wanting to give up, but in the end I am thankful for them not babying me and pushing me to keep going.
What can you tell us about your wrap? This design was made for all Rekkless Wraps' 2017 riders and there are five of them around, but each are different colours.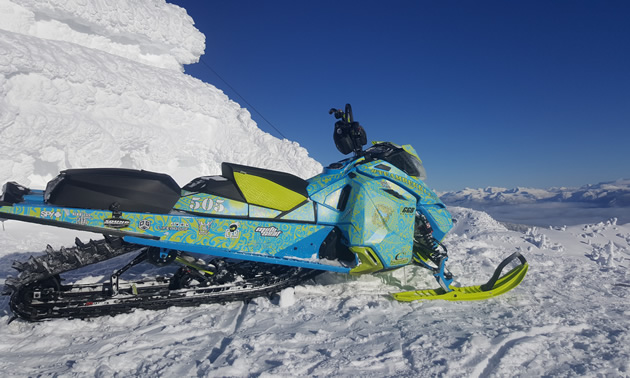 Karah Lucy Oake - Runner-up
Lives in: Springdale, Newfoundland
Wrap designed by: Rekkless Wraps
How did you get into snowmobiling? I've basically been riding since birth. It's not only a way of life for me, but for my family also. I can remember trips to the cabin on an '88 5500 Blizzard, asking my dad to let me drive! My first sled I got as a kid was an '86 Bravo and I guess my passion just grew from there. I've owned a few snowmobiles since then, but I have to say, I wouldn't trade my Polaris for anything else!
How did you pick your wrap? I didn't necessarily "pick" my sled wrap, I designed it. The beauty of it is I made it mine, just how I wanted it—a work of art! Teaming up with Rekkless Wraps, I custom-made the graphics, colours, etc., bringing exactly what I had pictured in my head to life. Now, with my wrap, Mountain Armour bumper and powder-coated parts from Central Newfoundland Powdercoat (of course in pink), my sled is ready for the snow.
How does it reflect your personality? My wrap portrays my personality perfectly . . . lively, expressive and not afraid to stand out! I like the loud colour schemes and the wraps that show uniqueness and personality. Like I said above, It's a work of art, so just pick what you like and run with it!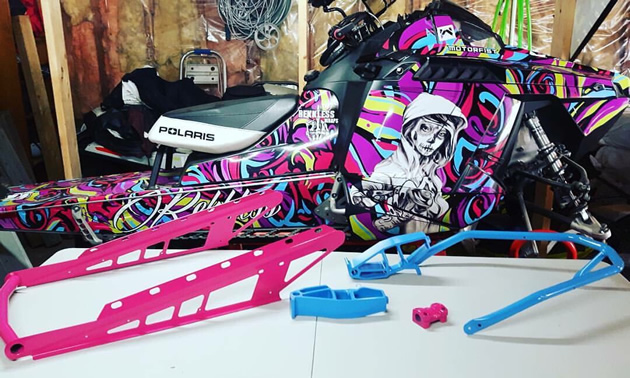 Kim Black - 3rd Place
Lives in: Eagle River, Alaska
Wrap designed by: Extreme Realities, Powell, Wyoming
How did you get into snowmobiling? I started snowmobiling when I was nine and grew up riding on the lakes in Alaska.
Where do you usually ride? I usually ride near my cabin in Petersville, Alaska. I love the diverse terrain. You can go from trail riding to boondocking and creek jumping to sidehilling and climbing in the mountains all in the same day, and then back to the cabin for a hot meal and the chance to do it all again the next day.
How did you pick your wrap? I worked with Jessica Carter and Extreme Realities to design this sled around my love for Alaska and the night sky when we are out riding. This was the first wrap that I helped design and I really enjoyed the process of coming up with something custom that was perfect for me.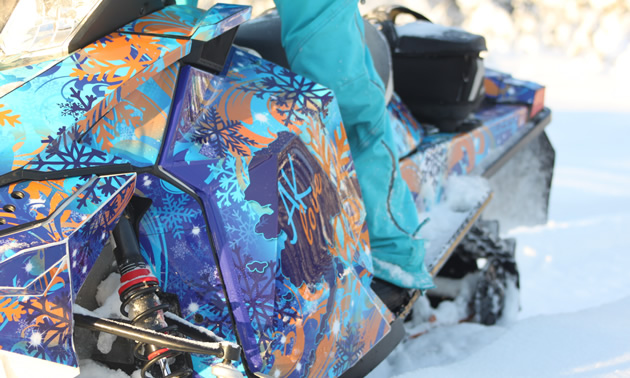 Kadie Jay McCallum - 4th Place
Lives in: Prineville, Oregon
Wrap designed by: Extreme Realities, Powell, Wyoming
How did you get into snowmobiling? I started snowmobiling when I was a little girl but found my passion for it about eight years ago.
How did you pick your wrap? Two years ago, we drove to Afton, Wyoming, for the hillclimb races to pick this sled. It was the one I wanted, colour and all. When we got home, I said I need to name my sled. So I asked my five-year-old what to name it and she said, "Kermit, Kermit the Frog 'cause you love green and it kind of looks like him." I then wanted to wrap it but when I started looking, I didn't like any of the pre-designed ones. I wanted mine to be different. So I contacted Jessica Carter with Extreme Realities and told her I want to keep the green but add some things to it and incorporate Kermit. Three days later, we had came up with snowflakes and swirls with Kermit writing. I am honoured to have been a finalist for the Best Sled Wrap and can't thank Jessica enough for the help in making my dreams come true and for bringing my daughter's imagination to life.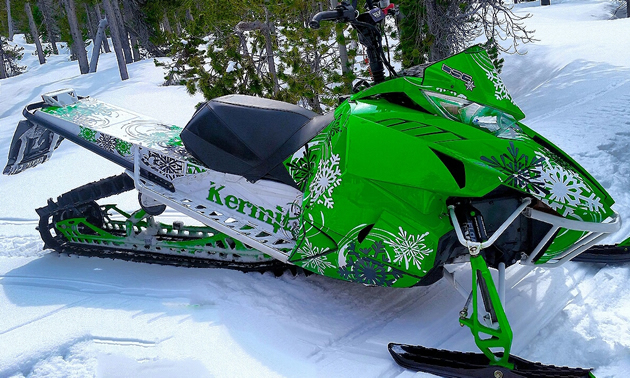 Jennifer Bowman - 5th Place
Lives in: Missoula, Montana
Wrap designed by: ArcticFX Graphics, Washington, Michigan
How did you get into snowmobiling? My husband, Aaron, opened my eyes to snowmobiling. I've always been an avid rider of Waverunners and ATVs, but I wasn't much of a cold-weather aficionado and therefore had no winter sport. After years of Aaron insisting I'd like snowmobiling once I tried, we went out on a limb five years ago and bought all the cold-weather gear and two new sleds. Needless to say, I've been hooked ever since.
How did you pick your wrap? I chose this wrap because I wanted something more feminine than my all-black sled, but I didn't want it to be too "girlie." The colour scheme is nice and bright so my riding partners can find me when I fall in tree wells! Ha ha. The ArcticFX wrap design tool let me see what the design would look like on my sled as I adjusted each colour layer. I was able to alter the design and get the colours and look I wanted. This design reflects my riding style in that it is a bit erratic and crazy!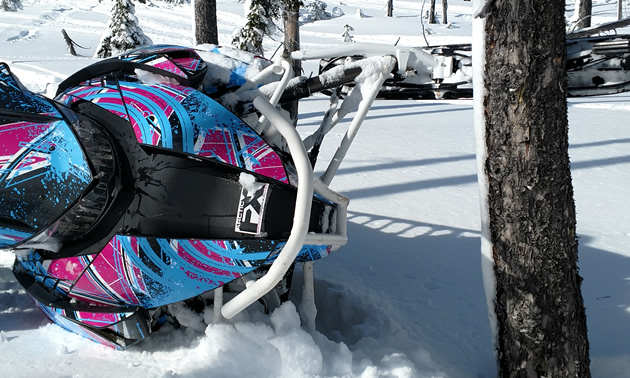 Wally Taylor - 6th Place
Lives in: Salmon Arm, B.C.
Wrap designed by: Rekkless Wraps, Sicamous, B.C.
How did you get into snowmobiling? I've been sledding since I was two years old on my mini sled. My father always pushed me with riding, whether it be on sleds or bikes.
As the co-owner of Rekkless Wraps, how did you come up with the design for this wrap? We work hand-in-hand with every customer to ensure they get a personalized wrap that they are 100 per cent satisfied with. Never reproduce any wrap for anyone is something we stick very close to. So when it came time to design a wrap for Lee Huestis (@KneeKapp), she came at us with the idea of something girlie, yet really bad a** looking. After exchanging ideas, we came up with a solar flare idea. When Lee saw the digital proofs, she fell in love and the rest is in the books. We are very proud to have Lee riding a Rekkless Wrap.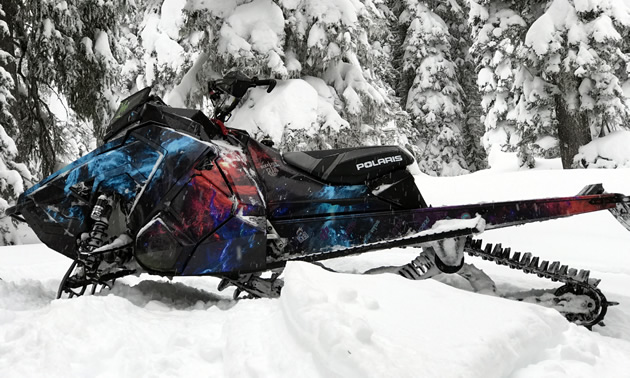 The Best Sled Wrap Contest took place on SnoRidersWest.com during the months of August and September. Visit www.snoriderswest.com/journeys to see all 60 wraps that were entered in the contest.