Snowmobilers in Eastern Canada are going to like what the Canadian Farmers' Almanac predicts for Winter 2017-2018—those in the West, not so much.
The Lewiston, Maine-based publication that went on sale August 14th anticipates a colder, more normal winter from Quebec east into the Maritimes, with many locations experiencing above-normal precipitation. Ontario will see wide swings in the weather pendulum.
Across Manitoba, Saskatchewan and Alberta, temperatures will be above normal with moderate amounts of snow. As for B.C., it will be drier than normal.
(Shoulder slump) Before you start cursing Mother Nature like I did, consider this: last winter wreaked havoc on snowmobile clubs in the Prairies, causing many events to be cancelled and trails to remain closed. So a "moderate" snowfall could actually mean the return of winter.
Let's also take a closer look at the Almanac's breakdown for each month:
Zone 4 - Prairie Provinces
November 2017
1−3: Stormy, Alberta-Saskatchewan and points east. 4−7: Fair and cold. 8−11: Light snow for the Rockies and points east. 12−15: Fair, then turning stormy, including the Prairies. 16−19: Storms clear Saskatchewan-Manitoba area and all points west; turning colder. 20−23: Light snows in the Rockies and across Prairies, then clearing. 24−27: Quick changes: mostly fair followed by a heavy snowfall (15–30 centimetres) for Rockies. 28−30: The flakes continue to fly; very unsettled for Saskatchewan- Manitoba area with significant snows.
December 2017
1−3: Mostly fair. 4−7: Heavy snow from Alberta-Saskatchewan (20–30 cm) and out over the Prairies. 8−11: Wet snow and/or rain showers for Rockies and Prairies. 12−15: Clearing skies. 16−19: Mostly fair then light snow from the Rockies, points east. 20−23: Fair and very cold from the Prairies and points west. 24−27: If you're dreaming of a white Christmas, you might get your wish: Heavy snows over Rockies and Prairies. 28−31: Mostly fair skies.
January 2018
1−3: Snow clears Alberta-Saskatchewan areas and over the Prairies, turning fair. 4−7: Heavy snow, up to 30 cm, for the Rockies and over the Prairies. 8−11: Turning much colder; temperatures to reach –20 to –30° C. 12−15: Snow through Alberta, Saskatchewan and Manitoba. 16−19: Cold, with stormy conditions spreading east into the Rockies. 20−23: Stormy. 24−27: Cold with snow for Alberta. 28−31: Flurries over Saskatchewan, Manitoba.
February 2018
1−3: Heavy snow, up to 30 cm, for the Prairies. 4−7: Cold and dry. 8−11: Fair skies, then flurries over Saskatchewan, Manitoba, points east. 12−15: Fair and cold weather gives way to storms over Alberta and Saskatchewan. 16−19: Stormy Family Day/Louis Riel Day for Alberta, Saskatchewan, Manitoba. 20−23: Fair skies, brisk and cold winds. 24−28: Light snow Rockies, across Prairies and points east.
March 2018
1−3: Becoming very unsettled. 4−7: Turning fair and cold. 8−11: Fair, then showers sweep east through Alberta, points east. 12−15: Pleasant weather initially, then stormy weather sweeps in from the West to Saskatchewan-Manitoba region. 16−19: Fair skies return. 20−23: Fair skies, then turning unsettled over Alberta, points east. 24−27: Some pleasant spring weather. 28−31: Rain for Alberta-Saskatchewan areas; turning stormy for Manitoba, points east.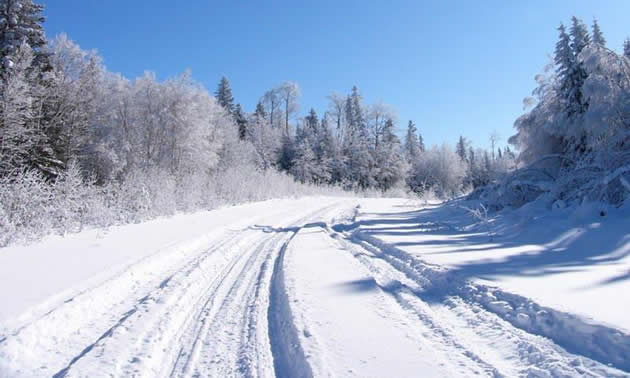 "Unsettled" and "stormy" are terms used prolifically in the monthly forecast for B.C. so even though it will be drier than normal, we may still be in luck.
According to the Almanac, the first big dump of snow over the mountains of B.C. will occur November 24 to 27. There may also be some good spring riding opportunities since the Almanac predicts "a lion-like end to March with widespread stormy weather."
The Canadian Farmers' Almanac uses a 200-year-old formula that takes into account things like sunspot activity, tidal action of the moon and position of the planets. The forecasts are actually calculated years in advance and the publisher claims they do not change them just to appease readers.
Whether you believe in long-term forecasts or not, it's always fun to speculate!