Sledders have a lot to say about the exceptional sledding in Hudson Bay. The destination has been declared SnoRiders' SledTown ShowDown Provincial Champions for Saskatchewan for two years in a row, and their third victory overall since the contest began in 2015.
The Hudson Bay Trail Riders maintain quality trails that roll over a variety of terrain with plenty of new and inviting warm-up shelters along the way. With the ability to ride right from your accommodations to anywhere in town, this snowmobilers' paradise is one worth exploring again and again.
Here's everything you need to know to sled Hudson Bay, Saskatchewan.
How many kilometres of trails does Hudson Bay have?
670 kilometres
What are Hudson Bay's top trails/riding areas?
210P Wildcat Hill Wilderness area
TC210A Pasquia Hills
210A to Moose Range Lodge
210F to Larry's Place Shelter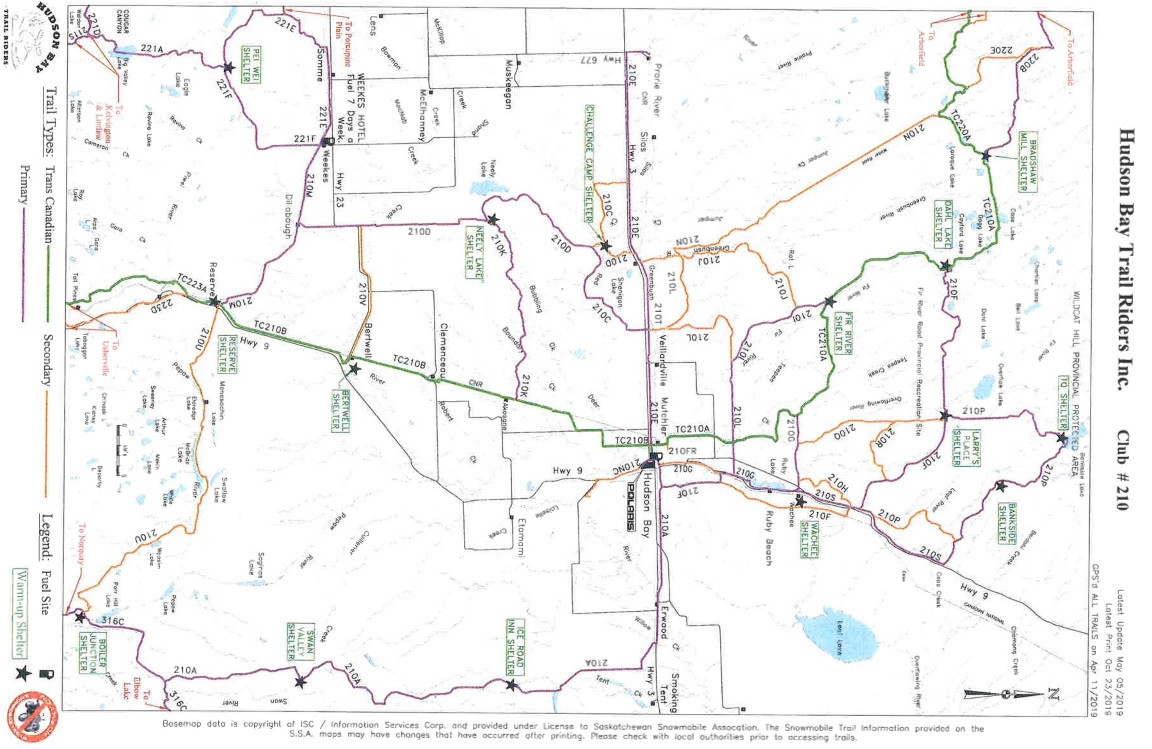 How do I get to the staging area?
There are staging areas throughout town and along Railway Avenue or near the Treeline and Norwood Motels. It is not necessary to travel out of town to a staging area.
Is there enough room at the staging area for trucks with big trailers?
Yes
Is it plowed regularly?
Yes
Do trail fees apply to all your trails/riding areas? If so, how much are the trail fees?
Saskatchewan trail fees are included with your Saskatchewan snowmobile registration and insurance and are currently $110.
How much is it for an annual membership?
Annual club memberships are $20 per person or family.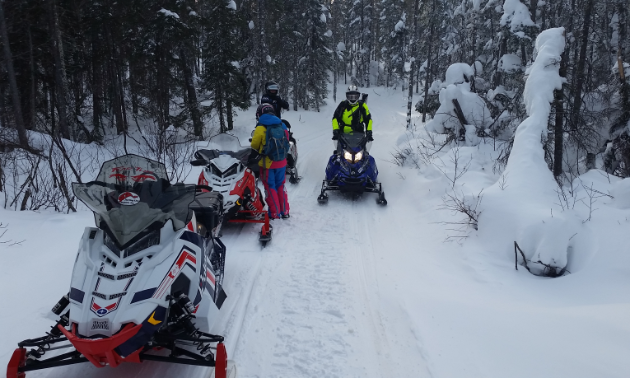 Where can I get a trail pass?
Saskatchewan residents simply need to plate their sleds at the local Saskatchewan Government Insurance office and the trail fee is included as part of the package.
Out of province sledders need to ensure their sleds are registered in their home jurisdiction and carry liability insurance to be legal. There currently is no trail pass fee for out of province riders, provided they meet the above criteria. Donations to the trail system are often received from out of province riders because of this.
What kind of groomer does the Hudson Bay Trail Riders snowmobile club have?
Three groomers
2014 John Deere 6125 with Gilbert rubber track system and 10' x 18' Gilbert drag
2011 John Deere 7330 with Soucy Track kit and 10' x 18' Mogul Master drag
2010 Prinoth Trooper and drag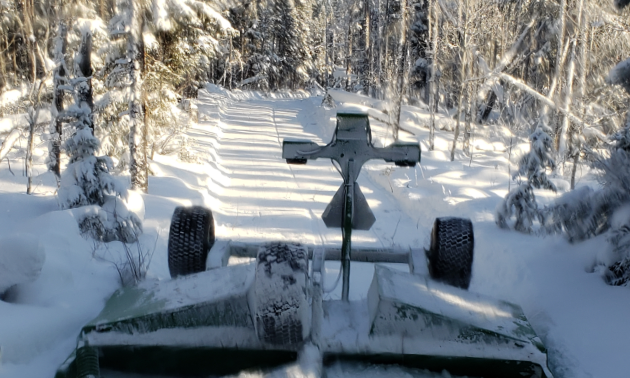 Are there any cabins or warm-up shelters in the area. What are they like?
There are 11 modern warm up shelters strategically placed throughout the trail system.
When and where do the Hudson Bay Trail Riders have their club meetings?
Usually the first Wednesday of the month at the town office.
How does someone join the Hudson Bay Trail Riders club?
Buy a $20 membership from Karen, purchase one at the local Polaris dealer, or come to a meeting.
What year was the club started?
1989
On average, how many members are in the club?
50 single or family memberships is a typical year. There's room for more.
Who is the club president?
Currently Nolan Dalpe
If people want more information about the club or the area, who can they contact?
Make a request on the Hudson Bay Trail Riders Facebook page or contact:
Nolan Dalpe, President: 306-865-9022
Karen Dolezsar, club secretary: 306-865-6426 - [email protected]