Halfway between Prince George and Prince Rupert on the eastern side of the Coastal Mountains lies Houston, B.C. Here, snowmobiling is a big part of the lifestyle, and it's not surprising since the town is surrounded by snow-cloaked mountains. But, with a population of only 3,200, it is a small town with big backcountry, so there is always lots of terrain and fresh powder to go around.
Houston boasts five different sledding zones, but here are the three most popular and easiest to access:
Telkwa Range
The Houston Snowmobile Club's showcase area and a first choice for sledders visiting Houston is the Telkwa Range. This isolated cluster of mountain peaks offers a variety of riding options. From the trailhead, it is an 11-kilometre ride on a groomed trail to the club's cabin where beginners and families can do some exploring. Beyond the cabin, experienced riders will find steep hills to climb and other, more advanced terrain features to tackle.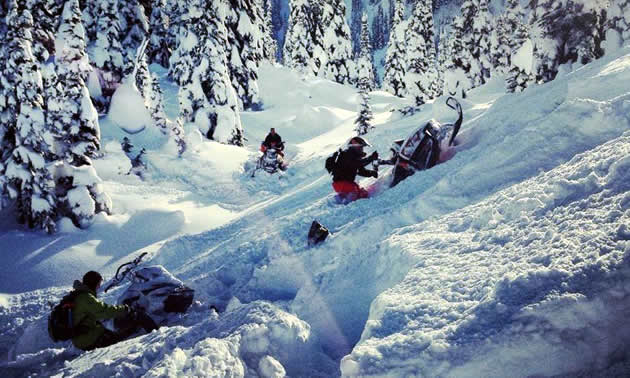 Getting there: From Houston, take the Morice River Road and then turn onto Bymac Road. Then, follow the Walcott Road for eight kilometres until you reach the Grizzly Lake Road where the staging area is located.
Driving distance: 15 kilometres (about 15 minutes from Houston)
Parking: There are two parking lots for the Telkwa Range. Both are plowed, but the main parking lot may be more suitable for trucks with large trailers. The club also pushes up the snow banks for riders to unload their sleds.
Morice Mountain
Morice Mountain is an ungroomed area that offers a mixture of alpine terrain, suitable for both novice and advanced riders. The scenery is amazing and there are several hills to play on and open meadows to lay tracks in. Bear in mind, though, that this area is also used by the local cross-country ski club.
Getting there: Follow the Buck Flats Road south of Houston for about 18 kilometres and then take the Carrier Forest Service Road for about 10 kilometres until you see signage for Morice Mountain.
Driving distance: 28 kilometres (about 30 minutes from Houston)
Parking: The Carrier Forest Service Road may not be plowed but there is a small parking lot located on the Buck Flats Road that is usually plowed out and you can unload there.
Dungate Meadows
With miles of trails and lots of low-angle meadow riding, the Dungate Meadows is a good option for those days when visibility is low or avalanche hazards are high. It is a great area for family riding as well, and the Houston Snowmobile Club looks after a cabin that is well-stocked with firewood.
Getting there: You can stage two kilometres up the Equity Mine Road and ride from there, or keep driving for another 19 kilometres and unload at the main staging area.
Driving distance: The Dungate Meadows are located 21 kilometres from Houston.
Parking: Both staging areas are plowed but the main parking lot is larger and may be more suitable for trucks with trailers.