There's nothing Erik Foster enjoys more than sledding with his family. Snowmobiling equals family time and he enjoys being out on the trails around Saskatoon with his daughter Makenna, age 12, his son Kaine, age 10, and his wife Heather, who was a core rider last year for the Prairie Women on Snowmobiles.
Foster, who serves on the board of directors for the Saskatoon Snowmobile Club, said family time is precious and there's no better way to bond together than on the trails. Safety is paramount in Foster's family and he's made it his goal to teach his kids how to ride safely.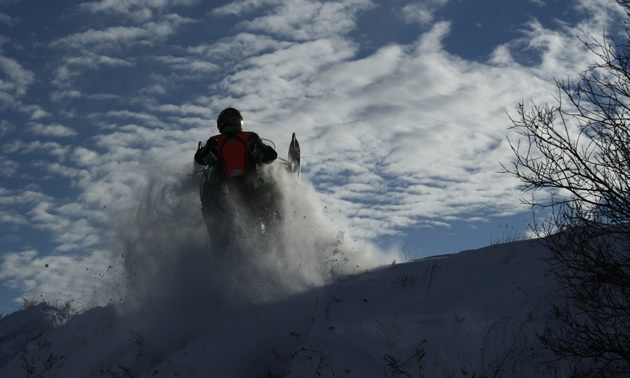 "I've been teaching my kids not only about safe riding, but how to take care of their snowmobiles as well," said Foster. "They blow out their own clutches and do their own pre-inspection of their rides before every outing. I've taught them to make sure the belt is not frayed or burnt and they know how to watch their own fuel and oil levels. They also know all their hand signals."
At the end of an outing, Foster's kids clean up their sleds, from blowing out the dust and the clutches to filling their own snowmobiles with gas and oil.
"I am teaching them everything about their snowmobile and riding safely," said Foster. "It's incredibly important."
Foster's favourite family riding areas are Duck Lake near Saskatoon, Candle Lake and Hudson Bay.
Saskatoon Snowmobile Club Trail – Duck Lake
When Foster and his family ride to Duck Lake, they start out at the Saskatoon Snowmobile Club's clubhouse, which is an old schoolhouse located between Saskatoon and the town of Warman. The groomed A Trail runs up to Duck Lake and the B Trail runs around the back side of the lake. Foster and his family normally do the whole loop, with a stop at the North 40 warm-up shelter.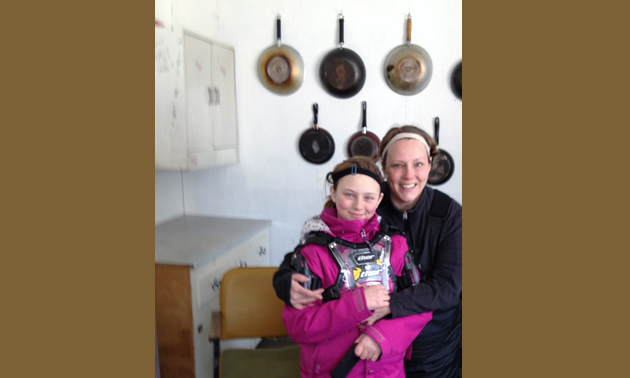 "Stopping at the warm-up shack is one of our favourite things to do," said Foster. "My wife is Ukrainian, so we always bring perogies and sausages to cook up. What we love about sledding is that it's our time. The four of us get to talk and just be a family. It's amazing."
The loop is about 130 kilometres and usually takes the Foster family about five to six hours. They often ride during the week when the trail is less busy. Foster believes this increases the safety factor for his younger kids. They always ride with Foster as the leader, the two kids in the middle and his wife at the back. All of this is done on purpose for safety.
Candle Lake
Candle Lake is located roughly 150 kilometres from Saskatoon. The Foster family always stays at the beautiful cabins at Candle Lake Golf Resort. From the resort, riders can enjoy over 500 kilometres of snowmobile trails in the area.
"We usually try to go twice a year and, again, we try to go during the week so the trails are freshly groomed and there's less traffic," said Foster.
The family will usually cover about 100 kilometres a day. There is an abundance of warm-up shelters and a lot of the groomed trails are located in the forest where they have the opportunity to see glimpses of wildlife.
"There are a lot of facilities out there," said Foster. "The golf course is a great place to stay, with hot tubs and a really good restaurant. It's a wonderful place to go with the family."
Hudson Bay
The Foster family travels 250 kilometres from Saskatoon to Hudson Bay about twice a year. According to Foster, it's home to the best snowmobiling in the province.
Foster and his family stay at Jackpine Cabins, located at the edge of town. The cabins are fully equipped with kitchen, living room, bathroom, two bedrooms, a deck with a barbecue grill, and heated storage. Guests have access to a secure and heated shop and there is tons of parking for trucks, trailers and sled decks.
"There are hundreds of miles of groomed trails and about 15 warm-up shelters," said Foster. "The warm-up shelters are some of the best in Saskatchewan and the riding is absolutely amazing because of how well they groom the trails."
Sharing his passion
"One memory I'll never forget was last year when we had a huge snow storm," said Foster. "It had just finished snowing and we went out riding in all the fresh powder. It was the first time seeing my daughter boondock. Seeing her push the sled from side to side with the snow coming up over her helmet was one of the greatest things a father could see his little girl do. I will never forget it; I have goose bumps just thinking about it!"
The Foster family can't wait for the snow to fly and to get out on their sleds once again, to create more family memories that will last a lifetime.