Debbie Westman's first experience snowmobiling was on her family's farm. First, the Barrhead, Alberta snowmobiler rode in a ski caboose, but later on she ripped a Snow Jet around the fields. She was reintroduced to snowmobiling as an adult. "The passion began when I met my husband, Scott," she said.
The pair met in 1987 and would ride doubles on his old Olympic. "Eventually it got to the point where I would end up falling off," Debbie said. "I told him I had had enough, and I wasn't going snowmobiling again until he bought me my own. It wasn't too much longer until he came home with a 1979 Ski-Doo Citation 300 that needed to be rebuilt."
Over the years, Scott has been Debbie's biggest inspiration. "He lets me follow behind him to pay attention to the terrain and gives me his tips and tricks along the way of how to be a better snowmobiler," she said. "He has a lot of patience."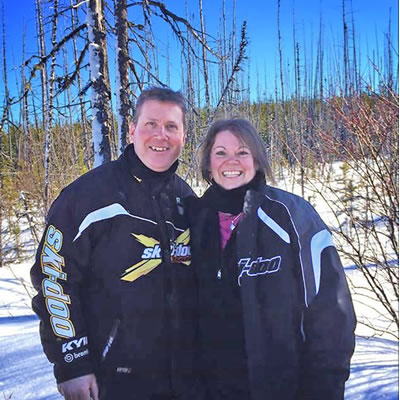 A family affair
Debbie and Scott rebuilt the Citation together. Eventually their kids would learn to ride on the same machine. "We've always been a snowmobiling family," Debbie said. All three of their kids grew up riding, and now their grandkids are learning as well. "It was important to all of us. We had so many adventures!"
Other than the quality time she gets to spend with her husband while riding, Debbie loves snowmobiling for the quiet time out in the snow. "I love being in the serenity of the backcountry, whether it be trails or mountain riding," she said. "Just that peace and calming feeling." She hardly sleeps the night before a ride because of the excitement to go explore. "I'm like a kid at Christmas morning when it's time to go snowmobiling!"
Snow goals
Debbie recently purchased a new sled, a 2016 Ski-Doo Summit Burton 800R E-TEC. She hasn't had quite enough time to break it in yet, so her goal this season is to have some more bonding time with the new machine. "I wanted something a little more challenging to ride on the trails," she said. Debbie and Scott have been adventuring into the backcountry a bit more now that their kids are grown up. Her new sled has a narrower stance and a longer track than her previous ride. The longer track is good for deeper snow and the more challenging terrain they have been exploring. "Sometimes I think I've bitten off a little more than I can chew with the bigger sled, but I hope with a little more bonding time I will be able to improve."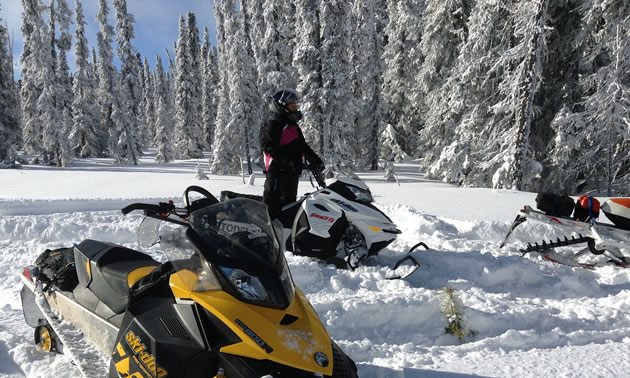 Riding around Barrhead
There are over 200 kilometres of newly developed trails in the Barrhead area that Debbie is eager to ride more often. "We've been wanting to showcase that, but the snow is defeating us," she said. When the snow doesn't fall, they drive about an hour to Swan Hills, an area that sees snow similar to Jasper. "We primarily do trail riding, but the area we ride gives us the illusion of mountain riding depending on the snowfall."
When there is enough snow around Barrhead, Debbie likes to start at the new Vega Staging Area, then rides the loop to the Flatbush Cabin. "They've done some extensive work out there, and it's a really nice ride," she said. When she has her grandkids with her, they start in town and ride to the Shoal Lake Cabin for an easier ride. "It's a nice little loop to take families. We ride to the cabin to warm up and have lunch before coming back."
Her absolute favourite spot, however, is Flatbush Trail to the Trans-Canada, then onto the Athabasca River. She has fond memories of racing up and down the river with a long-time friend.