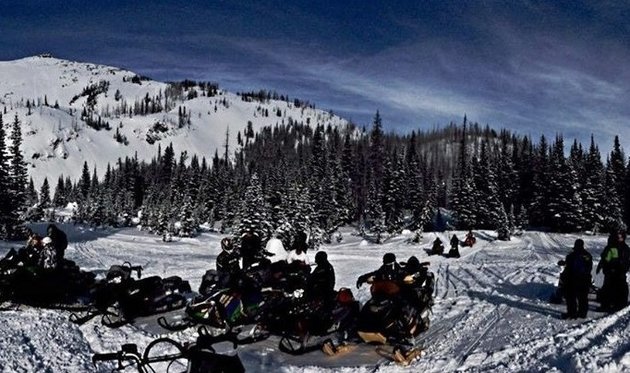 A snowmobiling trip to the Crowsnest Pass, Alberta, is always an adventure to remember. Sledders can enjoy some of the most spectacular trail conditions, deep powder and all-round glorious mountain snowmobiling terrain that the province has to offer. The area is packed with sled-friendly communities where you can find snowmobile rentals, restaurants, fuel stations and accommodation options that will make you feel at home during your entire stay.
Trail map of Crowsnest Pass, AB snowmobiling areas
For a general map of the snowmobile trails around the Crowsnest Pass, download the SnoRiders trail map.
Main snowmobiling trails in Crowsnest Pass, AB
Lost Lake
Accessed from the York Creek staging area, this area overlooks the lake and offers spectacular views. The networks between Lost Lake and MacDonald Ridge are considered to be among the best trails in the Crowsnest Pass. (Read our full description of this area.)
Crowsnest Mountain
Accessed via the Atlas Staging Area in the northern half of the valley, Crowsnest Mountain is a well-groomed area that is renowned for its beauiful formations. (Read our full description of this area.)
Window Mountain
Another well-known area accessed from the Atlas Staging Area, Window Mountain offers impressive scenic views from high elevations and exciting trails that branch off and allow snowmobilers to explore. (Read our full description of this area.)
Crowsnest Pass, AB snowmobile club
Crowsnest Pass, AB Tourist information
Crowsnest Pass Chamber of Commerce
Snowmobile-friendly businesses near Crowsnest Pass