Name: Jerry Bidulock
Lives: St. Paul
Age: 61
Occupation: Owner of Power Merchants Ltd.
Where are you from originally? I'm from a little community called Hairy Hill, Alberta. It's a very small community, now, that has withered away with time. But it is connected directly to the routes of inter-club trail connectivity through this whole Lakeland region.
When did you start sledding? At age 12. This would be my 50th season Ski-Dooing.
Are you going to do anything to celebrate? Actually, in two years I will celebrate 50 continuous years of being a Ski-Doo dealer. I started in the fall of 1966. I was 14. I was working with my dad in his store—I was a pretty active helper—and I asked him to take on these new machines that were becoming available to the world. He looked at me and said, "I'll only do that if you'll look after it." And I said, "Okay, you're on." So that very first year he purchased three snowmobiles—that's what it took to become a Ski-Doo dealer back in those days. The second year we brought in eight, and the third year I took over the business officially from him. Before that, we were selling them out of the hardware store.
I had hoped that the business could support a family. I'd never imagined that it could support 25 to 30 employees and could grow to the structure that it is today, which still needs work. That trail network supports a lot of different economies, but it also gives an enhanced quality of life to many of the residents here in this region. With that, we also get visitors who travel to enjoy the work that we've all put together. So it's quite the story.
What was your first sled? An employee of my father's bought a Snow Cruiser. That's not the first machine I ever owned, it was the first machine I ever rode. I did what I could to go across the fields on an old Snow Crusher (laughs). And then I was completely blown away by the lighter, fun, faster Olympics of their day, 1966 and '67. So that was my first snowmobile.
What do you ride now? My current sled of choice is a Renegade Ski-Doo. I'm a long-distance rider. I love the ease of cruising at higher speeds, but with a better range capability. I completely enjoy, even at this age, many days, sometimes in a row, that will take me 500 kilometres or more per day. And also the ability to still ride off trail, to boondock, and ditch it if you have to, or go through an open field, or whatever turns your crank.
Where do you usually ride? I don't know if I can use the word usual anymore. Last winter, I did the Gaspe Peninsula, 2,500 kilometres in five days, with the same two friends who I went across Canada with. A couple years ago, we rode from St. Paul to Fox Creek, 525 kilometres one way, to join the ASA (Alberta Snowmobile Association) Jamboree. It's really a matter of opportunity. Where the sun is shining and the powder prevails, that's the directions I'll go. That includes the Rocky Mountains, there's some very enjoyable stuff there.
Where do you want to ride in the future? The final leg of my cross-Canada journey will be from Fox Creek to the West Coast, probably Bella Coola. That's about a 1,000-kilometre run, which won't be 500 kilometres per day because it is more rugged, more challenging and certainly not very well structured. It will probably be boondocking all the way, so I think that will take about three to four days to do that. So that's the final coast-to-coast venture, across Canada. That's on my radar.
Besides that . . . would be developing a regional trail system north of the Iron Horse Trail—kind of paralleling it and tying into it from several different places. We have a lot of riding up there, but it's not very structured and it's not maintained. So the opportunity is there, and there are a lot of elements put into place to do that. Besides the coast-to-coast thing, I think the ride through (a completed) Lakeland regional trail system is one I look forward to as well.
Of all of the different outdoor recreation available to you, which do you favour? From quadding, dirt biking, cycling, hiking, boating, sea-dooing, motorcycling to flying bush-planes—I've been blessed to do a considerable amount of each of these—sledding, without any doubt, is number one! There's nothing else even close to it. My passion for it has not faded at all in over 50 years. Alberta's Lakeland region is as good as anywhere to enjoy it.
Anything in particular that riders should keep in mind? Safety is key. Having your game on before you get on the sled, being prepared, wearing the right gear, having the right attitude and making sure that the people with you are on the same page as you, as well as ensuring that the kids that follow us are all prepared to ride safely (are all extremely important).
What is it that keeps you coming back, year after year? I could say, "Because I don't know any better" (laughs). I think it's just getting out and enjoying the fresh air, the great outdoors, seeing some wildlife, looking at a healthy environment and meeting good friends.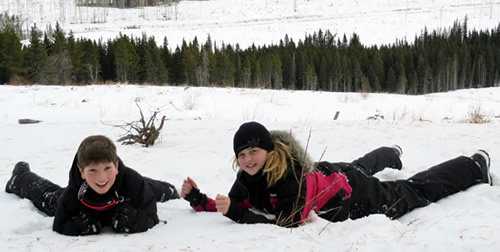 Bidulock's grandchildren have also discovered the joy of sledding.
—Photo courtesy Jerry Bidulock