Alberta's Lakeland region is home to plenty of sledder-friendly accommodations alongside a variety of unforgettable views.
Small lakes dotting the Lakeland area provide unmatched views, resting between rolling hills and boreal forest, playful routes and open skies. Winter snowfalls bring large drifts of untouched powder, as well as expertly groomed trails. The well-known Iron Horse Trail dissects the region, linking many of the neighbouring towns. Stretching 300 kilometres across Northern Alberta, the Iron Horse Trail offers the perfect mix of extreme variety and small-town hospitality.
The entire network of trails provides access to fuel, dining, shopping and accommodations. With so many towns scattered along the Iron Horse Trail, sledders are sure to find something new with each ride.
"We have bed and breakfasts in both rural and urban settings," said Marianne Price, the Iron Horse Trail administrative co-ordinator. "All (accommodations) are within easy access of the trails."
Plenty of locally owned restaurants and a variety of gift shops line each town's main street.
"The Lakeland is definitely snowmobile friendly," Price said. Snowmobilers can ride directly into their many accommodations—a type of access not granted in many areas.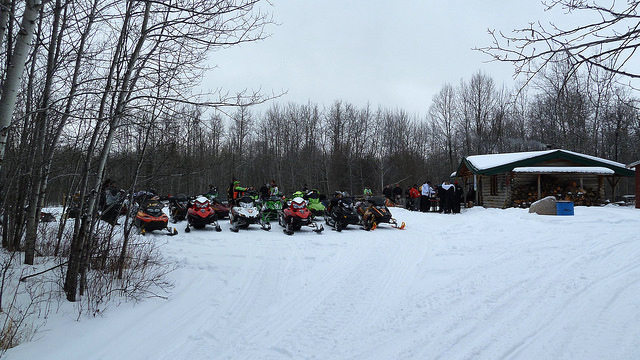 The Lakeland area also offers skating and cross-country skiing opportunities, and local snowmobile clubs may have organized events.
Smoky Lake
Alberta's gateway to the Iron Horse Trail, Smoky Lake trails link four of Lakeland's must-see lakes on 65 kilometres of groomed trails to create an outdoorsman's dream. Brodyk, Hanmore, Island and Whitefish lakes are popular ice fishing spots when the water freezes over. Riders share Smoky Lake's trails with Canadian wildlife, such as moose, coyotes and deer.
In the North, Smoky Lake's trails stretch to Lac la Biche and Boyle. Rest cabins are scattered along these trails so riders can warm up between towns, adventures and animal sightings. Get a little closer to the great outdoors in Smoky Lake's winter wonderland!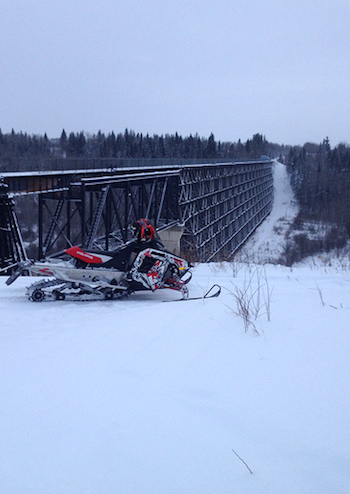 Cold Lake
Cold Lake marks the point where sledders meet Saskatchewan. Here, the Iron Horse Trail acts as an extension of the Trans-Canadian Snowmobile Trail. Both on and off the beaten path, Cold Lake offers ample room for riders to play. What more could a snow-rider wish for?
Crane Lake Cabin is a local go-to warm-up spot. The ride there is both inspiring and family- friendly. With the Iron Horse Trail just outside the door, sledders have no excuse to not explore.
St. Paul
St. Paul boasts 50 kilometres of groomed trails, running from the town to the North Saskatchewan River. With a wonderful mix of rolling hills and forested area, St. Paul has a view for everyone. "We're not confined by the bush, and yet we're not in the open," said Jerry Bidulock, owner and general manager of the local dealership.
The Bellevue Ferry Trail is a long stretch of marked and maintained land, easily accessed from the Iron Horse Trail to join up with Two Hills Trail. This easy ride is perfect for families, while still offering beautiful views. Two warm-up shelters are nestled along the Bellevue Ferry Trail—one is the main stop for the St. Paul Trailblazers Snowmobile Club.