Cory Carter began racing snowmobiles when he was 16 years old, and although he has taken some time off over the years for work, he's been nonstop ever since. Carter started racing in the Straightline Snowmobile Racing Associate (SSRA) series in the 2008/2009 season and has racked up an impressive record with numerous first-place finishes.
Carter grew up riding snowmobiles in the St. Paul, Alberta, area and owes a lot of his success to his parents. "We were born and raised on sleds pretty much," he said. "My mom and dad both raced and I had to take it on."
Now he is raising the next generation of championship racers with his wife, Jennifer O'Connor, as they welcomed their son, Robert, into their lives last year. Not to mention that O'Connor has had an impressive race career of her own, and the couple are known to be quite competitive against each other on the track.
Carter operates his own drywall company, which allows him to make his own hours and travel to the races every weekend from January through the middle of March. "We do a solid three months of racing and then I do the hillcross in the spring after the resorts close and they let us run our sleds up it . . . I try to hit all of those when they are on, well actually I've never missed one," he said.
On top of his busy race schedule, Carter jumps on his snowmobile every chance he gets. "Right around my house you can pretty much leave in any direction and find a trail. My favourite trail around St. Paul is the Bellevue trail system. There are tonnes of trails up here, it's hard to even name them all," said Carter.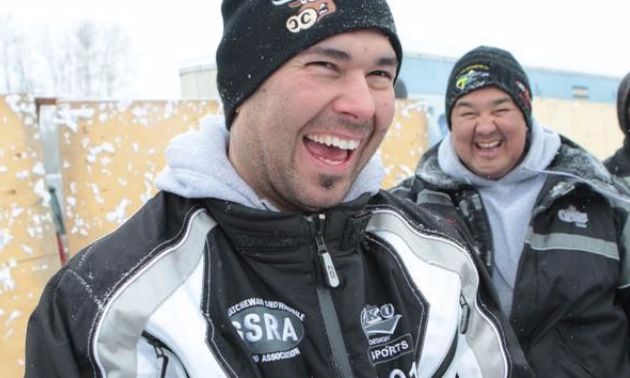 He also spends a lot of time riding in the mountains, spending most of his time in the McBride area, which he calls his second home. "I have a little mountain family out there," Carter said. "After so many years of riding, you just get to know everyone."
Racing is still the number one priority for now, though, as Carter feels he is just coming into his own as a racer. "We struggled for a few years, placing second and third, and for the last couple of years we've just nailed it," he said. "My wife cleaned up in the 600 and 700 class, and I've won the open-stock class for the last two years now."
Carter plans to be racing for many years to come not only for the thrill of racing, but also for the camaraderie. "It's all just a big family . . . It doesn't matter if you run Ski-Doo, Arctic Cat, Yamaha or Polaris," he said, "Everybody always hangs out together. We're all competitive on the track, but we're also ready to help each other out anytime." He even met his wife through racing, so the ties are deep for him and his family.
For the upcoming season, Carter is focusing on the Haydays Grass Drags in Minnesota in September, which is the World Championships. Last year in his first time out at the World Championships, Carter took home second place. He also has some plans to switch up classes this year and is going to fix up a new 800-stock race sled and build a custom-built race sled as well. This is one guy to watch out for in the upcoming season.