When it comes to snowmobiling in Alberta's Lakeland region, we would be remiss if we didn't mention St. Paul. Snowmobilers love this town, and it's no surprise since St. Paul is home to great, groomed trails and a thriving sled scene.
The St. Paul Trailblazers Snowmobile Club has been around for years. With about 80 members, it has the strength in numbers to keep the trails well maintained and organize an annual rally. Each year, the club also hosts the Western Canadian Championship Snowmobile Drag Races. This event brings in riders from Alberta and Saskatchewan.
With a population of about 6,000, St. Paul could be considered a small town, but it also acts as a trading centre for outlying areas so there are a number of restaurants, hotels and motels to choose from. Plus, all four snowmobile manufacturers have dealerships in St. Paul.
But you're not coming here to shop, you're coming here to ride, so let's talk about the trails.
Iron Horse Trail
St. Paul is a key destination on the 300-kilometre Iron Horse Trail (IHT). From the staging area that is right in town, you can head east to Elk Point and Heinsburg where the IHT ends. Or, if you want a longer route, go northwest from St. Paul until you reach Abilene Junction.
Here, the trail splits and if you take the northeastern branch, you'll get to Mallaig, Bonnyville and Cold Lake.The northwesterly route from Abilene Junction will take you to the communities of Ashmont, Vilna and Smoky Lake, which is considered the gateway to the IHT. Many of the above-mentioned communities have trailside services so you won't have to worry about carrying extra fuel.
Getting there: The IHT staging area is approximately two blocks north of the Co-Op at the east end of St. Paul.
Parking: At the staging area, there is a full bathroom facility, a warm-up shack and a ramp for loading and unloading sleds.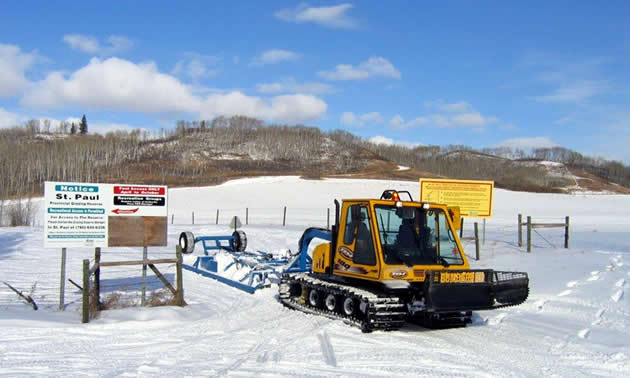 St. Paul Trailblazers Snowmobile Trail
The club maintains a 50-kilometre stretch of trail that begins south of town. It ends up at the Bellevue Ferry Crossing on the North Saskatchewan River.
Eight kilometres into this ride, you'll reach the 3 Mile Lake Cabin. There is a firepit here, as well as picnic tables and a shed that is fully stocked with firewood. Another 37 kilometres along the trail and you'll get to the Lac Sante Cabin along the North Saskatchewan River. And, if you want to keep going, the St. Paul Trailblazers Snowmobile Trail also joins up with the Two Hills Snowmobile Trail.
Getting there: This trail starts at the southeast corner of town. You can unload and ride from the IHT Staging Area or ride from your hotel/motel through town to the trailhead.