With a lifetime of sledding behind him, Marcel Dalpe is convinced that his home of Hudson Bay, Saskatchewan, has the best riding anywhere on the Canadian Prairies. The local club, the Hudson Bay Trail Riders, takes pride in maintaining 670 kilometres of groomed trails that wind through provincial forest and farmland.
The Hudson Bay snowmobile trail system has won platinum status for the past seven years. For Dalpe, vice-president of the club, hours of volunteer work combined with exceptional snow conditions are what makes the area a great place to sled. He enjoys sledding with his wife and now-grown son, both of whom are involved with the family business, Jackpine Cabins and Storage.
"It's a chance to spend quality time together," said Dalpe. "Because we live in this beautiful snowmobiling destination, we can head out at the drop of a hat. We wake up in the morning, and if we like the weather conditions, we can jump on our snow machines and go. For us, it seems like it's a simple way to get away together."
Family outings
There are 11 well-maintained shelters on the Hudson Bay Trail system. The Challenge Camp is only about a half-hour ride from Hudson Bay and is located west of town, right on the banks of the Red Deer River. It is Dalpe's first suggestion as a good place to visit with a young family and to stop for a wiener roast. Other shelters that are a short ride away are the Fir River and Wachee shelters.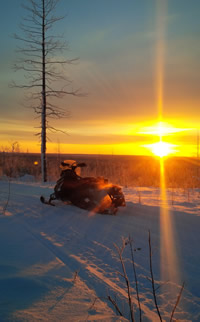 Dalpe said that Hudson Bay generally has riding conditions that can hold up against other North American sled destinations. Nearby Pasquia Hills and Porcupine Hills rise to elevations of 792 metres (2,600 feet) with significant snowfall. Even the town of Hudson Bay sees plenty of snow, and powder riding is not unusual. Consequently, the area enjoys a long sledding season and grooming is usually underway by the end of November. Most years, sledders can enjoy the higher-elevation riding right through April.
Good to know
With its variety of riding, Hudson Bay will continue to be a popular spot to go. There is an array of good accommodations, but Dalpe recommends booking early. For locals, the Hudson Bay Trail Riders are always in need of volunteers to help keep up the exceptional trail system that makes the area so attractive to sledding families.
"I would say, for younger families or novice riders, that it's best to stick to the trails," said Dalpe. "There is a lot of extremely good off-trail riding, but there are lots of extreme conditions, too. . . . There are always lots of places close to the trail where the more experienced riders can break away for a bit and have some fun while still riding as a group."