With 670 kilometres of groomed trails, Hudson Bay offers sledders the opportunity to explore a new destination every day. A couple of must-see locations in the area include the Challenge Camp and the Fir River shelters. Both are accessible from town.
Challenge Camp is only half an hour southwest of Hudson Bay, making it a great destination for young families to ride. It is located along the banks of the Red Deer River, and like all other shelters in the Hudson Bay trail system, Challenge Camp is equipped with a wood stove, solar-powered lights and an outhouse. The Hudson Bay Trail Riders keep the shelters stocked with firewood as well.
The Fir River Shelter is located along the Trans Canadian Snowmobile Trail, or Trail TC210A, heading north from Hudson Bay. It is another popular spot where riders like to meet. From there, sledders can keep on heading north on groomed trails and wind their way into the Wildcat Hill Provincial Wilderness Park. The park, which is open to snowmobiling, is known for its rugged terrain and abundance of wildlife.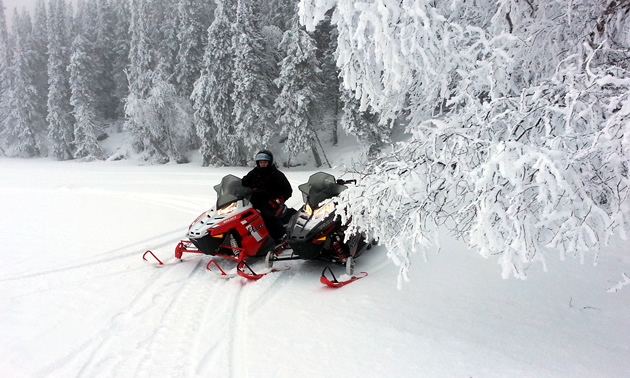 Truly snowmobiler friendly
There are many reasons why Hudson Bay is Saskatchewan's No. 1 SledTown. It starts naturally with the trails, which are maintained regularly by members of the Hudson Bay Trail Riders.
Then there's the snow. When compared to other destinations in Saskatchewan, Hudson Bay tends to see the most consistent snowfall, and the sledding season lasts well into April.
The town caters to snowmobilers with a variety of restaurants and accommodations. Sledding to hotels, restaurants and gas stations is even allowed.
"As a community, we've actually worked for the last two decades to become a snowmobile destination," said Richard Dolezsar, who is the trail committee chair for the Hudson Bay Trail Riders and the administrator for the Town of Hudson Bay. "It was part of our tourism development plan way back in the early '90s, and we've just kept working away at it. I think we've made some major progress."