Where the bald prairie meets hairy scrubs of aspen and low-lying river valleys is where you'll find Travis and Randy Pederson hanging off the bars of their Ski-Doo Summits. Known around southeastern Saskatchewan as the Flatland Freeriders, these two are brothers who are bound not only by blood, but by an intense desire to shred fresh snow.
Raised on a grain and cattle farm north of Weyburn, Travis and Randy found their sledding legs early on in life. For Travis, who is the older of the two, it was a John Deere 300 that ignited his interest, and Randy—an Arctic Cat 440. Pushing their tired irons to the max, these two spent after-school hours searching for any and every kind of hill to flatten.
"Even in the springtime, there would be a snowbank surrounded by grass and I'd go over and over it again," said Travis.
As the training wheels came off, Travis and Randy graduated to bigger, more powerful sleds. Their riding crew also expanded to include riders from around the region who enjoy pushing themselves and trying new things.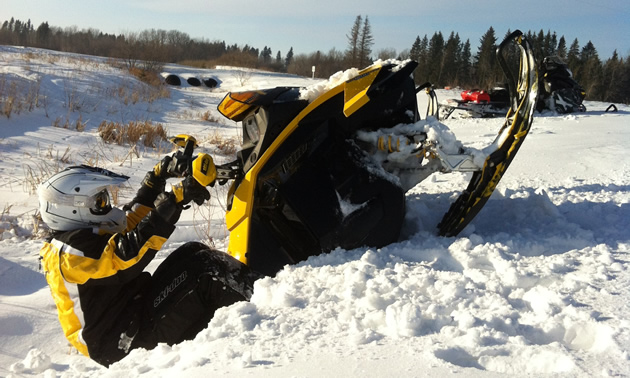 Upping the fun factor
Near Weyburn and Yellow Grass is where the Flatland Freeriders spend much of their time, but an annual trip north to Hudson Bay, where the snow is deeper and softer, has also become the norm.
According to Travis, Hudson Bay has a huge trail system and plenty of off-trail riding opportunities.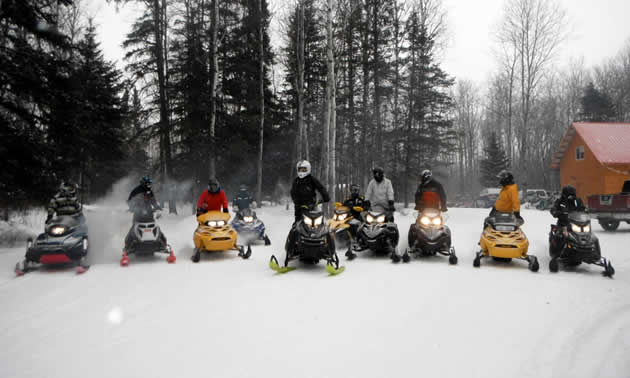 "Hudson Bay, if you ever go on Google Maps, you can see all to the north and to the east is forest," he said. "There's also some forest to the southwest, and then there's cleared-out land where there's farmland all tucked into the trees; big areas of farmland, 1,000-acre blocks."
Shelter from the trees around Hudson Bay prevents the prairie wind from turning the snow into concrete, and cool temps keep it fresh and fluffy for days.
With so much farmland around, however, Travis and Randy are always cognizant of private property—even if it's not easy to spot.
"If we aren't quite sure and we find a really good area to sled in, we'll go to the closest (farm) and ask them if we can go there," said Randy.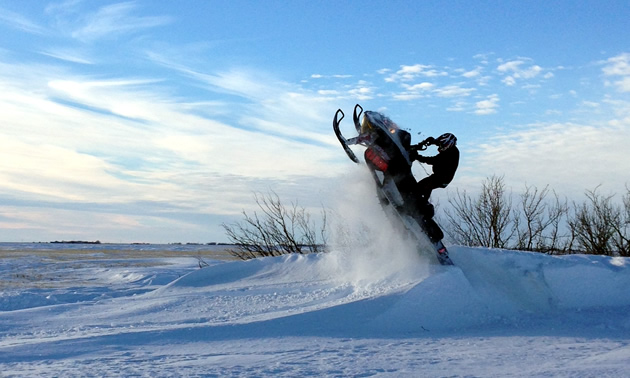 Words of caution
Safety is another top priority. Travis wears a backcountry TekVest and both brothers encourage those planning a trip to the mountains to take formal avalanche skills training.
"Anybody from Saskatchewan I feel should at least have the classroom . . ." said Travis. "Even just to know what's dangerous and what's not."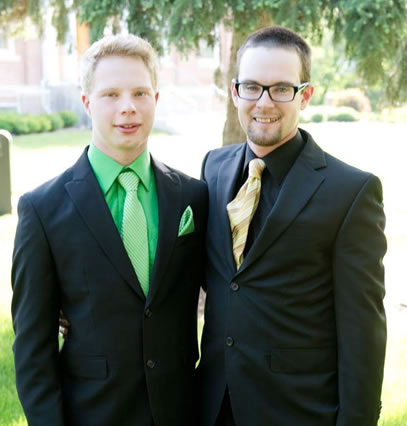 Travis took the classroom side of his AST 1 course in 2013 for a trip that took him to Blue River and Valemount, B.C. Impressed by the mountain terrain, he plans to go back. This time, however, it will be to Fernie for Travis and Randy enjoy more of the technical tree riding.
"That's kind of what we do here," said Travis.
Their ride style, which is a little haywire at times, is also driven by the intrinsic need to outdo one another.
"If I don't go out and flip my sled over at least three times, I'm not trying," said Travis.
It's a good thing, then, that the video cameras are always rolling or these candid moments of sled-epicness would be missed. Check out the Flatland Freeriders on YouTube if you appreciate a couple of good ol' Saskatchewan boys who ride purely for the fun of it.