The Hudson Bay Trail Riders is a strong, family-focused snowmobile club that grooms just over 690 kilometres of interconnected trails around Hudson Bay—and they do a good job, too. Since 2007, this club has been racking up Platinum and Gold Rider's Choice Awards for Favourite Groomed Trail Riding in Saskatchewan. In addition, the club looks after 12 well-equipped warm-up shelters and organizes a popular event known as the Hudson Bay 100 Rally.
Must-try Hudson Bay snowmobile trail
For consistently great snow conditions, the club recommends Trail 210P, which leads into the Wildcat Hill Provincial Park and the remote Bankside Lake. Along the way, you'll encounter three or four different warm-up shelters that have wood stoves and are stocked with firewood. If you don't want to retrace your tracks, you can take one of the many optional routes that loop back through the forest.
See our destination article for information about other snowmobile trails around Hudson Bay.
Where is the staging area?
Look for the Trans-Canadian Snowmobile Trail or the primary snowmobile route that runs right through town to access all of the various trails around Hudson Bay.
Where to get trail passes for snowmobiling in Hudson Bay
Saskatchewan sledders must register with the Saskatchewan Government Insurance. Registration includes liability insurance and you will be issued a certificate and a licence plate. The cost of registration also covers your trail permit and a large portion goes back to the Saskatchewan Snowmobile Association's trail fund. Riders coming from outside of Saskatchewan must carry proof of registration and liability insurance from their home jurisdiction.
Groomers:
A 2014 John Deere 6125 with a Gilbert Track Kit and drag and a 2011 John Deere 7330 with a Soucy Track Kit and Mogul Master groomer.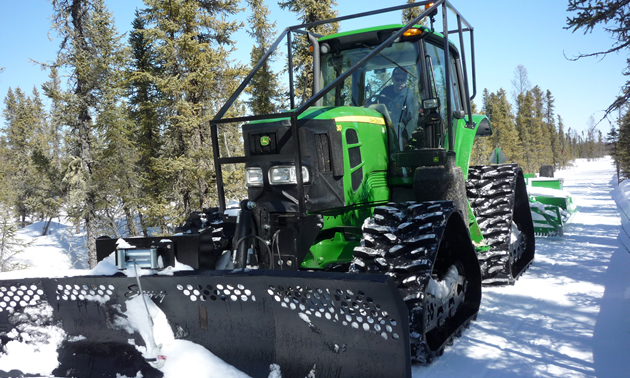 Warm-up shelters:
The club has 12 warm-up shelters that are conveniently spaced throughout the trail system. All of the shelters are fully outfitted with solar lights, a wood stove, firewood and outdoor washrooms.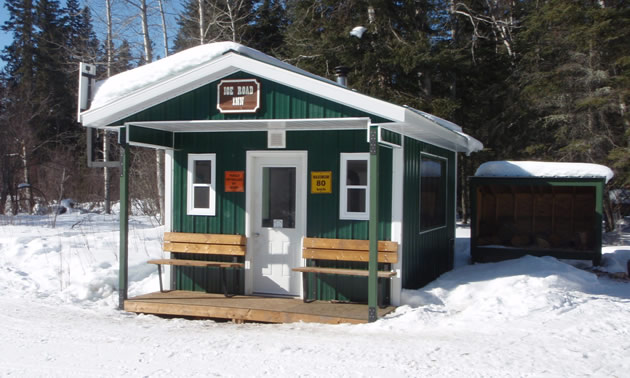 Club meetings:
The club usually meets on the first Wednesday of every month (September to May) at the Hudson Bay town office on Main Street.
Annual snowmobile event for Hudson Bay:
Hudson Bay 100 Rally: Always held on the second weekend in February, this event features a 100-mile trail ride (shorter routes are available) followed by a supper and social with live music and prize giveaways. Between 250 and 300 riders usually attend.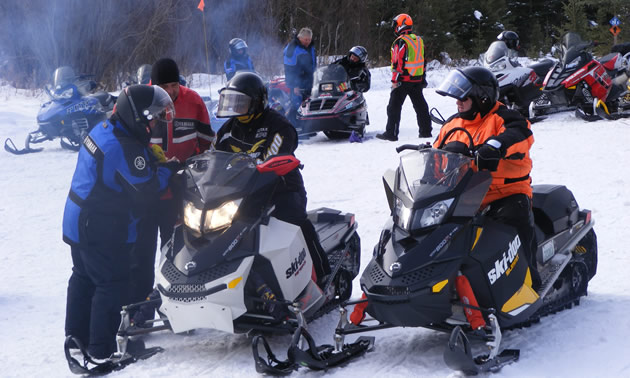 How to join the Hudson Bay Trail Riders:
It is $40 per year for associate members who just want to ride and support the club financially and $20 for those who take part in club activities, such as signing trails and selling raffle tickets. To buy a membership, go to Lewellin's Sales & Service Ltd. or the Hudson Bay town office.
Hudson Bay snowmobile club contacts:
Richard Dolezsar is the club's Trail Committee chair and he can be reached by email or phone at 306-865-2261. Peter Lewellin is one of the club's founding members who now serves as Raffle chairman for the new sled that the club raffles off each year. He can be reached by email.
Club start date:
1989
Average number of members:
Fifty families representing over 100 individuals
Current president:
Rick Watt (2016-2017)
Have you gone snowmobiling around Hudson Bay? Share your photos with SnoRiders and be entered to win cool prizes in our Hotshots contest.