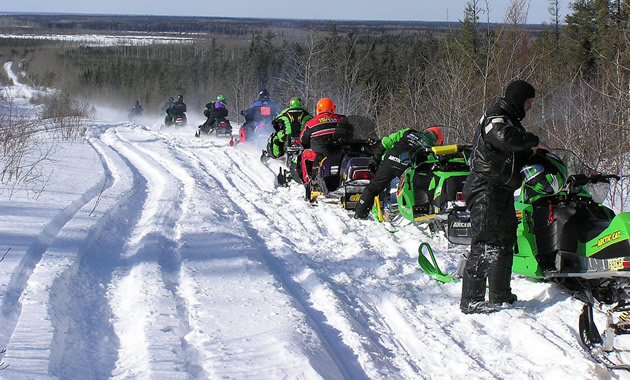 With an abundance of lakes, the area around The Pas, Manitoba, is a sledder's playground. Both visitors and locals alike enjoy the bush trails, wide open areas and scenic lake or river views. Staging is out of The Pas, which links into 350 kilometres of groomed trail. There are also seven well-maintained warm-up cabins scattered along the trails. A snowmobiler can easily link into the networks of surrounding clubs, providing unlimited riding.
Trail map of The Pas, MB snowmobiling areas
For information on snowmobile trails in The Pas and how to find staging areas, look for the club's trail maps or download the SnoRiders trail map for the area. You can also view the Snoman map for the area online. For more details on trail maps and passes for The Pas, check out this article.
Main snowmobiling trails in The Pas, MB
Atik Trail
Loppit Trail
Clearwater Lake
Atik Trail
Only 24 kilometres long, the Atik Trail is part of a very popular route as it travels the north side of Rocky Lake. The well-groomed trail leads from the small town of Wanless to Slippery Corner, where riders can head south to continue around the lake. This route offers great views and an easy day trip. More ambitious snowmobilers can venture north from Slippery Corner through the Goose River area and all the way to Flin Flon, Manitoba.
(Read our full description of this area.)
Loppit Trail
Another popular but short connecting route, Loppit Trail is a rider's link north of The Pas to Wanless. With lots of twists and some hills, the fun groomed trail leads alongside Root Lake and up to the northeast side of Rocky Lake. Most of the trail leads through thick bush and trees.
(Read our full description of this area.)
Clearwater Lake
The trails around the Clearwater Lake area, to the north east of The Pas, provide a popular short ride. It's only about 25 kilometres from staging in The Pas to the lake. There are two excellent warm-up shelters in Clearwater Lake Provincial Park that make for fun family destinations. The trail is easy riding, mostly through boreal forest.
(Read our full description of this area.)
The Pas, MB snowmobile club
The Pas, MB tourism info
Local snowmobiling events in The Pas, MB
The Kelsey Trail Sno-Riders hold an annual Poker Derby and Winter Blast. Generally taking place in early March, the event offers a full day of snowmobiling and poker draws. In the evening, participants enjoy a popular dinner, social and dance. See the club website for details.
Snowmobile-friendly businesses near The Pas