Get set to explore the incredible snowmobiling terrain of this vast and varied province

Alberta is such a great province for sledding because of its variety of terrain. You can ride in the mountains, enjoy nice prairie scenery or you can explore the forests in the northern part of Alberta—yes, snowmobiling in Alberta is truly an awesome experience. Active clubs throughout the province keep trails and amenities in tip-top shape. Check out our Alberta landing page for information on sled dealerships, destinations, snowmobiling trails, snowmobile-friendly accommodations, local snowmobiling clubs and more.
Featured Alberta Articles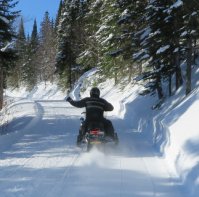 Cruise the trails and visit the snowmobile-friendly towns in this scenic part of Alberta.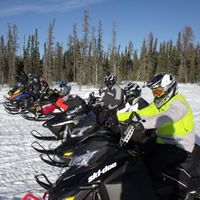 Snowmobilers in Whitecourt, Alberta, will attempt to break the Guinness World Record for largest snowmobile parade in February 2015.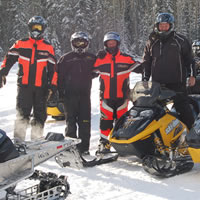 The Whitecourt Trailblazers snowmobile club in Whitecourt, Alberta, is having its Annual Snowmobile VIP & Media Ride on January 30, 2015, and you're invited.
This Alberta community celebrates its sledding potential as soon as the snow flies.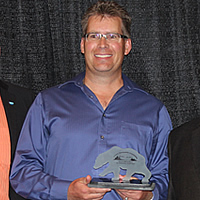 The ASA held its annual excellence awards ceremony on October 18, 2014, and the award for Outstanding Snowmobiler of the Year for 2014 went to Ken Linford of the Whitecourt Trailblazers.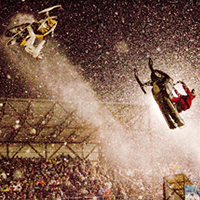 The excitement is growing as the Whitecourt Trailblazers in Whitecourt, Alberta, prepare for the club's World Snowmobile Invasion (WSI).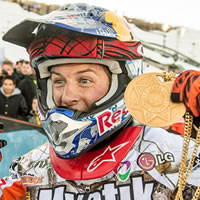 The Whitecourt Trailblazers has confirmed that seven-time Winter X Games gold medallist Levi LaVallee will be performing at the club's World Snowmobile Invasion (WSI) Freestyle Event in February 2015.
Key Alberta Contacts
Fort McMurray, AB

Award Winning Fort McMurray: A truly Northern Alberta experience

Fort McMurray is part of the Regional Municipality of Wood Buffalo, a vast area of northeastern Alberta. Snowmobilers especially love the extensive trail network in the Wood Buffalo region, which is maintained by the Fort McMurray Sno-Drifters. Sled more than 275 groomed kilometres on the Anzac and Stony Mountain trail systems, one of the longest groomed trails in Alberta. After a day outdoors, there are plenty of opportunities to relax in comfort in one of Fort McMurray's fine hotels, inns or B&Bs. Enjoy a spa or sauna treatment. Whether you prefer sushi, curry or Alberta beef, you'll find it all in Fort McMurray.

Cochrane, AB

Mountain Toys Polaris—Cochrane

Mountain Toys Polaris offers both Polaris and Suzuki products. PowerPrice Guarantee:  When you request a PowerPrice for new ATVs, motorcycles, snowmobiles, UTVs and accessories you can expect to receive the most current incentives and offers available at that time. That's why we guarantee that you'll always get the best possible price on your powersport products. Quality Guarantee: Just because you're saving a lot of money on your Mountain Toys product doesn't mean you're sacrificing quality and service. We guarantee that you'll always purchase a quality product backed by quality service.

Edmonton, AB

Wheels Grip, Skis Slip

Ask for X-Glides at your local dealer *Made from impact resistant 100% UHMW *Pass through venting *Box of 8 pieces with stainless steel fasteners *Get more glide for less than the competitors

The name says it all — EPIC

Rec-Tech Power Products carries a full line of Ski-Doo, Can-Am ATV, Sea-Doo and KTM products, as well as Kioti tractors, Cub Cadet mowers and Spyder roadsters. Our top factory-trained technicians in our service department specialize in stock and high-performance ATVs, motorcycles, utility vehicles, watercraft and snowmobiles. Let the professionals at Rec-Tech help you design and customize your ride. Rec-Tech Power Products also carries a great selection of parts, accessories and clothing. Visit us at Hwy. 16 West, Range Road #20, Lloydminister, AB.

Join us in the snowmobile capital of Alberta

The Whitecourt Trailblazers are proud to present one of the most exciting snowmobile events of the year. The 2015 World Snowmobile Invasion will bring the national snowmobile event to Whitecourt, Alberta.

Customize YOUR Unit!

Is your unit fast enough? High enough? Loud enough? If you answered "No" to any of the questions above...drop into Adrenaline Powersports! We enjoy making your unit represent YOU!  We know that not everyone wants the same thing in a unit and some people just want their unit to look AWESOME. We have built many custom units and always look forward to customizing new units. Call (780) 778-8500 for more information.

Come visit the friendly, knowledgeable staff at Stojan's Power Sports & Marine Ltd., conveniently located in Grande Prairie, Alberta. This family-owned business can provide you with the latest and best in powersports products to make your outdoor living more enjoyable. Whether you're looking for the most recent in ATV technology, boats for fishing or lake playing, or the hottest new snowmobiles, Stojan's Power Sports & Marine can help you find the recreational vehicle that's right for you.

Shop Ralph's Motorsports online

Ralph's Motorsports started in 1970 and has experienced phenomenal growth over the years. We are Arctic Cat's #1 growing mega store in North America and Ralph's has been awarded platinum and gold Arctic Cat dealer awards every year for over 10 years running. Our success is based on our commitment to customer service, personal attention and the best products in the industry. We carry a full line of Arctic Cat ATVs, side-by-sides and snowmobiles. We have a full line of parts, clothing, oil and accessories, as well as a service department staffed with Gold Catmaster Certified Service Technicians. Please give us a call at 403-291-4868.

Be found easier with Smart-Antenna technology

At Ortovox we consider safety our number one priority. We are known globally for high-quality mountain sports products for summer and winter, which meet the highest standards of quality, functionality and design and allow a safe mountain adventure. We offer top-of-the-line products. The SMART-ANTENNA TECHNOLOGY analyzes the position of the antennas in the avalanche area and AUTOMATICALLY switches to the optimal transmission antenna. The Result: Almost DOUBLE THE RANGE in the worst coupling position, regardless of the beacon used for searching.

Season of domination

Welcome to Wild Country Powersports, your Polaris, Argo and Toro dealer. We are located at 4304-61st Avenue in Barrhead, Alberta. As the newest and largest dealer this side of "wild country", we are committed to providing the best service, sales, parts and accessories to our customers. Call us at 780-674-WILD (9453), visit us online to book a service appointment or drop by the store. The coffee is always on!

Welcome to the County of St. Paul

The perfect vacation starting point is located only 1.5 hours northeast of Edmonton in the County of St. Paul. Including the towns of St. Paul, Elk Point and 12 other communities, the County of St. Paul offers a varied and diverse ethnic heritage that has created a cultural tapestry second to none. St. Paul, where mountains of snow and miles of trails await you!

Leaders in LED light technology!

NEXTECH Industries Inc has developed a full line of modern LED lights for your ATV or UTV. We have lights for all uses and fitments from the small but powerful MINI MAX all the way up to our high output Baja Ready light bars. Led is the brightest longest lasting type of off road light available and at NEXTECH we are leaders in LED!! NEXTECH LED lights have more output per size, 50,000 hour no maintenance life span and awesome looks.

Mention SnoRiders to receive 10% off first night.

Start your scenic snowmobile adventure off right at the Ramada or brand new Canalta Hotel in Lac La Biche or at the Super 8 in St. Paul. At all three locations, you can start your morning right with a deluxe continental breakfast and come home to fresh-baked cookies and warm buttery popcorn. Best of all, if you mention SnoRiders when you book, you'll get 10% off your first night's stay with us. Your adventure begins when you book online at Canalta Hotels.

A friendly and safe community—with fun for all ages and plenty of places to stay. Smoky Lake is only an hour away from Edmonton, and is a great spot for visitors. Featuring a great staging arena where sledders and ATVers can drop off their vehicles and unload their equipment. Home of Smoky Lake Trail Twisters Snowmobile Club.

The right place to be.

Located on the southern leg of the Iron Horse Trail, Elk Point is the perfect place to start your family adventure. Snowmobiling, quadding, biking, hiking or horseback riding, we have it all and more! The Elk Point Trail Riders snowmobile club maintains some of the most beautiful terrain in all of Lakeland, on the southern leg of Alberta's Iron Horse Trail. "The Trail Riders club is a smaller club with a lot of heart," said Kulczycki. "Each season, around the first weekend in March, the (Trail) Riders host a vintage ride that attracts participants from all over Canada."

For all your winter activities, ICEROCK rocks!

CDI International Inc. is proud to introduce the 2015 IceRock garments and accessories collection. From our beautiful designed jackets to goggles, you'll find the clothing or accessory for your winter activities. Unsurpassed quality of materials and our innovative construction techniques based on varying fabrics like the NortFX Fabrics, have enabled us to develop a high-tech garment that will create a barrier of thermal protection against the elements, while insuring the ultimate blend of comfort and function. Innovation, comfort and design put together, this is the IceRock collection.