Get set to explore the incredible snowmobiling terrain of this vast and varied province

Alberta is such a great province for sledding because of its variety of terrain. You can ride in the mountains, enjoy nice prairie scenery or you can explore the forests in the northern part of Alberta—yes, snowmobiling in Alberta is truly an awesome experience. Active clubs throughout the province keep trails and amenities in tip-top shape. Check out our Alberta landing page for information on sled dealerships, destinations, snowmobiling trails, snowmobile-friendly accommodations, local snowmobiling clubs and more.
Featured Alberta Articles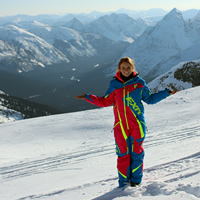 Snowmobiling in the Kakwa area near Grande Cache, Alberta, opened this Ontario sledder's eyes to new possibilities.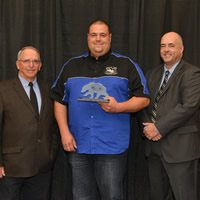 Addam Saruk is co-winner of the Snowmobiler of the Year award for his work with the Myrnam River Ridge Riders.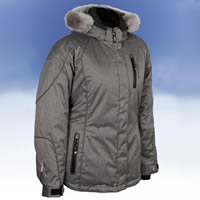 Stay warm and cozy on the trails this winter with the Ladies' Adventurer Jacket by Choko Design.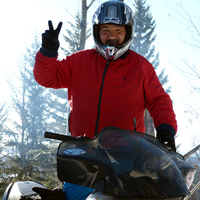 A collection of our best photos taken at the 2015 World Snowmobile Invasion in Whitecourt, Alberta.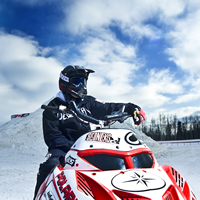 After almost two years of planning, the 2015 World Snowmobile Invasion in Whitecourt, Alberta, is upon us. This five-day event begins on Wednesday, February 11.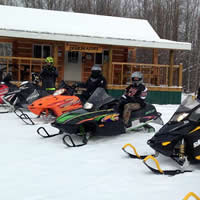 It looks like conditions will be optimal for the World Snowmobile Invasion next week in Whitecourt, Alberta.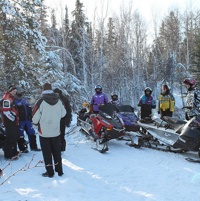 Long open trails travel through spruce forest and bush that let sledders wind up to cruising speed.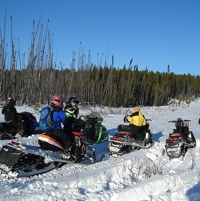 Ride the wild trails of Alberta's Capital of Snowmobiling, over 460 kilometres of groomed trails covering an area from west of Whitecourt to Fox Creek and Swan Hills.
Key Alberta Contacts
Customize YOUR Unit!

Is your unit fast enough? High enough? Loud enough? If you answered "No" to any of the questions above...drop into Adrenaline Powersports! We enjoy making your unit represent YOU!  We know that not everyone wants the same thing in a unit and some people just want their unit to look AWESOME. We have built many custom units and always look forward to customizing new units. Call (780) 778-8500 for more information.

Come visit the friendly, knowledgeable staff at Stojan's Power Sports & Marine Ltd., conveniently located in Grande Prairie, Alberta. This family-owned business can provide you with the latest and best in powersports products to make your outdoor living more enjoyable. Whether you're looking for the most recent in ATV technology, boats for fishing or lake playing, or the hottest new snowmobiles, Stojan's Power Sports & Marine can help you find the recreational vehicle that's right for you.

Shop Ralph's Motorsports online

Ralph's Motorsports started in 1970 and has experienced phenomenal growth over the years. We are Arctic Cat's #1 growing mega store in North America and Ralph's has been awarded platinum and gold Arctic Cat dealer awards every year for over 10 years running. Our success is based on our commitment to customer service, personal attention and the best products in the industry. We carry a full line of Arctic Cat ATVs, side-by-sides and snowmobiles. We have a full line of parts, clothing, oil and accessories, as well as a service department staffed with Gold Catmaster Certified Service Technicians. Please give us a call at 403-291-4868.

Be found easier with Smart-Antenna technology

At Ortovox we consider safety our number one priority. We are known globally for high-quality mountain sports products for summer and winter, which meet the highest standards of quality, functionality and design and allow a safe mountain adventure. We offer top-of-the-line products. The SMART-ANTENNA TECHNOLOGY analyzes the position of the antennas in the avalanche area and AUTOMATICALLY switches to the optimal transmission antenna. The Result: Almost DOUBLE THE RANGE in the worst coupling position, regardless of the beacon used for searching.

Introducing the Magneto helmet & Peak goggle

Just when you think it can't get any better, it does. The New Magneto helmet features Composite Fusion™ technology making it the safest ABS helmet on the market today! Available in 4 aggressive color combinations. In addition, only MotorFist offers the most innovative, patented eVent fabric technology in the snowmobile industry. Durable, windproof, waterproof and breathable—nothing performs better! So, say goodbye to a soggy bottom with super-dry-butt MotorFist pants and bibs.

Smooth ride, smooth deal

Echo Cycle's team of journeyman technicians, helpful team members and well-equipped shop means your machine is always in good hands; our techs regularly attend factory courses too, to stay current with their training. Echo Cycle has the cure for the summertime blues and the best prices of this season. Come down to Echo Cycle for your next sled, ATV or side-by-side purchase and be sure to bring us your deal in writing as we will not be beat!

ATV Design Survey

This is your chance to help shape the next generation of ATVs and possibly win US$500. Please click this ad to take our short survey.

Wheels Grip, Skis Slip

Ask for X-Glides at your local dealer *Made from impact resistant 100% UHMW *Pass through venting *Box of 8 pieces with stainless steel fasteners *Get more glide for less than the competitors

Calling all northern adventurers!

Welcome to High Level—Alberta's most northerly town. Are you heading north to explore the famous Deh Cho Trail on your motorcycle? High Level is the hub of northern routes and has everything you need to make your northern quest as comfortable and memorable as possible. Take a break from the wind blowing in your hair and gear up in High Level when you're two tired (puns intended) as we have many great amenities that every rider is looking for from hotels and restaurants to retail shopping and repair services. Make sure to mark High Level on your map as the place to stay on your Great Northern Adventure!

Where Adventure Begins

The West Country around Rocky Mountain House is open to snowmobiles and ATVs with an abundance of great trails for everyone from beginners to advanced riders. Be aware of the rules in the West Country as there are some restrictions for motorized recreational use. Four major mustering areas are recommended: Chambers Creek, the Nordegg trail system, Mount Baldy and the Bighorn backcountry where wildlife viewing and photo opportunities are found in abundance. A snowmobile or quadding adventure can range from one hour to many days. Winter camping or staying in the fine accommodations in the Rocky Mountain House area are both options. This is truly "Where Adventure Begins".

Grande Prairie, AB

Excitement all summer in Grande Prairie

From wild stampedes to summer garden parties, the 'Swan City' of Grande Prairie promises a fun-filled summer for all tastes.

Bulldog Decks—the most advanced truck deck

 

When you need a fully-equipped durable truck deck for your year-round toys, the choice is clear with the innovative Bulldog Superdeck.

Need a sweet ride? Check out our new inventory!

We do it all! New and used, we carry the brands you know and love: Arctic Cat, Suzuki, Pitster Pro, plus Jonsered power equipment and Kipor generators. Located in the heart of Alberta, a short drive north of Edmonton.

New inventory—put the hammer down!

We've got what you want! Central Alberta's ultimate selection of ATV's, motorbikes and snowmobiles, both new and pre-owned. It's worth a drive! 

Drayton Valley's First Choice!

Our powersport selection is second-to-none—ATV's, snowmobiles, RV, camping and marine products, apparel, parts and servicing, we are your first choice for recreation!

Adventure starts here!

Looking for a sweet ride? Motorcycles, ATV's, utility vehicles, personal watercraft, snowmobiles and more, both new and used, plus the parts and accessories you want—the only name you need to remember is Wetaskiwin Motorsports. Conveniently located near Edmonton. 

Ride safe, ride smart—visit us!

Northern Alberta's number one source for Yamaha equipment, family-owned Maximum Powersports offers a full range of ATV's, snowmobiles and bikes for all your recreation activities! 

2015 World Jet Boat Championship

Come to the 2015 World Jet Boat Championship in Alberta from July 16 - 25 — brought to you by Outlaw Eagle and Tidy Trucking. Please click for detailed information. Individual races are being held in Grande Prairie, Alberta, Peace River, Alberta, Taylor, B.C. and Whitecourt, Alberta. Photograph by MT Actions

Stay Stanford—your four season destination!

Fernie—relax from $109, continental breakfast included. Luxurious accommodation, pool hottub, waterslide, Tandoor Restaurant & Grill.

Grande Prairie—after a day of riding, stay and relax in our cozy rooms for $119, including hot breakfast! 

A friendly and safe community—with fun for all ages and plenty of places to stay. Smoky Lake is only an hour away from Edmonton, and is a great spot for visitors. Featuring a great staging arena where sledders and ATVers can drop off their vehicles and unload their equipment. Home of Smoky Lake Trail Twisters Snowmobile Club.

The right place to be.

Located on the southern leg of the Iron Horse Trail, Elk Point is the perfect place to start your family adventure. Snowmobiling, quadding, biking, hiking or horseback riding, we have it all and more! The Elk Point Trail Riders snowmobile club maintains some of the most beautiful terrain in all of Lakeland, on the southern leg of Alberta's Iron Horse Trail. "The Trail Riders club is a smaller club with a lot of heart," said Kulczycki. "Each season, around the first weekend in March, the (Trail) Riders host a vintage ride that attracts participants from all over Canada."

For all your winter activities, ICEROCK rocks!

CDI International Inc. is proud to introduce the 2015 IceRock garments and accessories collection. From our beautiful designed jackets to goggles, you'll find the clothing or accessory for your winter activities. Unsurpassed quality of materials and our innovative construction techniques based on varying fabrics like the NortFX Fabrics, have enabled us to develop a high-tech garment that will create a barrier of thermal protection against the elements, while insuring the ultimate blend of comfort and function. Innovation, comfort and design put together, this is the IceRock collection.

Welcome to the County of St. Paul

The perfect vacation starting point is located only 1.5 hours northeast of Edmonton in the County of St. Paul. Including the towns of St. Paul, Elk Point and 12 other communities, the County of St. Paul offers a varied and diverse ethnic heritage that has created a cultural tapestry second to none. St. Paul, where mountains of snow and miles of trails await you!

Mention SnoRiders to receive 10% off first night.

Start your scenic snowmobile adventure off right at the Ramada or brand new Canalta Hotel in Lac La Biche or at the Super 8 in St. Paul. At all three locations, you can start your morning right with a deluxe continental breakfast and come home to fresh-baked cookies and warm buttery popcorn. Best of all, if you mention SnoRiders when you book, you'll get 10% off your first night's stay with us. Your adventure begins when you book online at Canalta Hotels.