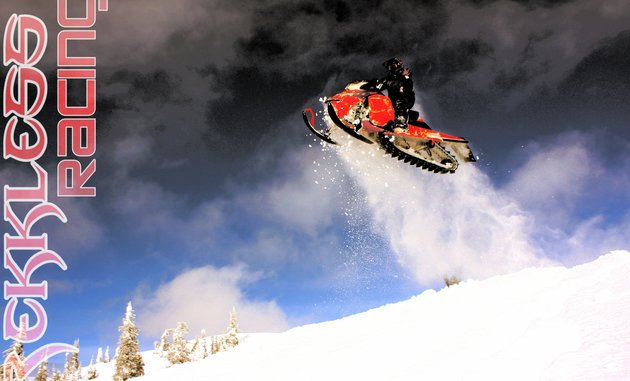 Notable as being one of the top snowmobiling destinations in Western Canada, Sicamous has bragging rights for a reason. The epic snow conditions and extensive alpine trails make it a can't-miss location.
Main snowmobiling trails in Sicamous, B.C.
Owlhead
Eagle Pass
Queest
Blue Lake
Owlhead
With staging right in the town limits of Sicamous, this is one of the most user-friendly locations for out-of-towners to access. Read more about the Owlhead snowmobiling zone.
Eagle Pass
About 15 minutes east of Sicamous and just half a kilometre east of the Skyline Truck Stop sits Eagle Pass staging area. Again manned by volunteers, this staging area is a gateway to yet another amazing ride zone in the Sicamous area. Read more about the Eagle Pass snowmobiling zone.
Trail map of Sicamous, B.C. snowmobiling areas
The Eagle Valley Snowmobile Club makes it incredibly easy for riders to join them on the trails. During the sledding season volunteers staff the trailhead at each of the four major routes managed by the club, and trail passes are available for $25 per machine. Please note that the trail fees are cash only.
Alternatively, get a season's pass to buy unlimited trail access and support trail maintenance. Passes are available in Sicamous at Extreme Power Sports, J.B. Marine, H20 Motorsports, Mac's Machine Works and Powder Lites. In Salmon Arm, buy your pass at Shuswap Extreme Recreation.
For trail maps to the four areas in Sicamous, stop by the Sicamous Visitor Centre, see the Sled Sicamous website or download the SnoRiders PDF version.
Snow conditions
For updated snow conditions and grooming reports, visit the Eagle Valley Snowmobile Club website.
Sicamous, B.C. snowmobile club
The Eagle Valley Snowmobile Club
Local snowmobiling events in Sicamous, B.C.
Annual Sicamous Ladies Ride
Sicamous, B.C. tourism info
Sicamous & District Chamber of Commerce
Snowmobile-friendly businesses near Sicamous