I recently came across a used snowmobile dealer/performance shop that had an array of old, older and aging snowmobiles scattered across their cramped front lot. Among the dozens of sleds sat the ultimate "rat" sled – a mid-70's Polaris TX 250.
Ratty, rusting, and dented, and you could add moulding, ripped and tattered to the list – this old snowmobile looked like it was the ultimate restoration project.
However, it did give me a glimpse into the glory days of the Polaris TX line up – an era when Polaris was known for proving it on the tracks and the trails.
In its prime, the Polaris TX was a legend in its class. The sled was introduced in the mid-1970s, and filled Polaris' need for a quality trail sled.
In this era, "Polaris' racing group had earned a reputation for winning races whether they were speed events on ice ovals, required stamina and speed for 500-mile endurance tests or the durability and grit necessary to be first in real-world cross country races," says one snowmobile enthusiast's website.
It continued, "The TX series of sports sleds came directly from the racetrack. It was light and nimble. It had to be, because in the early days of racing very few factories fielded sleds powered by engines they manufactured. Teams relied on power plants from engine suppliers such as Kohler, Sachs, Hirth and JLO.
"At about US $2,500 at the time, the TX series provided good value. There's a lot of Polaris heritage wrapped up in the TX series, a truly winning design and a very collectible piece of classic snowmobiling history."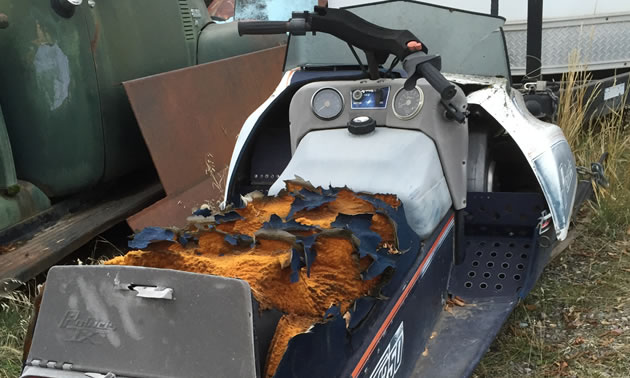 "Rat" sled or smoldering treasure – all in the eyes of the beholder. Anyone ready to tackle the ultimate restoration project?
Got an old sled story? Ever own a Polaris TX 250? Share your story and photos with us—[email protected]