We heard from Derek again a few weeks ago from his hometown in Sherwood Park, Alberta.
We featured Derek's shiny 440 T'NT in this column a while back. Derek was kind enough to send us some more photos of this impressive, all-original 1978 440 T'NT.
He also wrote, "This Ski-Doo 440 T'NT is all original except for the primer. Has always lived just east of Sherwood Park. Mainly, I just ride it around the property."
Derek added, "I love this ol' girl cause she starts first pull, has never let me down and is just a lot of fun. Has never been registered or insured. Always kept inside, so that's why it looks so good. Grandkids think it is awesome but noisy and smelly—LOL. They love to ride it and be pulled around on their GT Snow racers behind it. That is the most fun I have with this machine."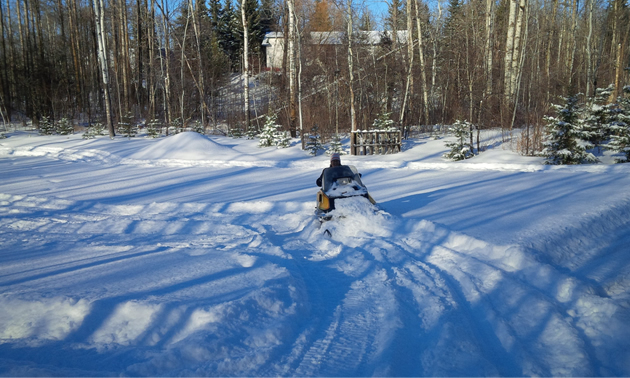 As we mentioned in an earlier column Ski-Doo built tens of thousands of T'NTs snowmobiles. You can find them with everything under the hood from a 292 single cylinder to a 440 twin and the venerable Ski-Doo T'NT never lost its performance cache. These old T'NT's had a reputation of being workhorses as well as being tough as nails – and by-in-large reliable performers under even the most trying riding conditions.
Derek says he now has a couple of 2002 Summit X"s. "We like to go to the outlying area clubs and ride their trails. A trip to the mountains once a year."
Thanks Derek for sharing your 1978 Ski-Doo T'NT story—I swear that this is as close as you are going to get to showroom condition for a 40 year old snowmobile.
Do you have a vintage snowmobile story and/or photos to share? Send them to [email protected]. We'd love to feature it in our Old Sled Zone/Old Sled Sighting column.