Late last year, I stopped by the residence of Grant Laird who lives along Highway #3 in B.C.'s southern interior. On my visit, I ended up with a 2 for 1 deal—Grant had two Ski-Doo machines sitting in his backyard for me to look at.
In an earlier column, we featured the 1972 Ski-Doo Nordic 440—this week we feature the late 1960's or early 1970's Ski-Doo 399 Olympic Nordic.
As I mentioned before, "Grant readily donned his rubber boots and lead me out into his back field. He happily showed off a couple of 1970's Nordic Ski-Doos sitting out in the open. I took a few pictures and shot a short video of one of old units. Though not fully restored, both machines were in excellent condition and obviously had been well-maintained over the years."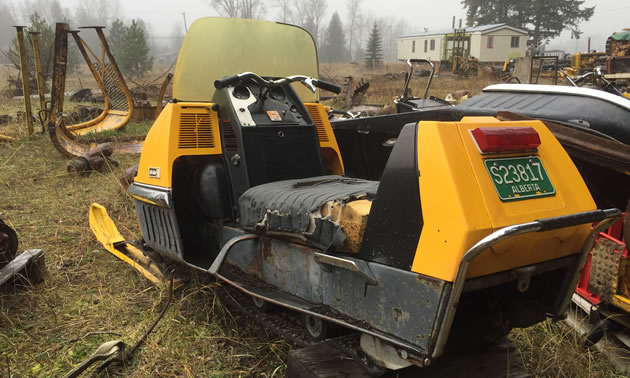 "When you look at all the facts Ski-Doo '72 has more going for you," was the tag line that Bombardier used for their snowmobiles in 1972. The brochure continued, "On top. That's where you are with a Ski-Doo '72," the copy continued, "It's a fact. We put you on top of the snow, not in it. Fact is, our balanced weight distribution even takes the driver's position into account for responsive handling. There's the luxury laden Nordic, the trail machine with power for two...These are just some of the series that have made Ski-Doo the world leader in snowmobiling."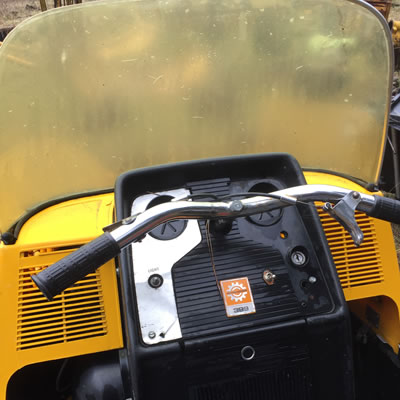 Thanks again to Grant Laird, of Jaffray, B.C., for letting me feature his two old Ski-Doo snowmobiles.
Got an old sled story to share? How about some vintage snowmobile photos? We welcome your submissions: [email protected]