Fifty-seven-year-old Laura Rasmussen of Nanaimo, B.C., isn't afraid of hard work and new challenges. For the past 28 years, she has braved the Pacific Ocean, creating a non-traditional life as the captain of a prawn fishing boat. When she's not at sea, Rasmussen is an ATVer who has ridden every province across Canada. She's also a hunting enthusiast, a horseback rider and more recently, a backcountry snowmobiler.
Introduced to the sport by a friend, Rasmussen's journey into the world of mountain sledding started right in the heart of it all. Guided by Jorli Ricker of SnowRide Adventures, she got her first taste of carving fresh powder in Pemberton, B.C. It wasn't easy, but she was hooked.
"Two days in a row and I was beat," said Rasmussen. "I had to jump from side to side and back and forth but once I got the counter steering and how to get the sled on its side, I learned a lot."
At the same time, Rasmussen took an AST 1 course. Later, she joined the Mid-Island Sno-Blazers snowmobile club and almost immediately, her circle of friends grew. The search for fresh snow took her to Revelstoke where she met up with Kathy Burke from the Revelstoke Snowmobile Club and Jeremy Hanke of Soul Rides.
A truly epic ride
In February 2016, Rasmussen attended the British Columbia Snowmobile Federation's 50th Anniversary Commemorative Ride. It was an eight-day, 1,200-kilometre trip that took place on the Gold Rush Snowmobile Trail. They rode from Kamloops to Barkerville and back.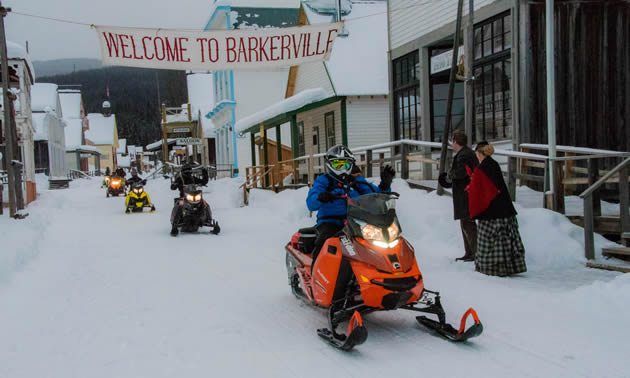 "That was spectacular, I would do it again in a heartbeat," said Rasmussen.
Unfortunately, she fractured her leg near the end of the ride. But in true tough girl fashion, she pushed through the pain to become one of only two women to finish.
"There was no way I wanted to miss any of it," said Rasmussen. "So I said, 'Give me some more painkillers—let's go.' And I did. I kept riding."
Rasmussen has many great memories from that event, but the ones that stand out the most were the people.
"I still get gooseflesh when I talk about it because everyone had a blast," she said. "There was no drama, no arguing and no fighting. All these people came together to do this epic thing and we were all like a real team. That's what I love about sledders—they work together and help one another out."
Since then, Rasmussen has learned much about the sport and her sled. She's also ridden the Coquihalla near Merritt, Crowfoot Mountain in the Shuswap and Frisby Ridge in Revelstoke.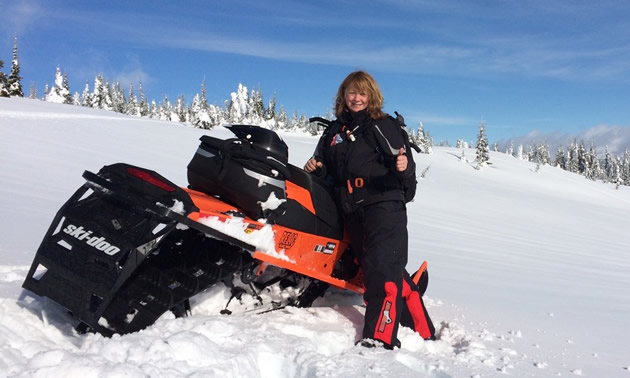 One of her best rides, though, was at Graystokes near Kelowna.
"Last year at Graystokes I had like three feet of fresh powder and it just gelled for me," she said. "I was cutting donuts, doing the slalom through the snow, and oh man, I had a blast. Moments like that make it all worthwhile."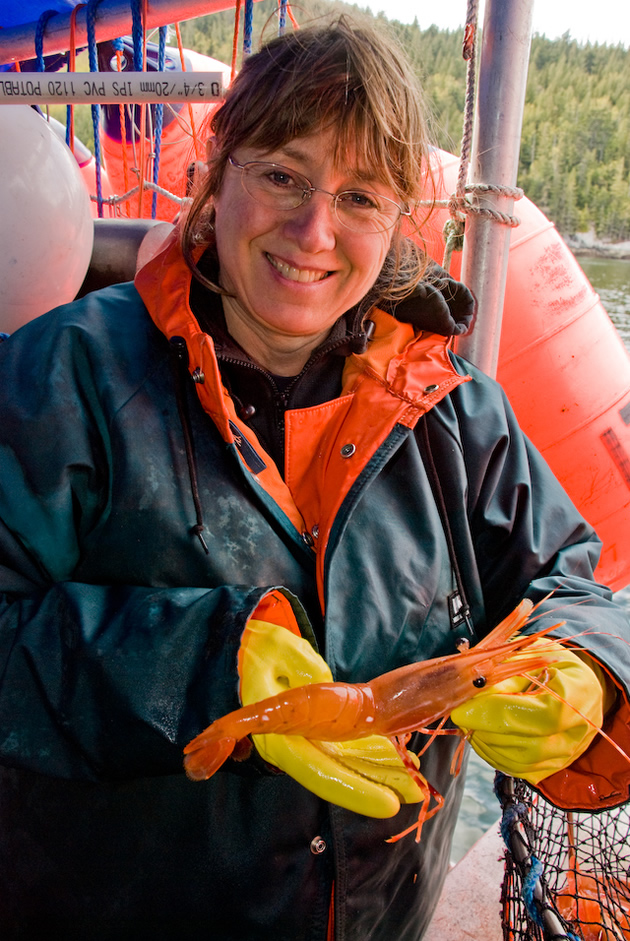 Rasmussen's leg is still healing, but like any diehard fan of sledding, her preparations for the riding season started well before the snow arrived.
"I'm going to the gym, doing yoga and getting myself in shape," she said. "You have to do that, especially at my age."
She has also made arrangements to demo a snow bike this winter. Why?
"I like to push myself and try new things," said Rasmussen. "And that's how you grow and learn. I love, love the outdoors and love playing in the outdoors."
No matter your age or gender, backcountry sledding is hard work. There are no two ways about it. But it is also one of the planet's most unique action sports in that it lets a person choose how hard or how easy he or she wants to take it. Behind the bars, Rasmussen has the power to set her own boundaries and the choice to play within them or break them.
"I'm never going to be the extreme sledder," she said. "I just want to get from point A to point B in some kind of style."