Optimize your snowmobile at ION² Progression-Suspension
"Now the suspension moves at the perfect speed of travel for the mountain riding that my wife and I enjoy." — Jesson McLennan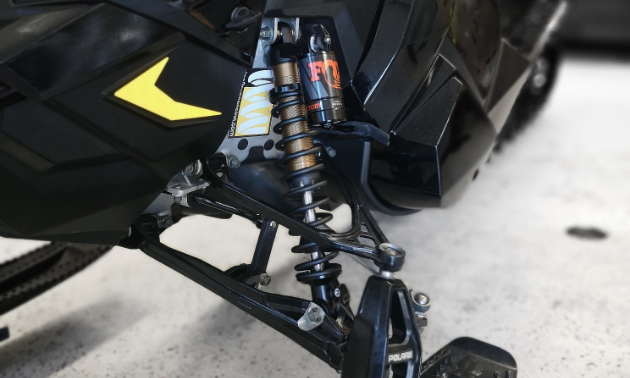 If your snowmobile is riding rough, making you feel every "ow" and "oof" from uneven terrain, maybe your suspension isn't up to snuff. Your snowmobile works hard for you, so it might be time to show it a little TLC. Finding the right mechanic for the job can be tricky. Fortunately for sledders, they can rely on ION² Progression-Suspension in Invermere, B.C.
ION² Progression-Suspension offers suspension service and custom tune for snowmobiles, including set-up, maintenance, repair and upgrades. Their service includes a full dyno test before and after service, rebuild, routine maintenance, tune-up, custom settings, repair and retail parts and complete suspensions. They also do other motorsports suspensions, such as dirt bikes, quads and even mountain bike suspensions too.
ION² Progression-Suspension serves customers all across Canada. Snowmobilers can send their shocks through the mail to have them serviced and maintained by their experienced technicians.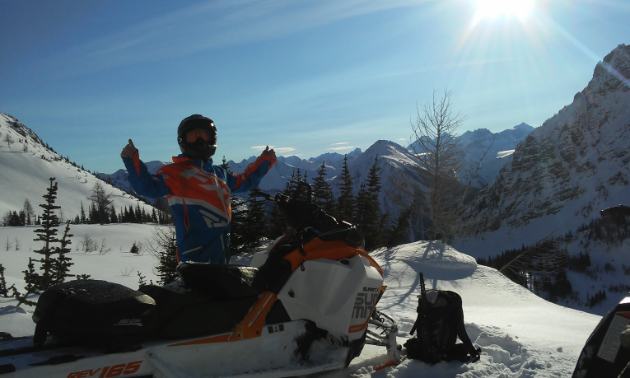 "A very nice upgrade without the giant price tag of all new shocks." — Jesson McLennan, a happy ION² Progression-Suspension customer.
Jesson McLennan has been counting on the team at ION² Progression-Suspension for years. He recently needed to service the stock shocks on his 2017 Ski-Doo Summit X 165. Jonathan Welsh, co-owner and suspension specialist at ION² Progression-Suspension, changed the fluid in the front shocks and repaired the damaged components.
"He carefully pulled all of the little pieces of rubber out of tiny valve shims as I had badly blown the shocks up," said McLennan. "They went back on the sled better than new by a long shot. Now the suspension moves at the perfect speed of travel for the mountain riding that my wife and I enjoy. A very nice upgrade without the giant price tag of all new shocks."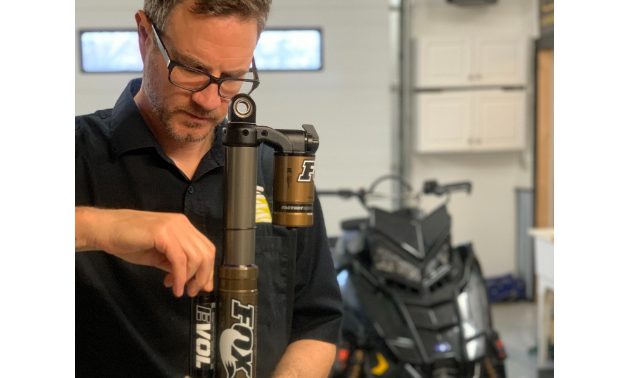 When it comes to set-up and maintenance, the team at ION² Progression-Suspension has you covered. The recommended maintenance interval for snowmobile shocks is every 1,500 kilometres. ION² Progression-Suspension's attention to detail will extend the life of your snowmobile and make exploring the backcountry that much more enjoyable.
Shawn Tubbs looked to ION² Progression-Suspension when he was having trouble with his 2015 Skidoo Summit 800 174 track. One of the shocks had leaked most of its oil and was bottoming out. The team at ION² Progression-Suspension rebuilt the stock KYB shocks and Tubbs has been thrilled with the outcome.
"There's a much more consistent response while cornering," Tubbs said. "I'm able to hold a side hill with much less effort. It gives you more confidence when you know how your machine is going to respond."
Another successful snowmobile suspension story
Andrew Harrington bought new ski shocks through ION² Progression-Suspension for his 2019 Polaris 800 RMK 155 snowmobile. They installed and set-up the shocks for Harrington and he's been thrilled with the results.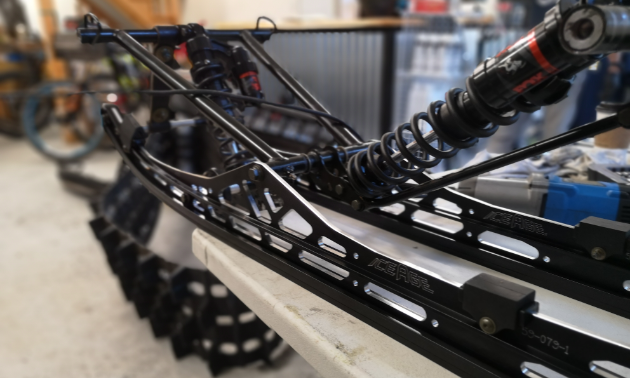 "The best money you will spend on your snowmobile is on your suspension," Harrington said. "The performance of the shocks are a step up from stock. I get suspension performance in all the terrain I get into.
"Jon knows his trade and isn't interested in selling you anything you don't need. If they say they will have it done by a certain date for a certain amount, they will have it for you. There are no surprises. I'm super glad I found them. They are a pleasure to work with."
Book your snowmobile to get serviced, set-up, maintained, repaired and upgraded now at ION² Progression-Suspension so you can ride your sled at peak performance this winter.