Game-changing front and rear aftermarket snowmobile bumpers handcrafted by sledders in Canada
Take your sledding experience to the next level with custom-fabricated snowmobile bumpers for Polaris, Ski-Doo, Arctic Cat and Lynx snowmobiles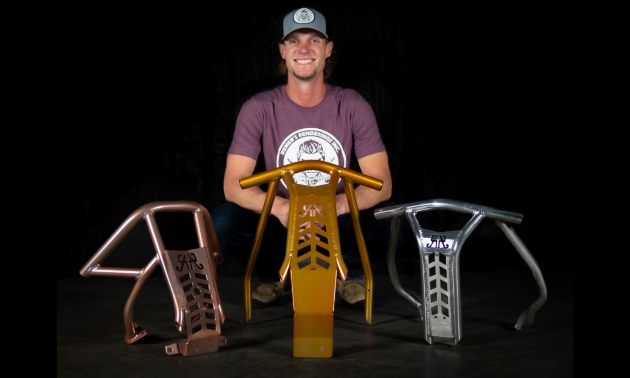 When customers have the chance to own a Remer's Rendering snowmobile bumper, they are consistently impressed and the word continues to spread. This season, snowmobilers are already clamouring to get their hands on one, knowing that every piece was handmade by a sledder and artist with a passion for both snowmobiling and craftsmanship. With the ability to customize colours through powder coating, (as a Prismatic Powders Qualified Applicator), Remer's Renderings helps snowmobilers make an artistic statement while keeping them safe in the back country.
What makes Remer's Renderings' snowmobile bumpers stand out from the rest?
The company is owned and led by avid backcountry snowmobilers, with the needs of snowmobilers in mind.
The bumpers are made with a lightweight and special blend of aluminum 6063 pipe. This pipe is unique to the brand and is a blend of pipe that is meant to be bent without cracking, unlike the most commonly used 6061 blend—which is a structural pipe and prone to cracking. What this means is that the front bumpers can often be repaired without cracking, therefore eliminating the need for replacements.
Beyond durability, these meticulously designed bumpers have the potential to shield your snowmobile hood from damage in case of an impact, a level of protection that surpasses what many other bumpers can offer.
Remer's Renderings offers an exclusive upgraded option: Two-tone bumpers. This customization feature is a rarity in the market, setting them apart from other companies that typically lack this level of personalization.
The majority of Remer's Renderings' bumpers are ingeniously crafted as one solid piece, deviating from the industry norm of multi-piece bumpers bolted together. This unique approach has garnered overwhelming positive feedback from sledding customers, highlighting a strong preference for the one-piece design.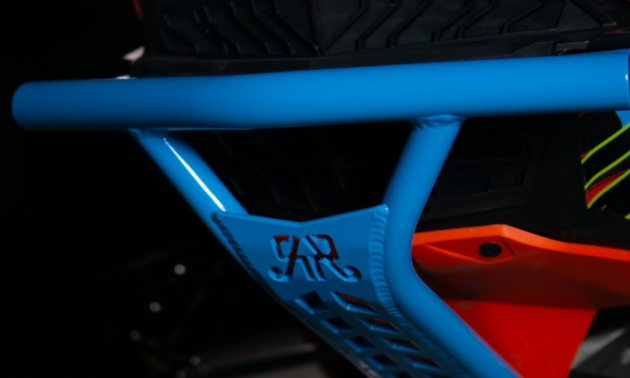 - Photo courtesy Remer's Renderings
Shopping for custom-fabricated snowmobile accessories and snowmobile bumpers? Check out customer reviews for Remer's Renderings:
"That bumper is SOLID. Both other bumpers (different companies) I have bent so far. I had no idea why they would bend when I hit what I did. I ran yours through some two-inch-plus larch and not a tweak or anything. And the powdercoat held up too. Great bumper."
~ Brandon Scott
"I have been a backcountry sledder my whole life and have used all different kinds of accessories—and hands down, Remer's Renderings products show very high quality and durability. I have put the products they offer for the 22 Matryx chassis through a beating, they have held up just as good or even better than any others on the market."
~ Ryan Micheal Peitzsche
"Remer's Renderings were awesome to deal with. I saw their product before I bought one and it seemed to be a quality product. I messaged them about a bumper for my custom tunnel chopped sidewinder. They were quick to respond. After giving them measurements they built me a custom bumper—powder-coated to match—and had it shipped within two weeks. Fit and finish, quality and installation were top-notch and all hardware was supplied."
~ Ashton Babuin
This is just a sampling. Check out more excellent Google reviews for Remer's Renderings.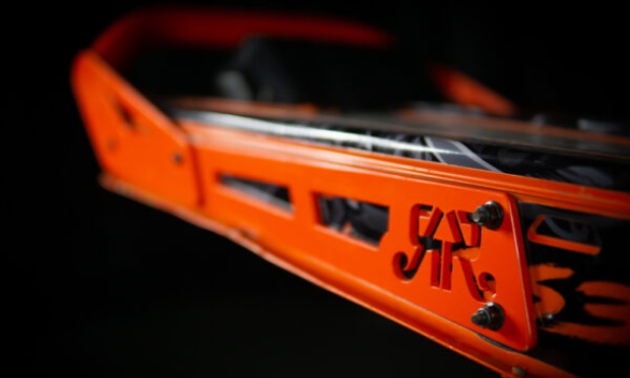 - Photo courtesy Remer's Renderings
Is it easy to install a snowmobile bumper made by Remer's Renderings?
One of the top considerations during the bumper design process is to ensure a streamlined installation. In fact, more time is dedicated to this than nearly any other aspect of the design process. While installing any snowmobile bumper can be a challenge, Remer's Renderings makes it as simple as possible. The company is committed to providing exceptional customer support and offers a series of instructional installation videos on YouTube that they recommend you check out before installing your new bumper.
Where can I learn about the newest creations from Remer's Renderings in British Columbia, Canada?
From a bustling mountain snow town in B.C., the Remer's Renderings team is hard at work. With a passion for innovation and ingenuity, there will always be new upcoming snowmobile products available, so be sure to check out Instagram and Facebook for updates!
What customization options are available for snowmobilers who want personalized accessories or bumpers?
With powder coating options at your fingertips, you can make your sled match your personality. Get a two-toned bumper to stand out in the crowd, or select a hue that speaks to you from the vast Prismatic Powders colour line (the world's largest custom powder coating colour selection, by the way!)
The team at Remer's Renderings takes a meticulous approach to their powder coating process. They ensure that parts are thoroughly cleaned and, if needed, outgassed. Moreover, they utilize the finest paint gun currently available in the market. This guarantees that the quality of their work is of the highest standard, giving you peace of mind about the results.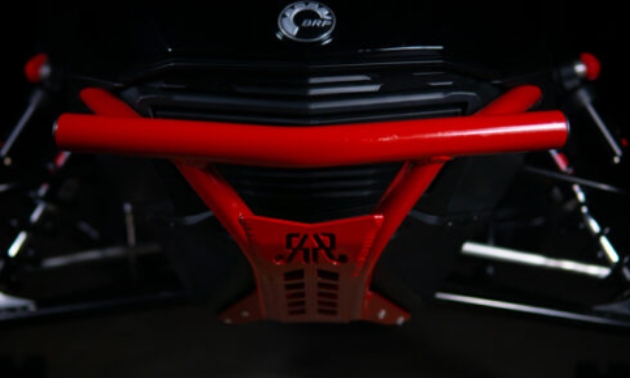 - Photo courtesy Remer's Renderings
Shop the full line-up of aftermarket snowmobile bumpers for Arctic Cat, Lynx, Polaris and Ski-Doo snowmobiles.