Snow is where it's at. Alberta's Big Lakes County and Swan Hills are known for great snow and warm welcomes for sledders. While three feet of the white stuff is the norm, every now and then there is a bonus year when up to seven feet of snow falls.
The Swan Hills Snow-Goers snowmobile club holds up their part of the Golden Triangle experience by maintaining 360-kilometres of trails, all accessible from town. These folks are serious about snowmobiling. Just like Fox Creek, if you follow the rules and behave respectfully, local bylaws will continue to allow snowmobilers to ride in town.
When Mel and Dale Tonsi were searching for a snowmobile club, they stopped looking when they found Snow-Goers. The small club appealed to them and the guys in the club welcomed their son like he was their own.
When they joined the club, they got access to the full 1,000+ kilometres of the trail. The snow and the trails combined to completely satisfy their hunger for good sledding and reliable snow.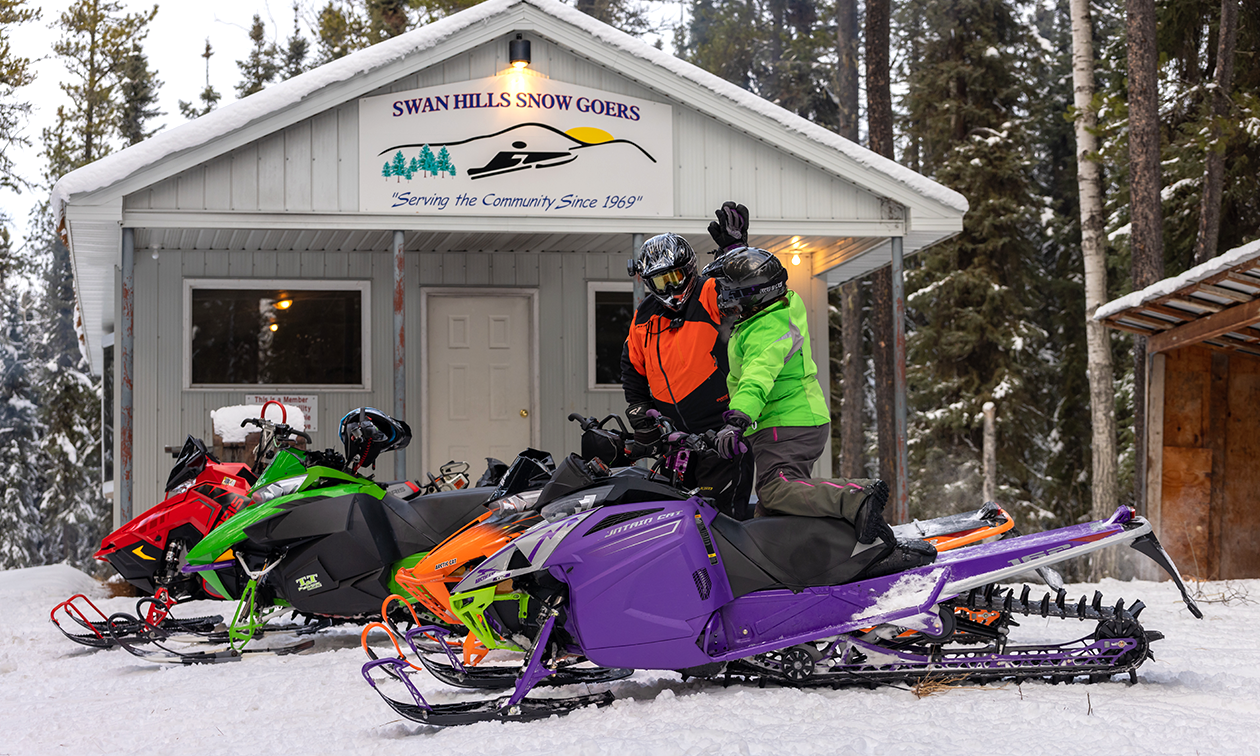 Snowmobile trails are accessible from town, thanks to Northland Sno-Goers and community-minded folks. —Photo by Paul Lavoie
Rich History of Winter Fun
This year, Snow-Goers celebrates 54 years of a first-rate trail network through the boreal forest and hard-working hands on the throttle. Snow-Goers club shares a legacy of clear foresight and are a dedicated crew with the rest of The Golden Triangle. Ready to hit the trails? Check out these trail tips and more info on Swan Hills and the Golden Triangle.
The club has created and strategically placed warm-up shelters with stoves and firepits for trail users to take a break from sledding to warm up and cook some lunch. You can even download a trail map with GPS Coordinates.
Hard work for sledders' fun
This is a small club. Five main members keep the club rolling and Snow-Goers trail maintenance is shared between 10 members. These folks love sledding as much as you do. They work hard to keep trails clear, creek crossing transitions smooth and trails groomed. Because the members use the trails regularly, they know what the conditions are and put in a tremendous effort to meet guest riders' expectations.
Snowmobiling is about great snow and warm-hearted people. Find both at the Snow-Goers Snowmobile Club on The Golden Triangle.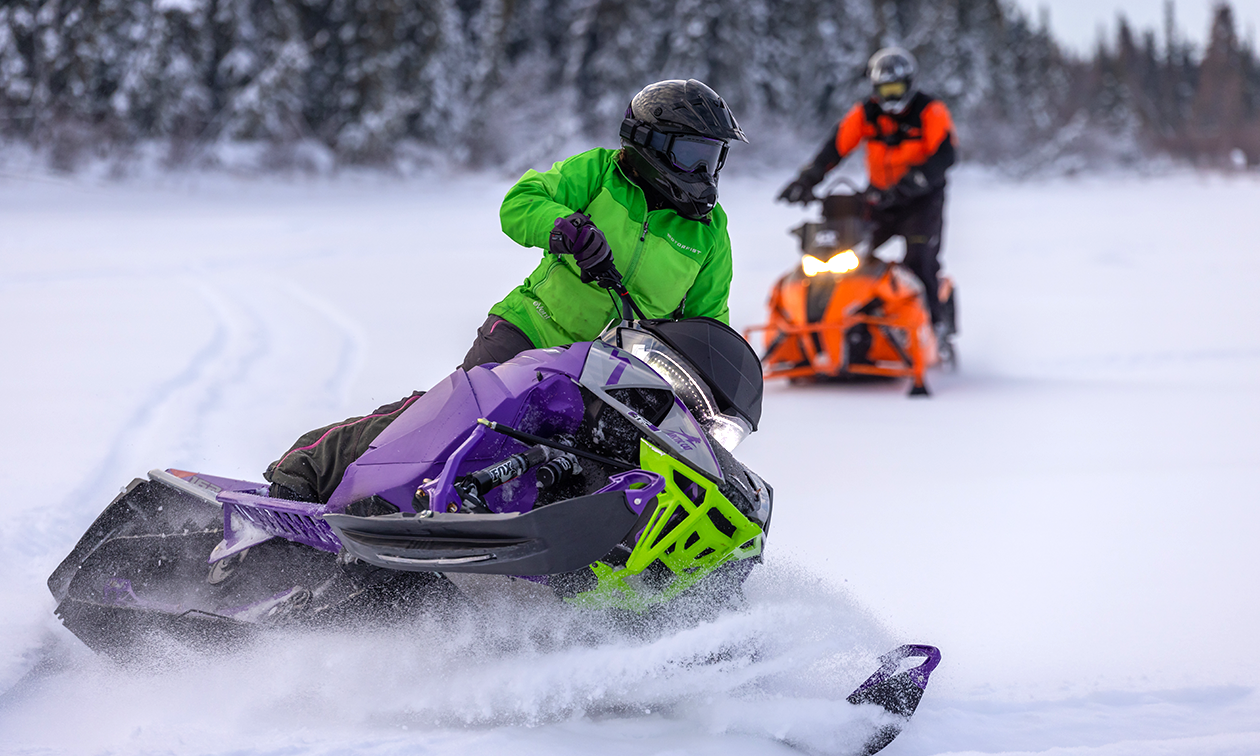 Participate in all three Golden Triangle sled events to compete for a shot at the Iron Sledder Title which comes with an Iron Sledder Sweater, a medal and $1,000 cash. And GLORY. —Photo by Paul Lavoie
Purchase your annual trail pass for $90 from the Alberta Snowmobile Association.
Trail/Day passes are also available from Swan Hills Snow-Goers, by reaching out to Don Kelm. Phone: 780-333-280 Email: [email protected]
Check out this SnowSeekers.ca story for trail tips and info for riding the Swan Hills trails and the Golden Triangle.
Upcoming Events
Sled and win. Look for the Q.R. code at each Golden Triangle cabin––be sure to check in at each cabin or staging area for a shot at winning a $250 Visa card.
Swan Hills SnowGoers 54th Annual Rally on February 25, 2023. Information and details available on the Swan Hills Snow-Goers Facebook page. Registration happens 9:00 a.m. to 11:00 a.m. at Keyano Centre, 5632 Main Street, Swan Hills.
Iron Sledder challenge. Participate in all three Golden Triangle sled events to compete for a shot at the Iron Sledder Title which comes with an Iron Sledder Sweater, a medal and $1,000 cash. And GLORY. Can't make all three? Jump in two-of-three events and qualify for a shot at the Gold Sledder Sweater, medal and $250 cash. And glory.