Welcome back to the return of our ever popular Old Sled Sighting column for the fall 2017 season.
This week the Old Sled Zone feature comes from Ray Marak of Smithers. Ray was visiting the Barkerville area earlier this summer and he came across these great looking vintage Ski-Doo's sitting in a backyard. Ray was kind enough to pass along this find to us here at SnoRiders.
So we asked Ray for a little more information about this vintage sled find. Here's what Ray had to say:
Ray Marak said, "Not much, I was visiting Barkerville and saw them there. Barkerville is a sledding town for sure after the gold rush and known for the historic town. There is Groundhog Lake, a well-known sledding area."
Not to mention a few great looking vintage snowmobiles to catch your eye. You can sort of tell Barkerville is in the middle of gold mining country because these old snowmobiles are definitely "workhorse" models. Great for a prospector or trapper to access the backcountry with.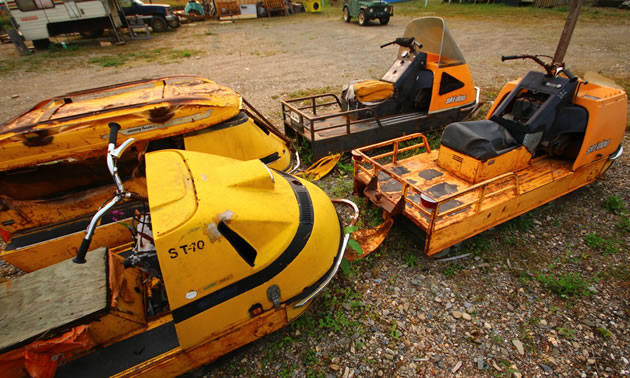 As we have written before, the single-ski, double-track Ski-Doo Alpine is somewhat of a classic among old sled enthusiasts. These old sleds build on Ski-Doo's early heritage of manufacturing a snowmobile or "tracked vehicle" to get "woodsmen through the forest and muskeg and then back home safely."
Thus the Alpine proved popular as a work sled for utility companies, game wardens, trappers, pipeline inspectors or anyone who needed to check on remote locations or lines in the middle of winter.
Purportedly the double-tracked Alpine was the "world's slowest" moving snowmobile but extremely reliable and dependable, so it's little wonder that backwoodsmen, hunters and workmen loved the machines. Today's equivalent to the Ski-Doo Alpine would be more utilitarian snowmobiles like the Tundra, Skandic and Expedition.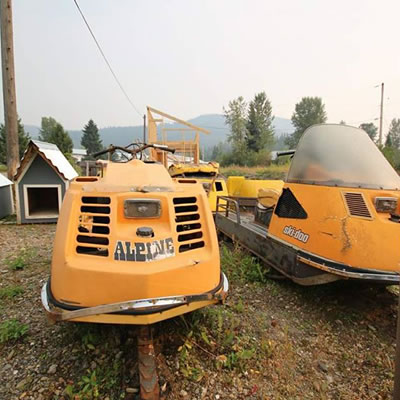 Thanks again to Ray Marak for sharing these old sled photos with us.
Do you have a vintage snowmobile find or story to share? How about some photos of your vintage ride? Share them with us: [email protected]