Everything from a one-of-a-kind Evinrude "Sail Master" to a couple of hot-looking Sno-Jet racing sleds — you have to be impressed with the great turnout of vintage snowmobiles at the recent Vintage Snowmobile Show in Saskatchewan on the first weekend in July.
Thanks goes out to our go-to-vintage-sled guy, Sid Samek, who attended the Vintage Snowmobile Show held in Regina, Saskatchewan last weekend.
"The Regina show had about 50-60 sleds in all conditions on display and a few for sale. This was, I believe, the 3rd or 4th annual event put on by SVSA Show and Swap Meet," reports Sid Samek. "The event was held on a farm just north of Regina."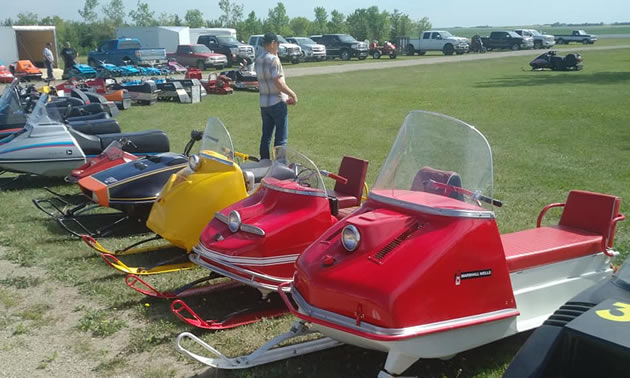 Sid added, "The machines that I took down were the 1975 John Deere (JD) 340s, 1974 JD 295s, 1983 JD Sprintfire 340, 1983 JD Snowfire 340, and the 1974 Alouette Junior Brute."
Sid posted an amazing bunch of old sled pictures on the Alberta Relic Riders Facebook page and he was kind enough to let us use some of his photos. So we picked what we are calling the Top 10 photos from Sid's excursion to the Saskatchewan Vintage Snowmobile Show.
Let me see, there's a lot a vintage sleds to see — in just these ten photos there's models from Skiroule, Ski-doo, Moto-ski, John Deere, Alouette, Sno-Jet, Chaparral, Snow Cruiser and many more.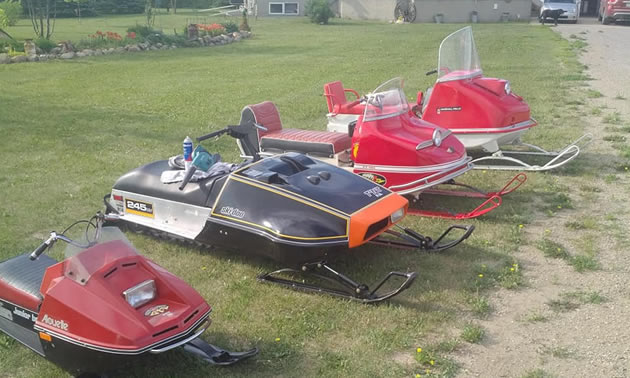 The one that especially caught my eye was the Sail Master snowmobile – I have to admit it's the first time I have seen or heard of this model. Evidently it was an early prototype model made by Johnson/Evinrude in 1967/68.
I am not sure, but I have read an article about Grand Forks, ND, resident Merlyn Werner's Sail Master snowmobile and I am thinking this machine is it.
Mr. Werner has stated in the past that the snowmobile is, "something unique to bring to the show(s), a one-of-a-kind snowmobile, a 1968 Sail Master."
"It was a prototype built by Evinrude in 1966, tested for a couple years and it's the only one Evinrude ever made and it's restored to brand-new condition," he said.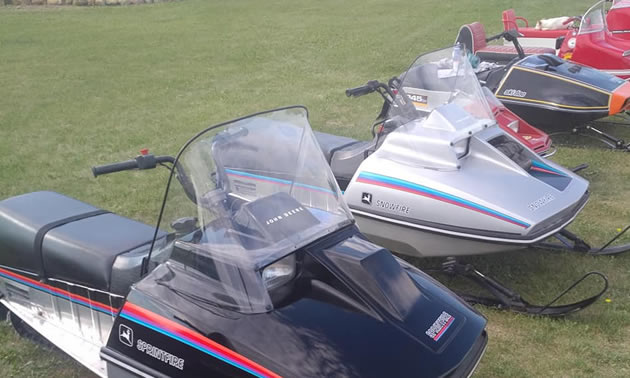 So take a close look at this great lineup of vintage snowmobiles and mark your calendar not to miss the Regina show next year. Thanks once again to Sid Samek for letting us use his photos.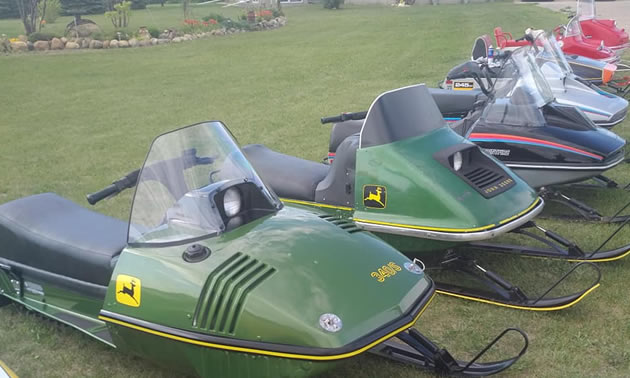 Got a vintage snowmobile story, event, or photos to share? Email: [email protected]