This hot looking sled is the all-pink Scorpion Stingerette, reportedly the first mass produced sled targeted to women — pretty in pink on the trails. SnoRiders spied it at the Edmonton Snow Show, where the Alberta Relic Riders hosted a great vintage display. One really cool thing about this model is that it still has the original dealer tag or nameplate on it – it was sold and serviced by Lauder Cycles Ltd in Medicine Hat, Alberta.
Place: Edmonton Snowmobile Show
Year: 1972
Make: Scorpion
Model: Stingerette
Owners: Kevin Steeves
In the early 1970's Scorpion Stingers came in a wild array of rainbow colours — red metal fleck, yellow and black, white, blue, gold and, yes, hot pink! Or as Scorpion called it – gleaming Midnight Sun Magenta, designed specifically for women.
A snowmobile company called Trail-A-Sled was the predecessor to Scorpion. Trail-A-Sled was sold to Atlanta-based industrial giant, Fuqua Industries and the machines were quickly renamed Scorpion, though manufacturing remained in Crosby, Minnesota.
According the vintage American Snowmobiler column, "Scorpion anticipated big sales, so increased sled production capabilities to 100,000 units per season at its Crosby, Minn., plant. However, estimated production for 1972 was just 25,000 to 30,000. While great looking sleds, Scorpion sales didn't match its lofty expectations. The company made way too many and had a lot of carryover models for the next season, never a good thing for cash flow. By 1978 Scorpion was sold to Arctic Cat and disappeared after Cat's bankruptcy in 1981. But in 1972 and '73 it was great to see Scorpion try all those crazy colors with the suits to match."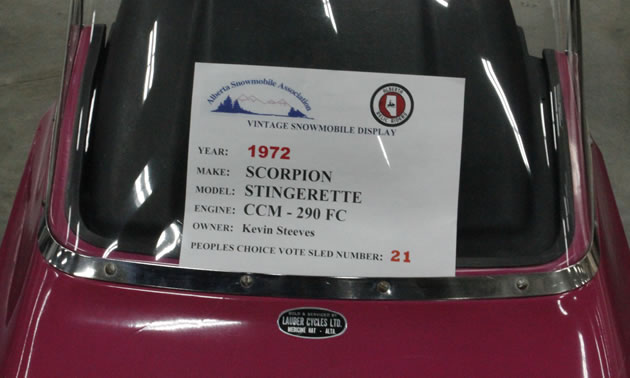 Here's what one enthusiast website had to say about a Scorpion they had listed for sale: "1973 was the first year for the Super Stinger and the Super Stingerette. It was also the first year the Stingerette was available with a CCW 340 engine. This is one rare item. The hood is in wonderful condition with its cool pink "sparkle" finish."
In 1974, Scorpion, Inc was purchased by a company of snowmobile engineers known as Brutanza Engineering. They reached a manufacturing agreement with farm implement maker Massey-Ferguson to build the sleds.
By 1978 Scorpion was sold again, this time to Arctic Cat who had plans to position the brand as an affordable family alternative to Arctic Cat's more muscular machines. Scorpion snowmobiles continue to be popular models among snowmobile collectors.
Got an old snowmobile story? Antique, vintage, classic snowmobile photos? Share them with us at [email protected]