For the last 30-plus years, Journey for Sight has been uniting sledders across Manitoba for a great cause. This year was unlike most years, however, with temperatures in the plus degrees and very poor snow conditions. This is rare for Manitoba in January, but even though participation numbers were down this year, the event was still a success.
The snowmobile fundraising event originated in Birtle, Manitoba, in 1983. Today, snowmobile riders from northern, central and southern Manitoba typically ride a minimum of 200 kilometres, visiting various communities and collecting pledges before a rendezvous in Brandon for the presentation of funds and guest speakers. To date, more than $1.7 million has been raised for the Lions Eye Bank. Some sledders like Ian Mullin, chairman of the committee for Journey for Sight, start in Thompson, Manitoba, and go nearly 700 kilometres.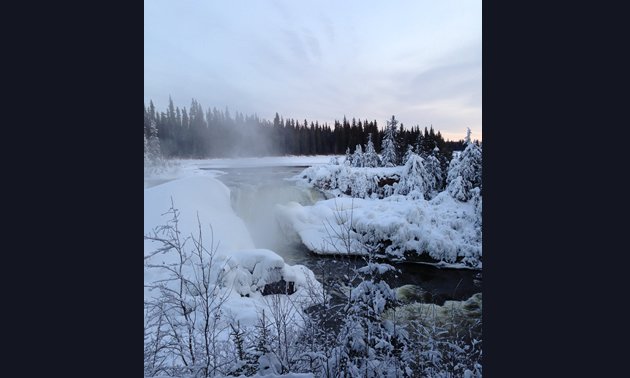 Mullin has participated in the ride for over 20 years and said he doesn't remember ever having above zero temperatures in January.
"The ride went as well as can be expected with the snow conditions being so poor," he said. "The snow is melting here since the temperature went above zero for the last few days. But it's just the way it is, and there was nothing we could do about it. We've had Journey for Sight the third week of January for as long as I can remember, and you can't just change it because of weather conditions."
Normally during the week of the ride, the temperatures can drop to -35 to -40 C.
"I would take 40 below and four feet of snow in a heartbeat over this," he exclaimed.
Usually, about 50 machines take the journey, but this year there was around 30. Mullin said the southern legs joined them in Brandon but only one leg was able to ride. They were on and off the trailer and could only ride part of the time because of conditions.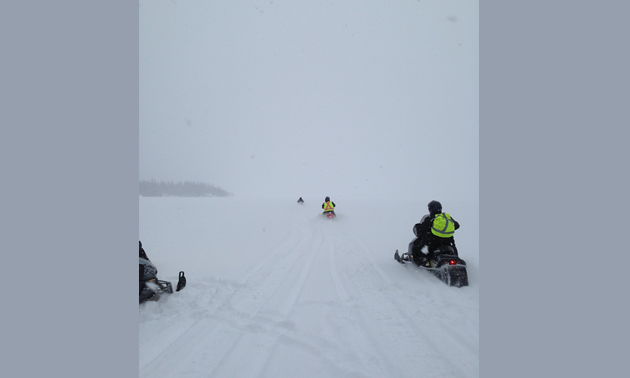 But spirits were still high, and the sledders were still excited to reunite, sled and raise money for the Lions Eye Bank. The eye bank does research, raises public awareness and conducts transplants. They also help the less fortunate get a transplant if money is an issue.
"The eye bank is a great cause," said Mullin. "Along the journey, you hear stories while riding about guys who have been helped by it. A lot of times the administrator for the eye bank will arrange for someone that's been helped by the eye bank to come speak to us at the end. It makes it real when you see someone that's directly benefited and hear the story firsthand. It gives you a pretty good feeling to see what your hard work has done for someone else."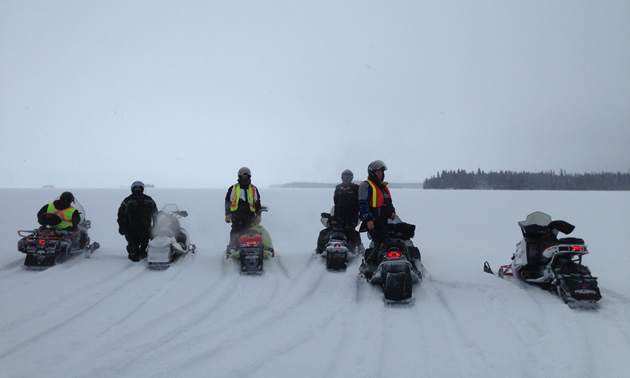 Last year, the ride raised about $50,000. This year, as of January 29th, the total was not in yet but Mullin said by the last day of the ride, they had just over $42,000. They also conduct a Ski-Doo raffle in February, and then it always takes some time for all the money to come in from the riders' pledges. He's hoping to raise between $80,000 and $90,000.
"Overall, it was a successful event but the numbers were definitely down because of weather conditions," he said. "When you get five machines instead of the regular 30 coming out of the south, it makes a big difference. It was great though; guys out of the south still collected pledges for the event."
Mullin said he appreciated the efforts of many snowmobile clubs and needs to send out a big kudos to them for their hard work.
"The trip is always memorable, and this year it was the snow conditions," said Mullin. "Up north, most of the trails weren't groomed because of it. Lots of times, we were the first down the trails coming from The Pas towards Swan River. Sometimes we were going through swamps and reed grass standing six feet tall. It was hard. There was always enough snow to keep the sliders reasonably cool but when you're used to several feet of snow . . . it wasn't ideal. When we got further down south, a lot of the clubs knew we were coming and did their very best to try and groom a trail ahead of us. It saved us and I really have to thank them all for their hard work. It made it so much easier."
Mullin looks forward to doing it all again next year, hopefully with better conditions.
"As always, the ride was a lot of fun," he said. "It's great to get together with everyone on the ride. Sometimes a lot of our paths don't cross until we're riding down the trail for this event so it's a great time. It's also great to see new people come out and see more people raising money for a great cause."