Unleashing the 2016 Yeti Snow MX
New Yeti brand of lightweight snow bike conversion kits hits the market running with four different models for 2016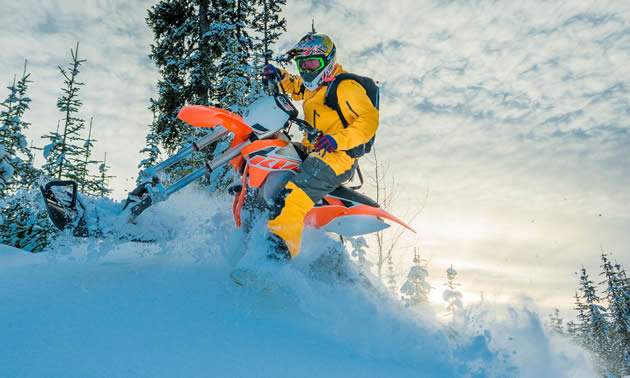 From C3 PowerSports in St. Albert, Alberta, comes the next generation of snow bike conversion kits—the 2016 Yeti Snow MX.
Designed by trade professionals and tested by real-world riders, the 2016 Yeti Snow MX features a carbon fibre chassis; all-titanium bolts and components; a purpose-built ski and track; and C3's proven Syncrodrive belt drive system.
Easy to install and even easier to maintain, the Yeti is a simple, bolt-on kit that dirt bike owners can install at home to enjoy year-round riding. For snowmobilers thinking of switching over to snow bikes, the Yeti was designed to be light and efficient so that a turbo is not required to climb straight up hills.
With two and a half-inch lugs, the Yeti's lightweight MaxTrak floats through the deep snow with ease and its MaxKeel ski helps the rider hold a line with confidence. Precise ski and track geometry makes handling the snow bike on the trail comparable to riding a motorcycle on dirt so riders can rail those corners with confidence.
Handling on the trail and in the powder is also made better thanks to the aerospace-grade carbon fibre chassis mated with a Nextech-designed rear suspension, Ice Age Performance slide rails and Fox Float 3 shocks.
Available accessories for the 2016 Yeti Snow MX include a quick-release fuel tank that is streamlined into the design of the tunnel and a freewheel kit to make unloading and loading the Yeti or moving it around the garage easier.
The 2016 Yeti Snow MX is available in 120-, 129-, 137- and 146-inch kits. It has been tested on a variety of bikes and works well on everything from KTM 200 two-strokes to KTM 450s and Husqvarna 500s. For more information and a list of authorized Yeti dealers in Canada, visit the website.