To call Ray Kelly of Cranbrook a snowmobile enthusiast would be a major understatement. Ray has owned and restored dozens of old snowmobiles over the years and at the same time he has turned his buddies onto collecting, restoring and owning vintage sleds as well.
Recently, at a Cranbrook Snowmobile Club event, Ray and his friends brought out some of their vintage snowmobiles for their annual show and shine—on the snow. Thanks to club member Doug Williamson for letting us use these pictures.
One of the rarest sleds of the bunch was Ray Kelly's sparkling Snow King. He has owned the Snow King for about 15 years and last year he decided to give the old sled a major overall and restoration. Ray was kind enough to share some photos of the restoration process with SnoRider readers as well.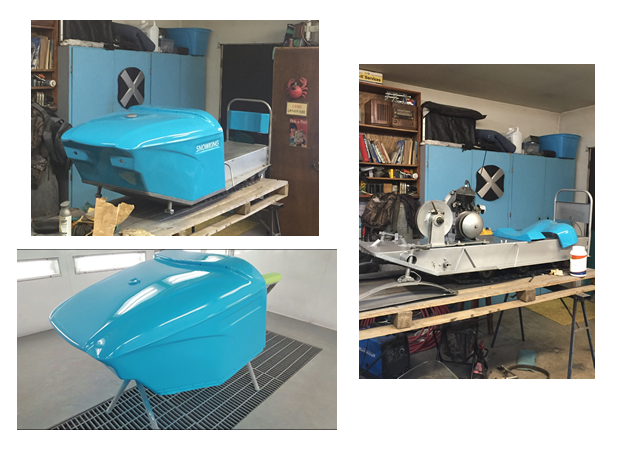 "The Snow Kings were made by a company in Calgary called Nodwell Industries. This particular model is a 1965 and only about 50 of these Snow Kings were ever made," says Ray Kelly.
What is Ray's passion about old sleds? "It's just like old cars...I feel you need to restore (these old machines) to preserve some history," he adds.
Interestingly enough the Snow King snowmobiles were sold in the Sears catalogues of the day. Ray has also provided us a sample of a page from a Sears catalogue featuring a true blue (baby blue) Snow King.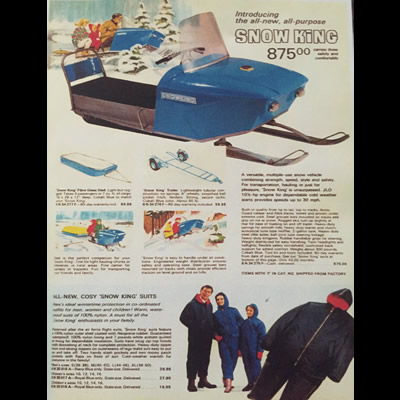 Thanks again, Ray, for sharing this incredible old Snow King with us. We look forward to featuring more of these sleds in the future columns.
Got a vintage snowmobile story you would like to share? How about some old-time snowmobiling pictures? Share them with us at SnoRiders: [email protected]