I am not sure if you can call a 1980's snowmobile a vintage machine or not—a classic might be a better term. However, one definition of a classic, vintage and antique snowmobile is:
Classic—15 years, or older than 2002
Vintage—25 years, or older than 1992
Antique—anything older than 1970 (or 1968?)
Here's another "rat sled" I stumbled across recently—an early 1980's Ski-Doo Everest Electro.
Languishing in a backyard, obviously showing years of wear and tear and more than a little neglect, this classic snowmobile was cutting-edge in its day.
As the Ski-Doo sales brochure of the day stated, "If you like to travel First Class, you'll love Everest 500. Everest smooths out those long, leisurely days of touring and trail riding with unsurpassed 2-seater comfort, superb reliability and sleek good looks, Electric start version is also available (Electro 500E). First Class all the way for you, from Ski-Doo."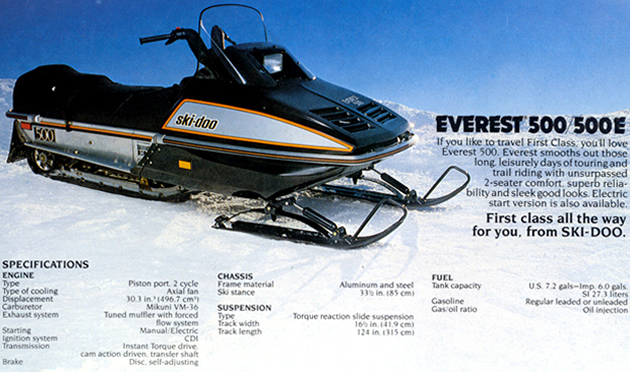 Now this classic Everest is a far cry from the sleek model talked about in the Ski-Doo brochure but it's always fun to look at an old "rat sled" and imagine it in its glory days. I have included what an original or restored Everest looks like as well, for comparison.
Got a classic, vintage or antique snowmobile story and/or photos? Share them with us at [email protected]