Of all the Old Sled Sightings I've made this is one of my favourites. This handsome old snowmobile caught my eye as it was partially hidden by grass and bushes growing all around it—it was a 1970's Yamaha Enticer sitting tucked away on the back-forty in someone's field.
These high performance Yamaha machines featured some of the industry's leading-edge snowmobile technology of the day. As we wrote earlier, in 1979 Yamaha was making an impact on the snowmobile world, having incorporated a number of innovations into their high performance sleds.
Yamaha released a line of snowmobiles under the Enticer name tag – they were known for their high speed performance (often called one of the original muscle sleds) and for their long-range riding capacity.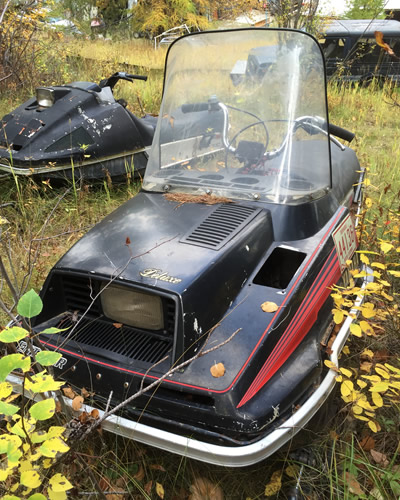 A Yamaha ad of the day stated: "Thrills and Frills – Introducing a new member of the (Yamaha) Enticer family, the Enticer 340 Deluxe. Like the popular ET 340, it comes with all the power, performance, handling and excitement you expect."
Yes, the Yamaha ET 340 Deluxe—deluxe because it had electric start—was a machine to be reckoned with on the snowmobile trails in 1970's. This old sled looks like it's ready to fire up with a minimal amount of TLC.
Share your old sled stories and photos by emailing them to: [email protected]