It's Christmas Eve. The sleds are loaded and Colin Scarfe is climbing into the driver's seat. Ahead of him lies a 19-hour drive across three provinces. Some would call him crazy, but to this 27-year-old, it makes perfect sense.
Scarfe's got pow stoke, and it all started when he was a baby. Growing up at Jessica Lake Lodge in Whiteshell Provincial Park, Manitoba, Scarfe got accustomed to falling asleep on a sled, wrapped in his father's arms of course.
When he was old enough to ride his own, Scarfe started venturing off-trail, exploring new areas of the park. Freeride mountain biking also found its way into his world and the air time Scarfe enjoyed on two wheels became a part of sled life too.
"When I kind of outrode the abilities of my first personal sled, my parents helped me get a proper sled that could take the abuse of jumps," said Scarfe.
Mountain bike trips to Whistler, B.C., became the norm for a teenaged Scarfe, and soon it was time to take his snowmobiling game out west.
Revelstoke was an obvious choice.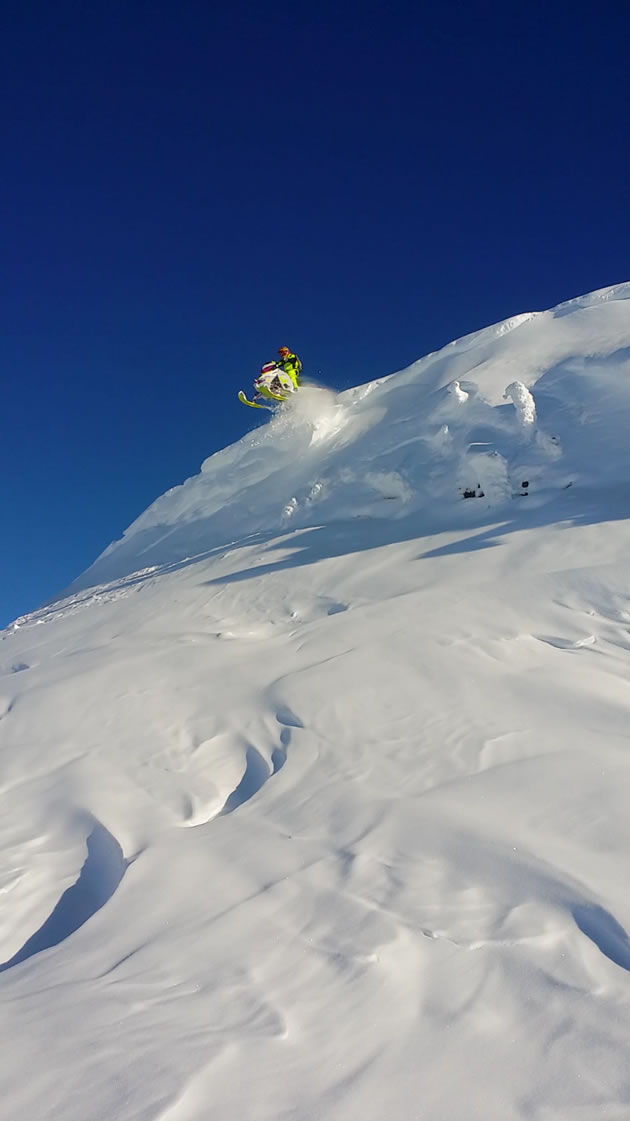 "It was pretty awesome," he said. "We all rented sleds and I was with a great group of guys."
Upgrading to a Ski-Doo Freeride 154, he started testing his limits even further and progressed as a backcountry rider.
"I love airing out the sled," he said. "I love jumping, I love drops, I love just boondocking through the powder, carving it up. Over the past couple of years, we've fallen in love with tight, technical tree riding."
Pushing for safety
Scarfe's riding crew usually includes fellow Manitobans Cory Sidlar, Jay Wilks and Scott Menzies. Safety is important to Scarfe so he tries to keep his crew small and manageable.
"We like to have fun, but we use our heads," he said. "We always push for safety. We practice our beacons at home to make sure we all know how to use them."
Taking an AST course is usually part of their pre-season protocol as well.
The first course they ever took, Scarfe said, was an eye opener.
"Even just having to dig down three feet in fresh snow, I can't imagine digging hard pack avalanche snow," he said.
Where the goods are
Sicamous, Revelstoke and Crowfoot Mountain are Scarfe's go-to zones, but he's also ridden Cooke City, Montana.
"I fell in love with that little town . . . ," he said. "It's the whole lifestyle of Cooke City. In the wintertime, there's one road in, one road out and it's a snowmobile town so you can literally take your snowmobile from your hotel room, go up the trail and within 12 minutes you are into the riding area."
Another destination on Scarfe's wish list is Alaska, but for now, B.C. is where it's at. Twice this winter, he'll make the trek from Manitoba to spend a week chasing fresh snow through the Monashees.
Offseason pursuits
In the summer, Scarfe gets his kicks from mountain biking, stand-up jet skiing and, more recently, dirt biking.
"After renting snow bikes last year in Sicamous, we fell in love with those things," he said. "I hadn't really been on a dirt bike before that . . . It was so much fun that Cory convinced me to get a bike for around home. I bought my first bike in spring this year and start riding."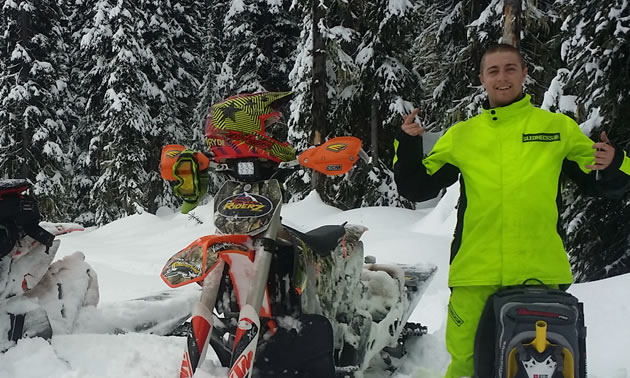 And racing.
"We ride the Manitoba Dirt Riders (circuit)," said Scarfe. "It's unreal, everyone is there for the same reason. It's family-oriented, there are tons of little kids. It's so much fun, but it's still competitive."
It comes as no surprise his KTM 250 SX will also be heading to the mountains with Scarfe this winter, just as soon as he bolts on a Timbersled snow bike kit, that is. Plans have already been set in motion and Scarfe is hoping the snow bike will also prove a worthy asset back home in Whiteshell Provincial Park.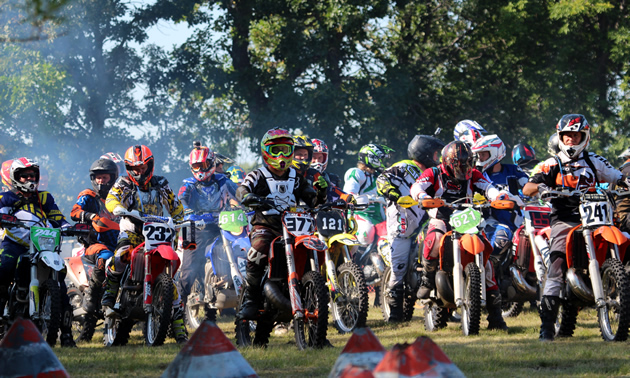 "As long as we have enough snow, I think we can have a pretty good time out here with the short track kits on our two strokes," he said.
Manitoba may be Scarfe's birthplace, but his true powder home is in the self-coined Tyme2Ryde zone.